April 2016
Servo Magazine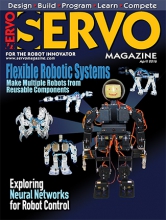 Flexible Robotic Systems - Make Multiple Robots from Reusable Components
---
Features
For more variety, you can make a lot of different robots using the same parts.
Choosing sensors to use on a Raspberry Pi based robot platform.
Build Your Own Remotely Operated Underwater Vehicle — Part 2: The Electronics Package
Focusing attention on the eyes of animatronics characters can really bring them to life.
Explore ways of letting a robot learn by applying techniques used by animals.
---
Projects
Build a portable CNC machine. Part 2
---
Columns
Twin Tweaks
by Bryce Woolley, Evan Woolley
Tanks for the Memories
Robots with Tracks
Then and Now
by Tom Carroll
When Technology Fails
When technology fails, it can have devastating results.
Mind / Iron
by Bryan Bergeron
Specifications: Believe Them or Not
I'm working on a sound localization project based on three microphones — each connected to an Arduino — and a fourth Arduino connected to a Mac running Processing.
Ask Mr. Roboto
by Dennis Clark
Your Robot Problems Solved Here (04.2016)
Correcting buggy Arduino code for an Atari-style joystick, and the lack of a print function in UECIDE.
---
Combat Zone
Wheel protection is an often debated subject in the robot combat world. Let's take a close-up look.
Action report and results.
Action report and results.
Of all that are out there, three motors have often found themselves the cream of the crop for combat robot drivetrains. But how do they stack up against each other on the large-scale bot circuit?