June 2016
Servo Magazine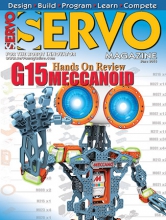 ---
Features
Making our Raspberry Pi based robot more sensitive with virtual bumpers, Wi-Fi hotspots, and game controllers.
REVIEW: Reminiscent of the old Erector sets, these robot kits offer two unique sizes and some of the best servos in the business.
Now that the Y carriage is done, it makes sense to build the X carriage next for our CNC machine.
Here is a snapshot of what was available at this year's Transworld's Halloween & Attractions Show. I hope it motivates you to attend next time if the opportunity becomes available.
---
Columns
The Multi-Rotor Hobbyist
by John Leeman
Build Your Own Drone: Getting Started — Part 2
Building an Airframe
Twin Tweaks
by Bryce Woolley, Evan Woolley
The Road to RoboGames
After sitting dormant for 13 years, can the trusty 60 lb Troublemaker again reign (somewhat) supreme at a combat event? Or will it have to remain in retirement? Follow Troublemaker's journey.
Mind / Iron
by Bryan Bergeron
Flying Cameras
The Lily Camera is the equivalent of a selfie-stick crossed with a drone and high resolution video camera.
Then and Now
by Tom Carroll
Personal Robots of Yesteryear and Today
How far have robots come since the 80's? I mean how far, really?
---
Combat Zone
Part 2 of a three part series covering the initial design, build, and post event analysis for future design changes.
With the development and release of a new ESC called the VESC, the problem of fine control at lower speeds appears to be solved.
Robogames: Beetleweight division shake-up.