March 2016
Servo Magazine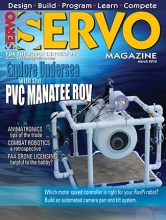 Explore Undersea With The PVC Manatee ROV
---
Features
Special coverage on some of the bigger combat robot competitions.
RoboClaw programmable motor controllers can give you can edge with your robotic control game.
Helpful tips of the trade for getting started in hobbyist animatronics.
Deciding which motor driver to use for a Raspberry Pi based robot platform.
---
Projects
Build a portable CNC machine.
Build your own remotely operated underwater vehicle — Part 1: Construction
---
Columns
Ask Mr. Roboto
by Dennis Clark
Your Robot Problems Solved Here (03.2016)
Create an LED driver circuit and a sketch that are able to interpret analog values from an ITEAD joystick shield.
Mind / Iron
by Bryan Bergeron
FAA Licensing: A Sign that Drones Have Arrived
If you're one of the million or so recipients of a drone this past holiday season, you've no doubt complied with the mandatory FAA (Federal Aviation Administration) registration. (Haven't you?)
Then and Now
by Tom Carroll
Robots — What Good are They?
Take a look at how the robot industry has changed in the past 45 to 60 years to develop truly useful robots that are good for something.
Robytes
by Jeff Eckert, Jenn Eckert
Stimulating Robot Tidbits (03.2016)
Topics covered this time include: Goblins to Gremlins UASs; robotic 3D printing on air; a robotic weed whomper; robotic garbage collectors; and a phone-robot all in one.
---
Combat Zone
For over 20 years, the spectacle of robotic combat has entertained audiences of all kinds.
2015 was one of the best years for robot combat in Australia. RoboWars reached new people all across Australia and revitalized builders young and old.
Can I realistically get a working robot into the studio for the first day of filming? Maybe... Let's investigate the options.
David Calkins — the driving force behind RoboGames — gives his 10 best reasons to compete ... or at least show up for the fun!