May 2013
Servo Magazine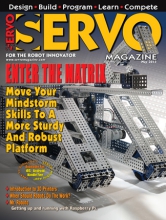 Enter The Matrix - Move Your Mindstorm Skills To A More Sturdy And Robust Platform
---
Features
MATRIX Robotics enters the "kit" competition with a brand new 3D metal construction system that is perfect for use in events like the FIRST Tech Challenge, as well as for hobbyists and educators.
There has been a great deal of hype around 3D printers lately. If you are planning on purchasing one, be sure you read this article series first. What you find out may surprise you.
---
Projects
Building robots with a great finished look doesn't have to be difficult or expensive. This article will show you how to construct a personable, cost-effective robot out of a trash can.
---
Columns
Robytes
by Jeff Eckert
Stimulating Robot Tidbits
• Cold Sub, to Go • Bots Built for Showbiz • One for Your Cat
GeerHead
by David Geer
Hydroid Deep Sea Marine-Exploring REMUS AUVs
A Q&A with the makers of these cylindrical swimming automatons.
Ask Mr. Roboto
by Dennis Clark
Your Problems Solved Here
Getting Your Raspberry Pi's Proper MBs.
Twin Tweaks
by Bryce Woolley, Evan Woolley
Second Breakfast
Exploring the full potential of 4D Systems smart display modules, with an "Eye" towards coordinating expressions with sensor input.
---
Combat Zone
The Combat Zone
I have been building fighting robots for several years, and starting in 2009 I managed to build a 12 pound robot named Scurrie that won several competitions in a row. After some time, I was also successful with a 30 pound shell spinner named Tetanus.
in
The Combat Zone
Last year, the Combat Zone published a series of articles covering the history of the sport by recovering the undocumented, nearly lost information about each of our sport's major events — past and present. Now, 10 years after the demise of major television coverage, we tracked down some of the most famous names from that era to gain their perspective on what some see as "the glory days" of the sport. Our first victim is competitor and host of "The Builder's Corner" from the BattleBots™ series.
in
The Combat Zone
Just this February, the Northeast Robotics Club ([url=http://www.nerc.us]http://www.nerc.us[/url]) hosted the 11th annual combat event at the 2013 Motorama motorsports extravaganza and custom car show ([url=http://www.motorama]http://www.motorama[/url] events.com) in Harrisburg, PA.