September 2009
Servo Magazine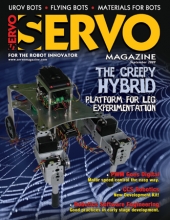 ---
Features
Get an introduction to the benefits of software engineering for robots, particularly the best practices in the development stages and specifically in complex robotic systems.
This unique "walking" robot combines wheels and legs to create a cost-effective platform.
---
Projects
With this circuit, you can control the speed of a motor with a computer, connect a sensor array to track a light source, or just control speed without a variable transformer.
Custom Computer Services is now offering a robotics development kit ... see what's all inside!
---
Columns

Robytes
by Jeff Eckert
Robytes | September 2009
Stimulating Robot Tidbits. Page 08

GeerHead
by David Geer
The Draganflyer X6 UAV Copter
The Draganflyer X6 UAV is the lightest, most maneuverable unmanned miniature helicopter for its price, specially produced for the rigors of commercial applications inside and outside the military. Page 10

Ask Mr. Roboto
by Dennis Clark
Ask Mr. Roboto | September 2009
Your Problems Solved Here. Page 13

Twin Tweaks
by Evan Woolley, Bryce Woolley
Are You Ready To iARoC?
This year, we were once again brought back to the Del Mar Fairgrounds by the incomparable allure of a robotics competition, though this time we were only spectators. Yes, 2009 witnessed the second annual iARoC event — the International Autonomous Robotics Competition. Page 58

SERVO TankBot
by Ron Hackett
SERVO Tankbot | September 2009
Adding an LCD to Your TankBot. Page 67

Robotics Resources
by Gordon McComb
Simple Brains - Going Back To The Basics
Microcontrollers like the BASIC STAMP, BasicX, Arduino, AVR, PIC, and all the others make short work of just about any robotics task. Page 72

Then and Now
by Tom Carroll
Underwater Remotely Operated Vehicles
The name 'Remotely Operated Vehicles' can really apply to any vehicle that is controlled from a distance, which can include law enforcement robots, military robots, aerial vehicles, combat robots, and even remotely-controlled boats and planes. Page 77
Departments