April 2009
Servo Magazine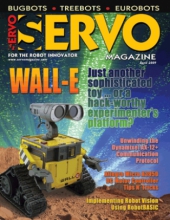 Just another sophisticated toy… or a hack-worthy experimenter's platform?
---
Features
Finland — the land of a thousand lakes and forests — is located in northern Europe. Water covers 10% of the total area of 338,000 square kilometers, and forests cover up to three fourths of the area. The country is the most forested one in Europe. The population totals approx. 5.3 million and in every square kilometer there lives approx. 15.5 inhabitants in average (1). In the US, for example, there are approx. 30.6 inhabitants per square kilometer (2)...
DC motors are plentiful. My favorite source for heavyweight robotics projects is electric scooters. A motor capable of transporting a 250 pound human can move a lot of robot. However, DC motors require significant current handling at startup, and during increased load conditions and direction reversal...
---
Projects
I love to write robotic driver firmware and scratch build PIC microcontroller-based robotic hardware to run it. In this edition of SERVO, we're not only going to sharpen our driver authoring skills, we'll also get some flight time on the handle of a soldering iron...
Part 2: An Introduction to National Instruments USB-6008 Data Acquisition Hardware. Part 1 introduced National Instruments LabVIEW software and had the reader build a very simple VI (virtual instrument). This article will introduce National Instrument's most affordable computer interfacing hardware — the USB-6008(9) data acquisition units — and show how to use the digital features of the units...
---
Columns
Robytes
by Jeff Eckert
Robot Theme Park on Track
A few weeks ago, the South Korean government authorized construction of the "world's first robot theme park," emphasizing the country's view of the robotics industry as a prime area for economic growth. The Ministry of Knowledge Economy has set aside a 767,286 m2 (about 8.3 million ft2) development area in the Incheon Free Economic Zone for the park, which is budgeted at 784.5 billion won ($562.3 million)...
GeerHead
by David Geer
The Ultimate WALL-E Robot Toy
On the big screen, WALL-E (the last, functional Waste Allocation Load Lifter-Earth class robot) is a curious, blue-collar working trash compactor robot tasked with cleaning up mountains of consumer garbage from the Earth's surface. WALL-E is completely alone in this mess because human beings have moved off the world on a permanent vacation, due to pollution and the inability of the planet to support life...
Ask Mr. Roboto
by Dennis Clark
Ask Mr. Roboto | April 2009
This column marks one year for me answering your questions and hoping that I am helping you along with your aspirations towards building useful or entertaining robots. The fact that you are still reading the column makes me believe that I'm doing something right. Please keep those questions coming; they inspire me to keep researching and writing about what I have learned to help you with your projects. Life is all about constantly learning. One of my favorite authors, Robert A. Heinlein...
Twin Tweaks
by Bryce Woolley, Evan Woolley
Bug Sport
This month, we have the pleasure of presenting another robot kit from esteemed Korean company Robotis, who brought us the incredible Dynamixel and Bioloid. The kit is the Ollo Bug — a kit targeted at that elusive demographic of young budding roboticists. Inspiring youngsters to become interested in science and technology is an admirable goal, but it is a competitive niche already dominated by the LEGO Mindstorms and NXT kits. Does the bug have what it takes to carve out a segment in this...
Robotics Resources
by Gordon McComb
Organizing Your Robotics Workbench
In last month's Robotics Resources, we looked at the major electronics tools and supplies used in building robots, such as volt ohmmeters and soldering irons. Like all workbenches, how tidy you keep your robot building home goes a long way to how much you'll enjoy the process. There are a number of solutions for organizing the bits and pieces of your robotics hobby, including all sorts of toolboxes, chests, cabinets, drawers, boxes, bins, bags, and more. We'll cover many of these in this...
Beginner Electronics
by William Smith
Basic Atom & Robotics
I introduced the new Atom Nano chips from BasicMicro.com in my last column, and now there are more new development tools to help the beginner. There is also a great robotics platform based on the Atom that is a great platform for the beginner so I'll give it a mention later since it's built around the 28 pin Atom interpreter chip. Let's start with the Atom Nano chips...
Then and Now
by Tom Carroll
European Robots
Rather than delve into 18th century 'clock-work' automatons that were famous across Europe (and ones that I've written about before), I'd like to center on the past few decades of more modern robotics. We have to admit that our neighbor across the Pacific — Japan — inarguably has implemented more robots into their industries than any other nation. We seem to forget that the European Union across the Atlantic has long been in the forefront of robot progress. Nations in Europe have designed ...
---
Combat Zone
in
The Combat Zone
The most distinctive and defining feature of a ring spinner is also the biggest challenge to get to work effectively: how to support the ring so that it would spin freely, and transmit power to get it spinning?
The Combat Zone
The 2009 Chattanooga Robot Battles were held on Saturday, January 24th at the Chattanooga Choo Choo Holiday Inn.
The Combat Zone
It is very important to make sure your motors are mounted as firmly as your wheels are.
in
The Combat Zone
Upheaval has competed in: Franklin, Institute Robot Weekend, Motorama 2008, Franklin Institute Robot Conflict, Motorama 2007, and House of NERC 2006.