November 2009
Servo Magazine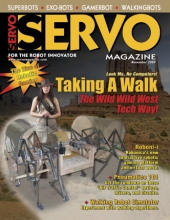 Taking A Walk - The Wild Wild West Tech Way!
---
Features
in
Ask Mr. Roboto
Our resident expert on all things robotic is merely an email away. .(JavaScript must be enabled to view this email address)
By the time you finish reading this article, you'll not only have a couple relay/solenoid/LED driver circuits in your pocket, you'll be able to read and interpret standard pneumatic symbols, as well.
---
Projects
This realistic simulator lets you experiment with walking algorithms without destroying your bot in the process.
I'd like to do some experiments with swarms of small robots acting together to accomplish a task. This requires a small microcontroller. See how i utilized a PICAXE-08M and built the cutest robot i've ever created.
See how five regular guys created a totally awesome, eight legged all-terrain walker with a seat and safety guards.
---
Columns
Robytes
by Jeff Eckert
Robytes | November 2009
Stimulating Robot Tidbits.
GeerHead
by David Geer
SuperBots
SuperBot modules are made up of two, connected, 64 mm cubed "cubes" of aluminum alloy material. The modules have three degrees of freedom, share power with each other, and communicate via infrared LEDs.
Twin Tweaks
by Bryce Woolley, Evan Woolley
The New Roboni-i Robotic Gamer
A company called Robonica has now created this new genre of gaming with the introduction of the Roboni-i — a highly intelligent, programmable gaming robot.
SERVO TankBot
by Ron Hackett
LCD Software For Your TankBot
This month, we are going to explore two software applications for our new serial LCD: real-time distance-to-obstacle measurement and battery voltage monitoring. However, before we do that we need to be sure that our LCD is functioning correctly.
Robotics Resources
by Gordon McComb
A Brain For All Seasons
With a "brain," your robot becomes more than just a simple automated machine. To be a true robot, the brain processes outside influences whether they be light sensors, accelerometers, or lowly bumper switches. Then, from these senses, the robot determines a proper course of action.
Then and Now
by Tom Carroll
Robot Exoskeletons
Sometimes called walking machines, wearable robots, or robot suits, these devices serve to augment physical capabilities to either assist or protect a person from certain conditions.
---
Combat Zone
in
The Combat Zone
I wrote an article for the November '06 issue of SERVO describing how to convert a cheap cordless drill into a drive motor for a smaller robot.
in
The Combat Zone
In combat robotics, modular design can be a safe approach to dealing with both damage and changing circumstances in the arena.
The Combat Zone
The fifth edition of the RoboCore Winter Challenge 2009 ([url=http://www.robocore.net]http://www.robocore.net[/url]) took place on July 25-26, in the city of Amparo (Sao Paulo state, Brazil), with about 80 robots and 230 builders.
in
The Combat Zone
In this short fact sheet, we'll cover the most important terms and techniques for trouble-free hole drilling. Hang this up by your drill press for a quick go-to guide.
in
The Combat Zone
Gutter Monkey has competed in: Seattle Bot Battles 4, Robothon Robot Combat 2006, Seattle Bot Battle 5, NW Hobby Show 2, RoboGames 2007, Robothon Robot Combat 2007, Robothon Robot Combat 2008, Dos Ratas Muertos, NW Model Hobby Expo 2009, and Seattle Bot Battle 7.
Departments