March 2015
Servo Magazine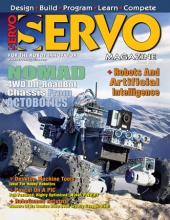 NOMAD: 4WD Off-RoadBot Chassis From ActoBotics
---
Features
Part 3 explains how to program navigation behaviors, so your robot can make it from Point A to Point B without crashing.
Historically, mills and lathes have been leviathan in size, making it unrealistic for hobbyists to have them in their workshops. However, desktop machine tools now make it possible to build more elaborate robots at home. Discover what's available and what you can do with it.
Robotics is well known for its camaraderie among competitors. Here's a story of how that friendship led to the acquisition of a 3D printer.
Many unique contests are popping up these days with all the AI grumblings in the spotlight and all the new cool tools currently available. Maybe this one can inspire you.
As the largest robotic event in the world, participants and spectators alike were sorely disappointed when RoboGames did not take place in 2014. This year is gonna be way better with the return of this popular event.
Looking for an off-road robot chassis? Nomad's four-wheeled frame could be the right platform for your next build.
In late 2014, WowWee Group Limited came out with another commercial robot success: MiP. So, of course, the first thing we want to do is hack it.
Want to try advanced algorithms on your PIC-based robot? Pascal for the PIC provides a highly structured tool for your next robotics experiment.
---
Combat Zone
The Combat Zone
Hal Rucker has lots of experience building combat bots using brushed motors. Over his 13 years in the sport, he's built two super heavyweights, two heavyweights, and two lightweights.
The Combat Zone
In the February issue of SERVO Magazine, I talked about my first event and the creation of my first robot, Slim Pickens. This article will talk about how Slim Pickens has changed over the years, and what I've learned along the way.
The Combat Zone
AndyMark ([url=http://www.andymark.com]http://www.andymark.com[/url]) primarily focuses on providing components for the US FIRST Robotics Competition.
in
The Combat Zone
It was just after Motorama 2014 that I bought a weapon disc that had been designed for use on the lethal 30 lb vertical spinner, Shaka.