November 2012
Servo Magazine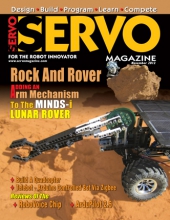 Rock And Rover! Adding An Arm Mechanism To The Minds-i Lunar Rover
---
Features
RoboVoice will definitely give your robots something to talk about!
Meet Telebot — a convergence of ordinary robot with remote control abilities via Zigbee.
If you're an Arduino fan and want to build semi-autonomous planes, copters, or land vehicles, then this review is a must-read. This powerful plug-and-play graphical software is so much fun, it's addictive!
---
Projects
Love quadcopters, but can't af ford a kit? No worries! You can build your own by following along with this series. Part 1 offers an introduction to these increasingly popular multi-rotors.
---
Columns
Robytes
by Jeff Eckert, Jenn Eckert
Stimulating Robot Tidbits
Bionic Eye, Solar Efficiency on Track, Snake Bites with Laser, Bots to Adorn Your Fingers, and Bot Knows Squat!
GeerHead
by David Geer
International Climbing Machines Robots Go Places Humans Can't
International Climbing Machines (ICM) robots use vacuum power to stay adhered to tall surfaces as they maneuver about, taking care of inspections and a variety of tasks.
Ask Mr. Roboto
by Dennis Clark
Your Problems Solved Here
Our resident expert on all things robotic is merely an email away. .(JavaScript must be enabled to view this email address)
Twin Tweaks
by Bryce Woolley, Evan Woolley
Rock and Rover
Along with everyone else that cares about science, human progress, and things that are just plain cool, we have been awestruck and inspired by the incredible success of the Curiosity Rover and the entire Mars Space Laboratory mission thus far.
Then and Now
by Tom Carroll
Servos
I wrote about servos in this column back in the beginning of 2008 when the Robotis Dynamixel rotary actuators had been available for a while for the robot experimenter.
---
Combat Zone
The Combat Zone
After competing for a year with a two-wheel drive wedge named Kobalos, I decided to retire that robot and move on to something with an active weapon.
in
The Combat Zone
Top fighting robot enthusiasts converged on Columbia Mall in Bloomsburg, PA, on Saturday, July 21, 2012 to celebrate the fifth anniversary of BotBlast.
in
The Combat Zone
REVIEW: MicroLux Miter/Cut-Off Saw