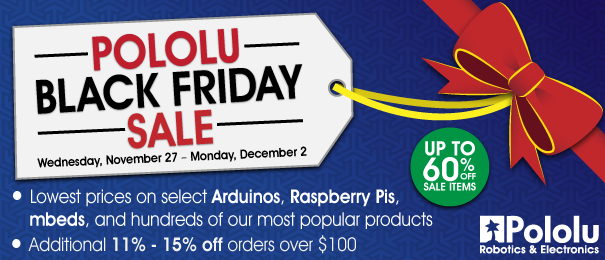 Pololu Robotics and Electronics is having its biggest Black Friday sale yet, discounting hundreds of sensors, actuators, motor controllers, and other robot parts by 30% to 60% and offering an additional 11% to 15% off orders over $100! Buy one Zumo Robot and get one free, save on a 3pi Robot and get a free programmer, and take advantage of great deals on select Arduinos, Raspberry Pis, and mbeds. The first doorbuster deals go live Wednesday, November 27, and the sale runs through Cyber Monday (December 2). For details, visit www.pololu.com/blackfriday
This video shows RoboTerp, a quadrupedal amphibious robot, in which the same legs that achieve locomotion on land using one gait, also provide propulsion in water by switching to a different gait. The central idea hinges on a passive compliance attached to the lower leg that enables it to behave like a valve during movement in water. The direction of this valve-like mechanism is aligned such that rhythmic oscillations of the legs generate a net thrust that propels the robot forward in water. By design, this oscillatory leg movement achieves splash-free swimming, and thereby overcomes the shortcomings of most previous wheel-leg based designs, in which rotational movement causes water splashing that leads to significant turbulence in the robot surroundings.
Kickstarter: Build your own robots with MOSS! Simple, fun, magnetic robot construction kits. No coding, no wires, oodles of configurations!