Build this DIY animatronic skeleton known as Papa Voodoo, created by Steve Koci and his Prop Squad for the October 2014 issue of SERVO Magazine. The Skeleton uses the Acotobotics system from Servo City, a Triaxial Skull Kit from Triaxal Skull Labs, and the Propeller Board from Parallax. Steve used his own Frankenstein board which uses a picaxe to supply the audio and control the skull servos to Papa Voodoo.
MIT researchers have developed an algorithm for bounding that they've successfully implemented in a robotic cheetah. Bounding is when the front legs hit the ground together, followed by the back legs. It's similar to the way a rabbit runs, and it's relatively simpler to imitate than more complex patterns of four-legged running, like trotting or galloping.
FDA has approved Argo Medical Technologies to sale the first Exoskeleton and they are calling it ReWalk. Argo Medical Technologies, or Argo, can now market its products in the U.S. With the aid of crutches, people who are paralyzed from the waist down will be able to put their wheel chairs aside and use the robotic apparatus to walk again. The price for a unit is $69,500.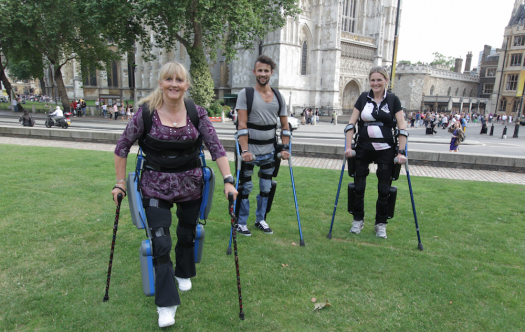 ReWalk Users in London Courtesy of Argo Medical Technologies