FDA has approved Argo Medical Technologies to sale the first Exoskeleton and they are calling it ReWalk. Argo Medical Technologies, or Argo, can now market its products in the U.S. With the aid of crutches, people who are paralyzed from the waist down will be able to put their wheel chairs aside and use the robotic apparatus to walk again. The price for a unit is $69,500.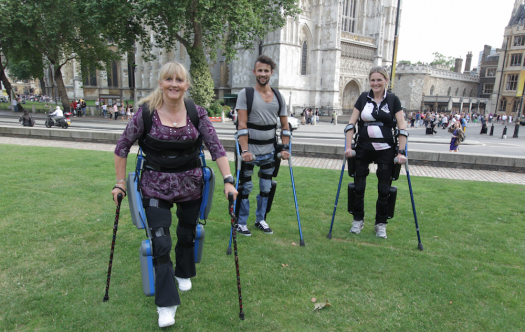 ReWalk Users in London Courtesy of Argo Medical Technologies
Flying robots that can show true autonomy – and even a bit of politeness – in working together and venturing into hostile environments are being developed by engineers at the University of Sheffield. The research paves the way for robots to work intelligently alongside humans in ways that are currently familiar only through science fiction films. The robots could play important roles in crisis situation such as search and rescue missions, or operate in environments where it would be dangerous for humans to work.
OutRunner is the world's first legged running robot that is commercially available to the public. That's right—a running robot! OutRunner is eating up the competition with amazing capabilities: self-balancing, running up to 20 mph on almost any types of terrains (grass, asphalt, dirt…) with up to 2 hours of battery life, extremely simple to operate and upgradable. There is simply no other robot with such capabilities and so easy and fun to play with. All you need to do is just press the accelerator and steer it wherever you want it to go; it's that easy. Let the fun begin! Check out their Kickstarter if you're interested in getting one early.