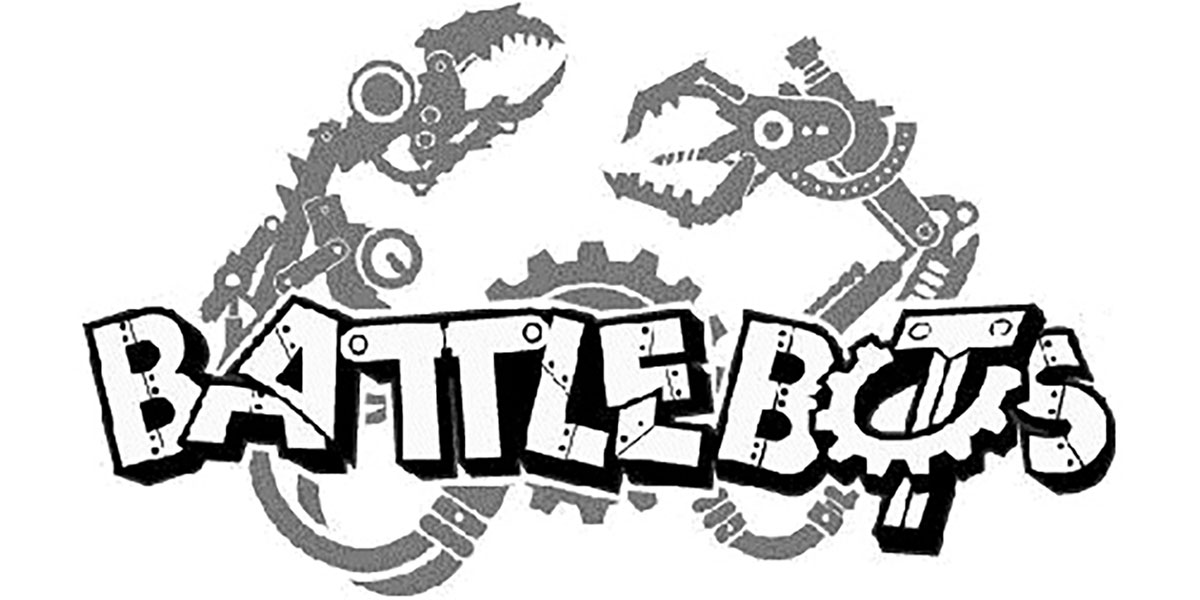 Servo Magazine ( February 2012 )
The History of Robot Combat: BattleBots
By Morgan Berry View In Digital Edition
---
Last time, we discussed the birth of robot combat with Critter Crunch at MileHiCon, and the sport's growth into the popular Robot Wars competition and British television series. This time, we examine the transformation of the sport into a nationwide phenomenon.
---
For years, robot combat in the United States was a niche sport reserved for relatively small groups of builders. In the course of less than two years, however, the BattleBots™ competition grew from another middle sized competition to a nationally broadcast show on Comedy Central. Television audiences had never seen anything like it; BattleBots was a complete novelty — and Americans could not get enough.
What led to the show's success? In an online Q&A session with fans of the show on the Washington Post's website in 2000, cofounder Greg Munson chalked it up to pure human nature: "People like to see things get destroyed," he said in an answer to one question. History agrees; robot combat is really just a slightly more humane version of gladiator fights in ancient Rome. Whatever the reason for the appeal, it is certainly true that the BattleBots television show brought huge mainstream popularity to robot combat.
The Start of BattleBots
As I discussed in the first installment, the late 1990s were a turbulent time for robot combat. Marc Thorpe, the founder of the popular Robot Wars competition, was entangled in legal battles over the Robot Wars brand. Several events in San Francisco, CA were planned and then cancelled due to legal issues. Eventually though, a pair of veteran builders — Trey Roski and Greg Munson — were given the legal go-ahead to host an event. A few months later in August 1999, the first official BattleBots competition was held in Long Beach, CA.
The event had three weight classes: Kilobots (25-55 lbs wheeled, 25-83 lbs legged), Megabots (56-109 lbs wheeled, 84-164 lbs legged), and Gigabots (110-200 lbs wheeled, 165-300 lbs legged). Notice that legged bots — like the impressive 450 lb Mechadon from Mark Setrakian (Figure 1) — were allowed to be much heavier than their traditional wheeled counterparts. Because of the difficulty involved in building them, only a few legged bots were entered in the competition.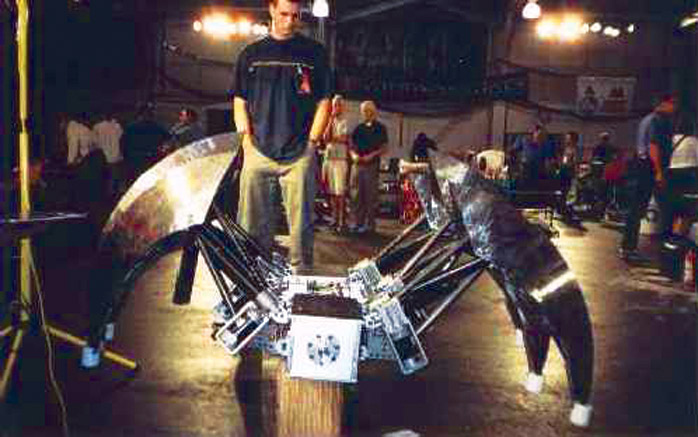 FIGURE 1. Mechadon. Photo courtesy of teamkiss.com.
---
There were the obligatory funny/silly robots, like Stuffie — a megabot that sported the shell of a remote controlled jeep with a teddy bear at the wheel — and Tentomushi (Figure 2) — an adorable ladybug themed bot that won over the crowd to claim victory in two separate matches.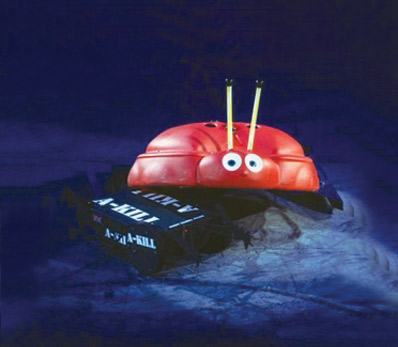 FIGURE 2. Tentomushi.
---
Popular robots from the BattleBots television show, such as Carlo Bertocchini's BioHazard, or Deadblow — Grant Imahara's bot that has made several appearances on Discovery Channel's MythBusters over the years — also took part in this original competition.
A few months later in November 1999, a second competition was held. This event used the weight class names of Heavyweight and Superheavyweight that fans of the television show were familiar with. A pay-per-view broadcast of this event gave television audiences a taste of the young competition — and soon America was hungry for more.
The Television Series Rockets to Success
The pay-per-view special generated a lot of interest in BattleBots and robot combat as a whole. Soon, it was announced that Comedy Central intended on adapting the competition into a regular television series. The show premiered in May 2000 and was soon a hit with television audiences. The premiere episode boasted some of Comedy Central's highest ever ratings at the time. The season was split into 13 episodes but in reality, the tournament took place in a single weekend in San Francisco.
"Spectacle" was a uniting theme in the program. Playboy Bunnies and former Baywatch actresses such as Carmen Electra were featured as correspondents, as well as comedians Bill Dwyer and Randy and Jason Sklar. The show also boasted popular scientist Bill Nye as a "technical expert." These famous faces added an air of relatability to the general public, but the competitors were mainly veteran builders.
To add more excitement to the matches, arena hazards operated by "Pulverizer Pete" like the pneumatic rams known as "Hell Raisers" could spring into action at any time.
As the show gained in popularity, celebrities began to get in on the act too. BattleBots was featured on an episode of the Tonight Show, where Jay Leno revealed a BattleBot of his own: Chin-Killa (Figure 3).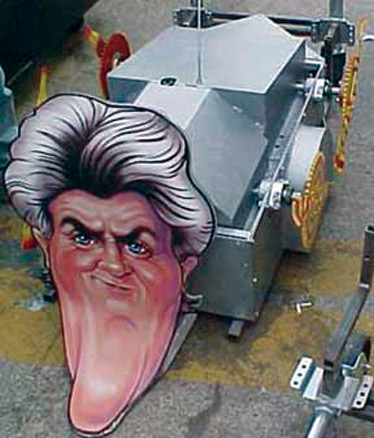 FIGURE 3. Chin-Killa. Photo courtesy of robotcombat.com.
---
The show was also featured in an episode of the popular sitcom Malcolm in the Middle. Soon, a clothing line and remote controlled replicas of the robots were available for sale, introducing a new generation of viewers to robot combat. The show would go on to have a five season run, but the lasting legacy would endure, with BattleBots becoming the popular face of robot combat in America from that point on.
BattleBots Today
The end of the television series in 2002 was by no means the end of BattleBots. Since the show's end, BattleBots has continued to host tournaments across the country. BotsIQ — a competition sponsored by BattleBots — focuses on teaching robotics, as well as other STEM areas to middle and high school aged students.
For information on pcoming events and how to get started in a BattleBots or BotsIQ competition, visit BattleBots.com. Next up in our series: Post-BattleBots era competitions. SV
---
Thanks for the Memories
Believe it or not, it has been over 10 years since BattleBots first aired on television. Some of the veterans of the competitions were kind enough to share their memories of participating in the events.
Terry Ewert, driver of superheavyweight champion Son of Wyachi, remembers the challenge and fun of the competitions: "The days were really long; [we did not get] much sleep during the event week. But we were operating under the motto of work hard and play even harder."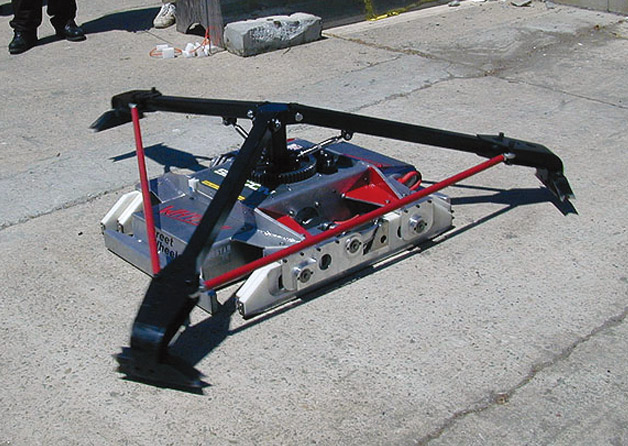 FIGURE 4. Son of Wyachi.
---
Michael "Fuzzy" Mauldin, driver of FrostBite (along with many other ice-themed bots), gave us a vivid account of his proudest moment: winning against Brian Nave's Phrizbee Ultimate during Season Five. "Phrizbee Ultimate had been tearing its way through the brackets, demolishing robot after robot (and wreaking havoc on the arena walls, too). After the first big hit, IceBerg's plow blade tore off and flew across the arena. But the huge hit disconnected Phrizbee Ultimate's weapon batteries, and from then on, our weaponless superheavy pushed Phrizbee around the arena. Then, Iceberg pushed Phrizbee up against the screw hazards and Phrizbee toppled upside-down. It wasn't our first knock-out, but it was our most satisfying."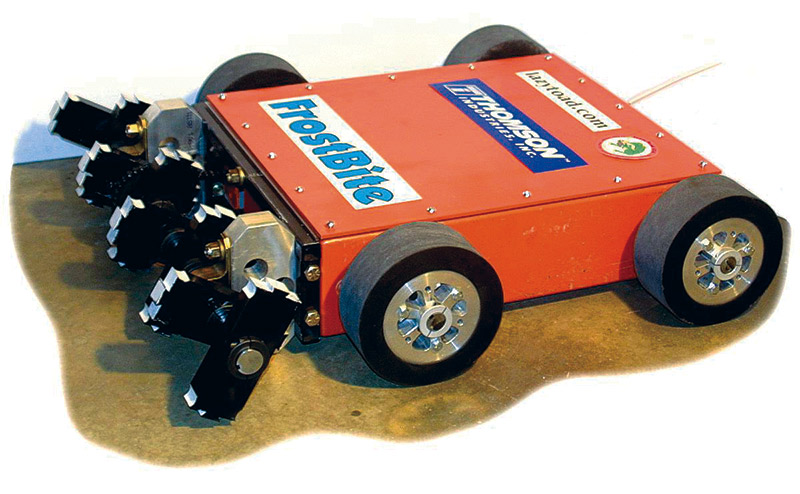 FIGURE 5. Frostbite.
---
Jason Bardis, who drove Dr. Inferno Jr. (which took home two lightweight championships), recalled the spirit of camaraderie that surrounded the competitions: "My best memories ... are the many instances where a competitor helped another fix their robot, just before they were to fight each other, so that it would be a fun, fair, and exciting fight. My largest and closest set of friends comes from the robot combat community. Whenever I go on a trip, I meet up with my bot friends."
---