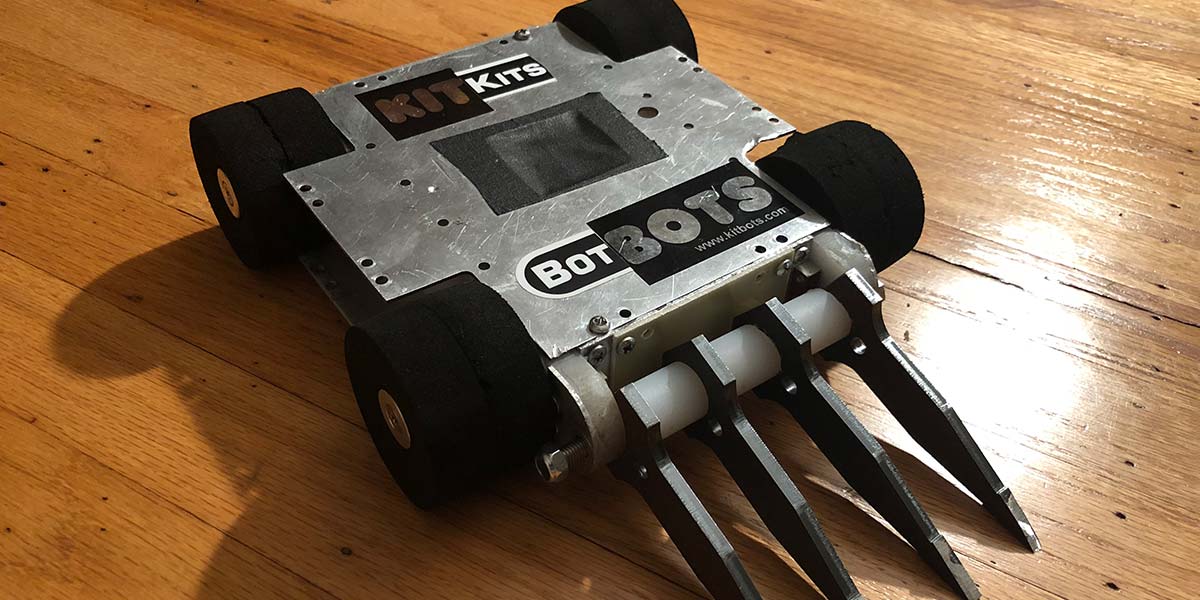 Stepping Stones — The Story of Thunder Child
By Nate Franklin View In Digital Edition
---
After my first event in late 2012, I decided to get started in the world of Beetleweight combat robots. Since I had no fabrication skills or access to any tools, one of my friends suggested I purchase a kit from kitbots.com.
After looking at their selection, I chose the chassis for a four-wheel brick based on the Beetleweight Trilobite as my introduction into the class.
After getting all the necessary electronics and hardware, my dad and I assembled it on the dining room table a week before its first event: Motorama 2013. The bot was named Thunder Child, which came from the fictional ironclad warship in H.G. Wells' War of the Worlds.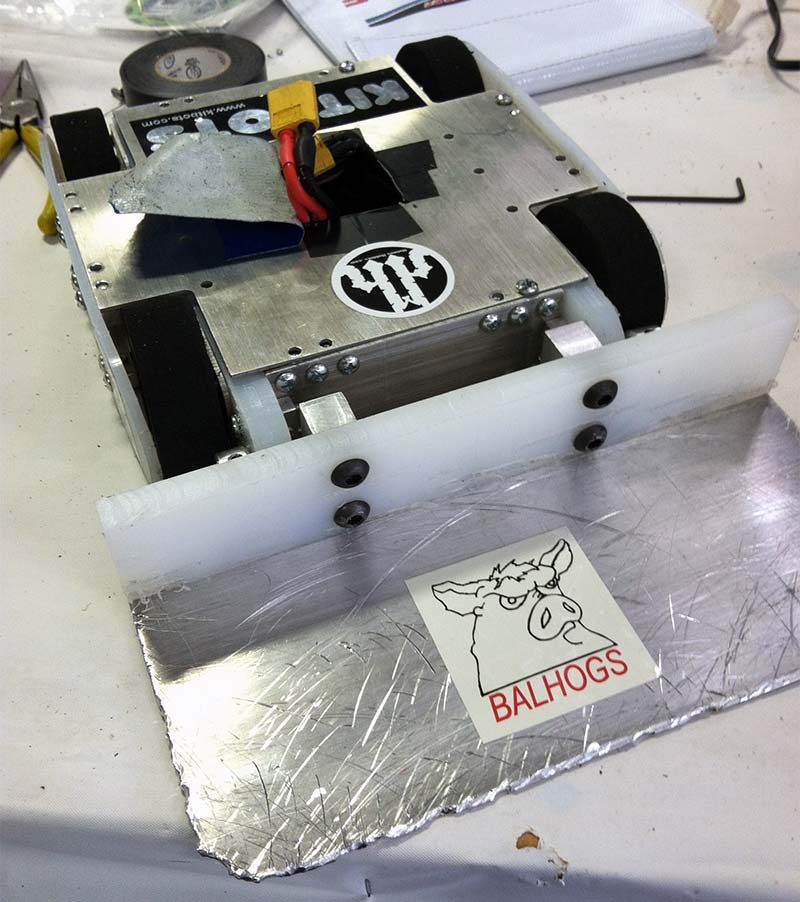 Thunder Child at its first event.
---
The bot didn't do so well. The ESCs I purchased were too big for the bot and drew way too much current, which resulted in most of my bot's motors burning out throughout the competition.
Despite this issue, Thunder Child managed to finish with a 1-2 record, and won a grudge match held during downtime.
After the event, I was given a lot of advice from fellow builders. Thunder Child would go on to compete at a few events over the next two years where it achieved minimal success, usually getting knocked out of the tournament with a single win.
The turning point for Thunder Child came in summer 2015, when another builder that lived 30 minutes from me offered to help me out by making a steel wedge for Thunder Child. With the kit's CAD files freely available for reference, he was able to design a new attachment and taught me how to make it. It was my first real experience working with tools, but the wedge turned out nicely.
The work paid off, and Thunder Child placed third at Bot Blast 2015, with the wedge coming in handy when dealing with horizontal spinners. Unfortunately, Thunder Child would struggle in the next two events, resulting in the wedge I had built getting destroyed by a nasty vertical spinner.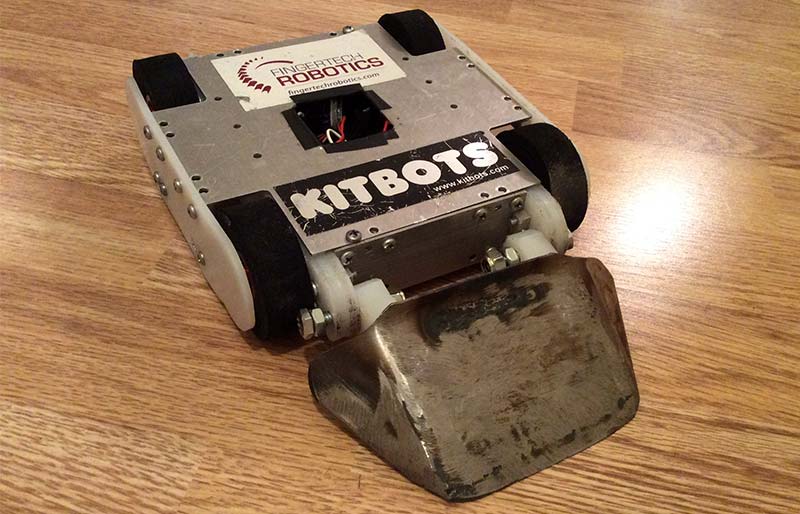 The new wedge didn't last long, but it was a step in the right direction.
---
In 2016, Thunder Child found success when Pete Smith (the owner of Kitbots) sold me a wedge from the BotKits D2 kits modified to fit Thunder Child. I managed to pull off an undefeated run at Bot Blast, and place second at SWORD later that year.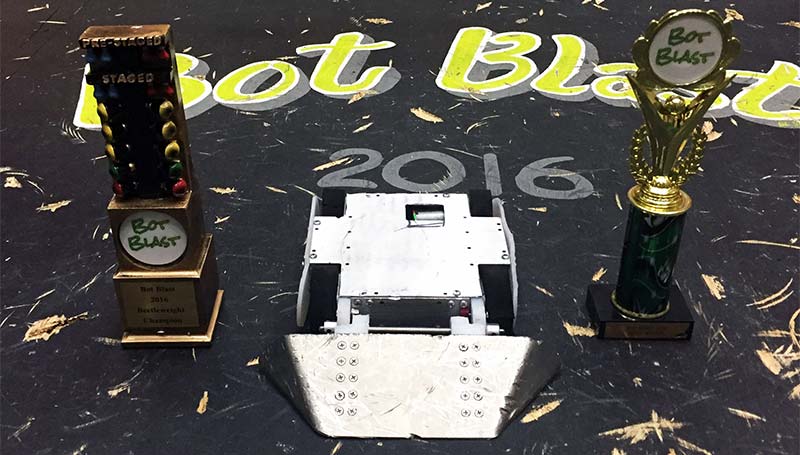 First place and best driver at Bot Blast 2016 with the D2 wedge.
---
The wedge worked extremely well against horizontal spinners but was an easy target for the new meta: vertical spinners with wedglets.
I found the solution to the problem when BotKits released their Wolverine claws in 2017: S7 tool steel wedglets designed for fighting vertical spinners and other wedges. After finding out that the claws used the same size hole for the mounting that the Trilobite kits use, I instantly purchased a pair.
With Thunder Child now able to swap to different attachments depending on the opponent, I chose to replace the stock titanium axle with shaft collars with a grade 8 hex bolt and lock nut.

Original titanium axle and shaft collars (top) and new grade 8 bolt and lock nut (bottom).
---
This allowed for easier attachment swapping since I didn't need to worry about applying Loctite to any set screws. However, it came at the cost of an additional ounce in weight.
Thunder Child entered 2018 by placing fifth at Motorama, stopped only by a broken soldering joint. Things were looking up, as I had also started learning computer-aided design (CAD).
My first big project for Thunder Child was creating a set of wedglets designed to fight D2 kits, which had become increasingly popular in the Northeast. In addition, I came up with an anti-D2 configuration, where I could swap Thunder Child's normal snap hubs for longer hubs that would fit an additional wheel for extra traction.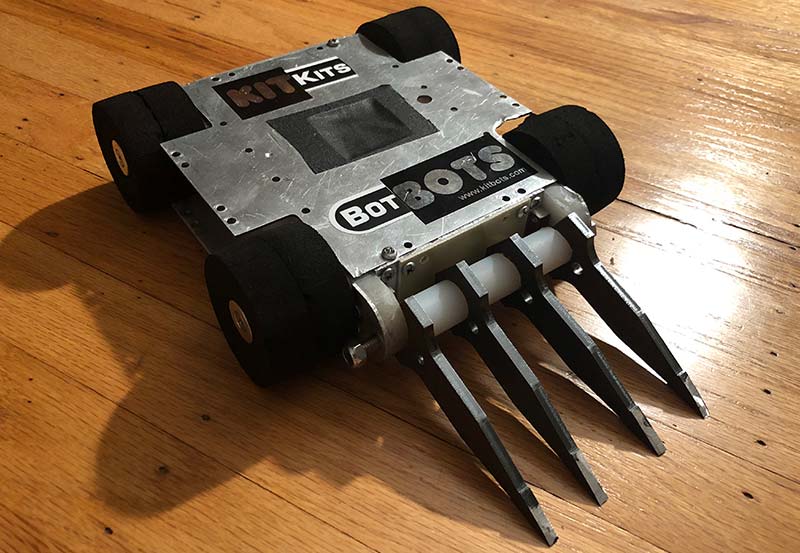 The anti-D2 wheels (only used once) and wedglets.
---
Bot Blast 2018 was my first event with the three attachments (wedge, claws, and wedglets), and proved to be a huge learning experience. I lost my first match with the anti-D2 configuration, where one of the set screws came loose and a wheel fell off.

Fighting Claws 2 at Bugglebots.
---
In addition, the bot shut off at the end of the fight, likely due to the new speed controllers drawing too much current like what happened at its first event. Despite this, I managed to fight through the loser's bracket, utilizing all three of the attachments to place third after experiencing similar electronics failures.
After solving the electrical gremlins, Thunder Child came back stronger than ever, placing at the next two events and finishing in fourth place at Motorama. I then took the bot overseas to the UK Beetleweight web series, "Bugglebots," where it placed second in a field of 30 bots from around the world and became a fan favorite.
The only change in 2019 was swapping to the faster 22 millimeter motors and a brand new Futaba transmitter. These upgrades resulted in Thunder Child placing first twice, much to my delight.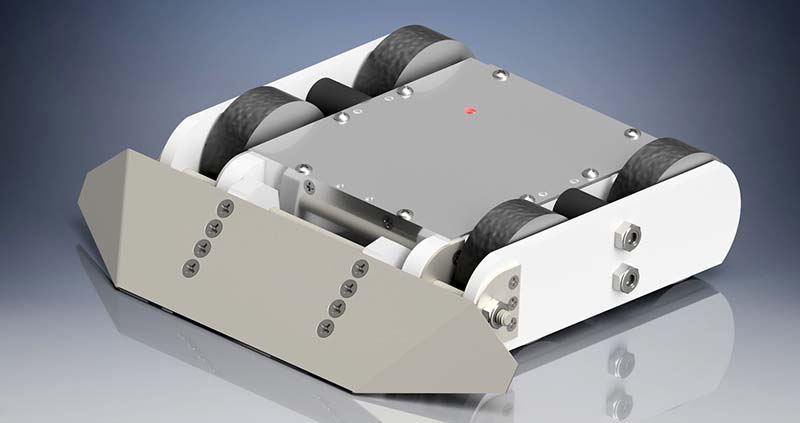 A render of the new Thunder Child. Coming soon to an arena near you!
---
After placing seventh at Motorama 2020, I felt it was time for a change. I took all the skills I had learned in CAD and built a new Thunder Child from scratch. My original kit had done its job. It served as a stepping stone into the world of designing combat robots. SV
---