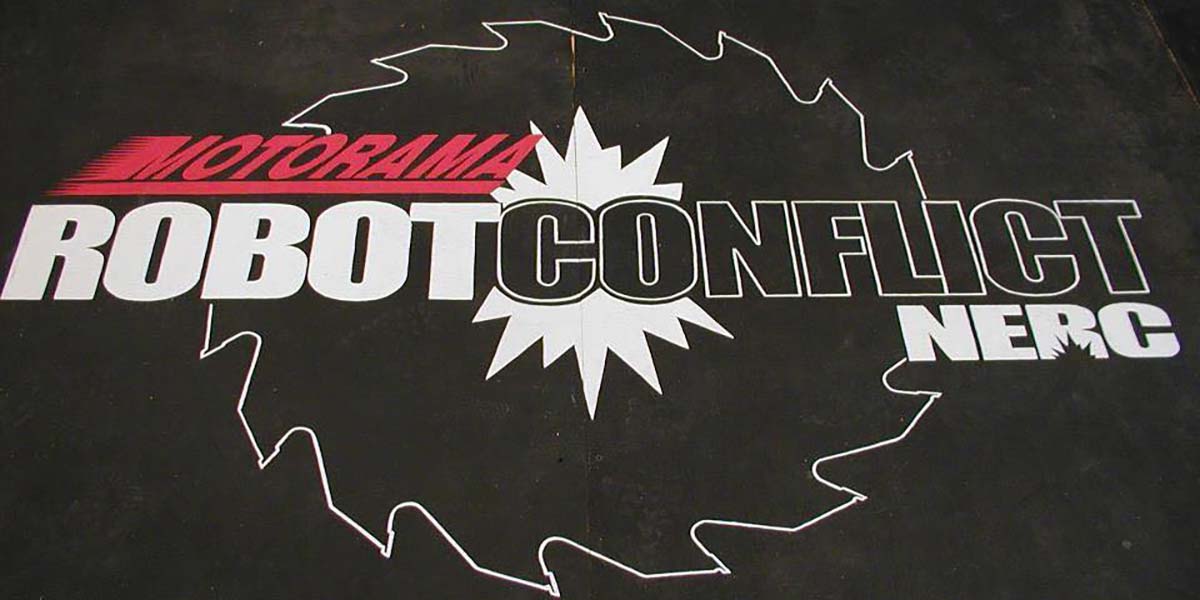 Servo Magazine ( August 2012 )
The History of Robot Combat: Motorama
By Morgan Berry View In Digital Edition
---
Motorama was born around the same time as many other robot combat events: shortly after the end of BattleBots. Through the years, the competition has grown considerably, changed arenas, seen child competitors grow up in the sport, and evolved.
One thing that remains the same about the event is the atmosphere of camaraderie and friendship that is unique to all robot combat circles.
NERC (Northeast Robotics Club) was founded in 2000, and is one of the longest running robot combat organizations currently working in the United States. In addition to hosting Motorama every year, they also host an event in conjunction with the Franklin Institute Science Museum in Philadelphia.
NERC uses its own rules, and typically organizes events in a double elimination style. Their goal is to "make robot combat accessible to all interested parties." The organization prides itself on being a "small, close-knit family of like-minded builders," and is working to keep the spirit of robot combat alive and well in the northeast.
The Motorama event has weight classes spanning from 150 grams (Fairyweight) to 30 pounds. In addition to awarding first, second, and third place prizes in all of these categories, the judges also give out awards for "The Coolest Robot," "The Most Destructive Robot," and "Best Driver."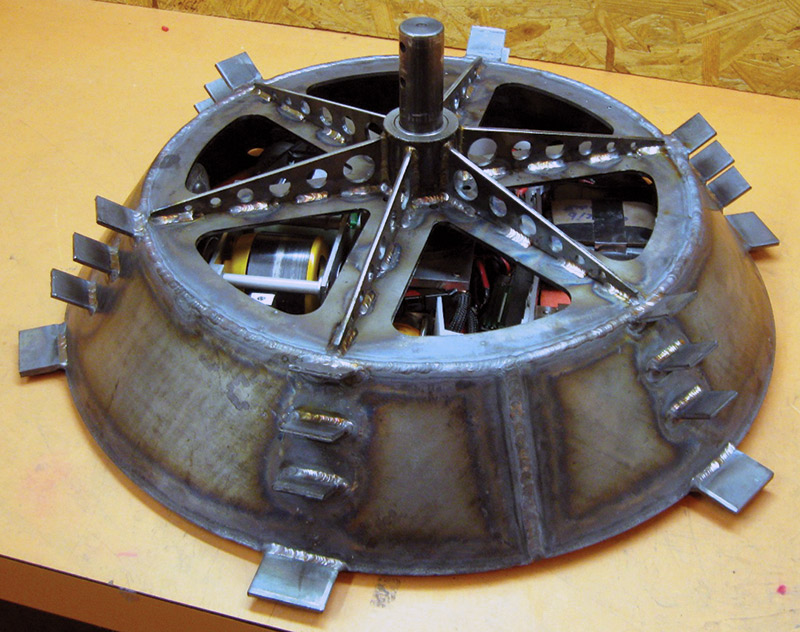 Tetanus is a 30 lb spinning shell bot from Team Brain Damage. It won first place in the Featherweight class at Motorama this year (2012). It also took home the coveted "Most Destructive" award.
---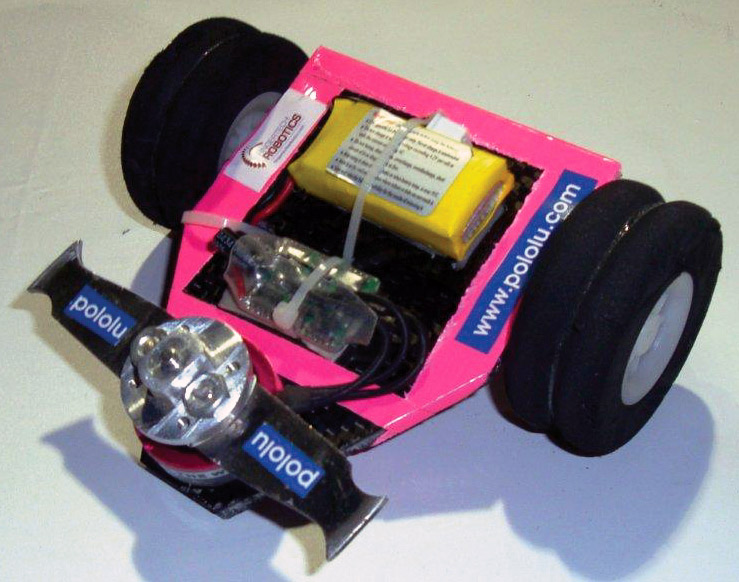 Hedgehog — a Fairyweight — has a spinning blade and was entered by Team Mateo.
---
The robot combat event at Motorama is part of a large motor show held in Harrisburg, PA every year. Robot combat is a relatively new addition to the event; Motorama has been around since 1978.
In addition to combat, visitors to Motorama can view a massive show of antique and modern automobiles and numerous indoor racing events. This year (2012) was a milestone for the Motorama robot combat competition; builders celebrated the 10th anniversary of its founding, making it one of the longest running competitions in the sport. In honor of the occasion, SERVO spoke with Al Kindle — long-standing NERC officer and Motorama attendee — about the past, present, and future of the event.
SERVO: What was the first Motorama competition like?
Al Kindle: It was held in 2003 with the old NERC 16 ft arena. I want to say we had over 100 bots as all Motorama events that I can recall have had 100+. The Builders Database does not go back as far as this event.
SERVO: Has a lot changed over the years at Motorama? How has the competition evolved over time?
Al: The arena has changed several times. In 2004, we used the 24 ft Toad Tank, graciously donated to NERC by Michael (Fuzzy) Maulden and the Lazy Toad Grill. We ran bots from Antweight through Lightweight at this Motorama. Roy Helen was on hand for this as MC in his full BattleBot armor. Roy would return for several other Motorama events; the Toad Tank would not. The costs involved with keeping and transporting the Toad Tank were beyond NERC's capabilities. Since then, we have used variations of the POP 12 ft arena provided by Robert Masek. The current arena is NERC's own custom built 16 ft arena, designed and built by Robert Masek and Eric Scott. The arena is stored in a barn on the property of the awesome Benson family, who also transport the arena to and from the Motorama venue back to its home in Winchendon, MA. We could not have Motorama events without their tremendous dedication and generosity.
SERVO: What age groups participate at Motorama? Is the body of competitors getting younger/older/staying the same over time? Does NERC do anything to reach out to young people at Motorama?
Al: We have had competitors from as young as four all the way into their 80s. This truly is an ageless hobby. We have seen young competitors age and remain active with us as new young people become involved. We have seen an increased involvement with area schools, as well. Georgetown Day School Robotics, for example, out of Washington DC.
We recently began running the Bots IQ 15 lb weight classes at Motorama and have had an encouraging number of competitors in the class.
SERVO: How many participants would a Motorama event typically have?
Al: We routinely have 100-125 bots at each Motorama event.
SERVO: How far away do most people come for the event?
Al: We have regular competitors from as far away as Colorado and Canada. We also have builders from many different states: New Jersey, Pennsylvania, Florida, Texas, and North Carolina, just to name a few.
SERVO: What do you think the future holds for Motorama and robot combat?
Al: 2012 was our 10th event at Motorama and we hope to have at least another 10. We also have our annual event at The Franklin Institute in Philadelphia in October. We will do our part to continue the growth and advancement of the combat robotics hobby in the northeast as long as it is feasibly possible.
Drawing over 100 bots every year to Harrisburg, Motorama is one of the largest currently running events in America. Aside from just plain being fun, Motorama also does a good job of drawing in new young faces into the sport, and keeping them involved all through their youth. This is an important task, since keeping the youth involved in events is crucial for the sport to survive and thrive.
In the photos, you'll find a few of the competitors at Motorama this year from various weight classes. SV
---
A Few Bots from Motorama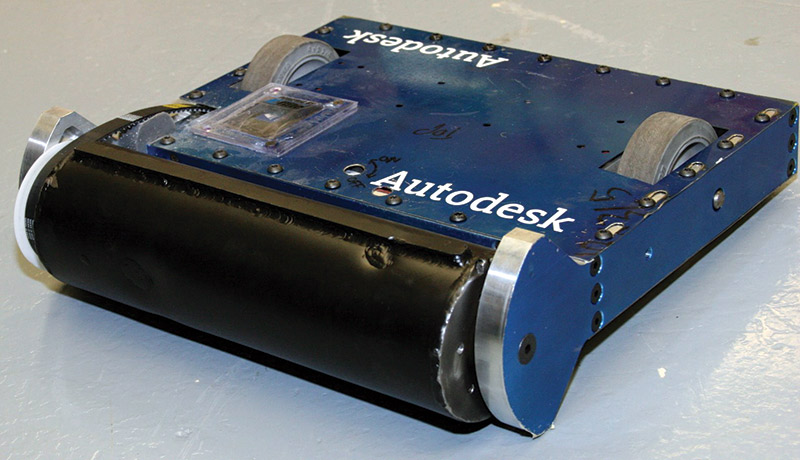 Higgins from Team Tech uses a drum spinner for a weapon.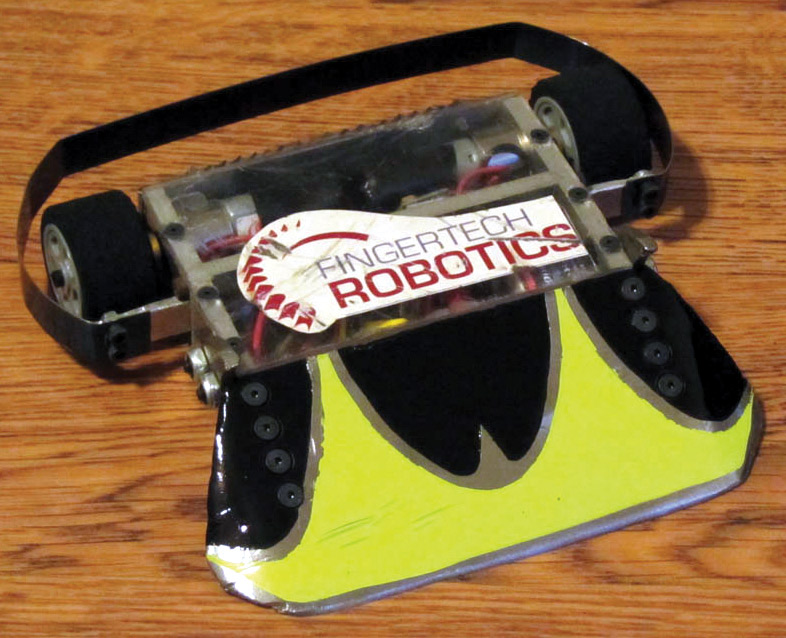 From Near Chaos Robotics, one pound Kobalos is a horned wedge design. It took home second place in the Antweight category this year.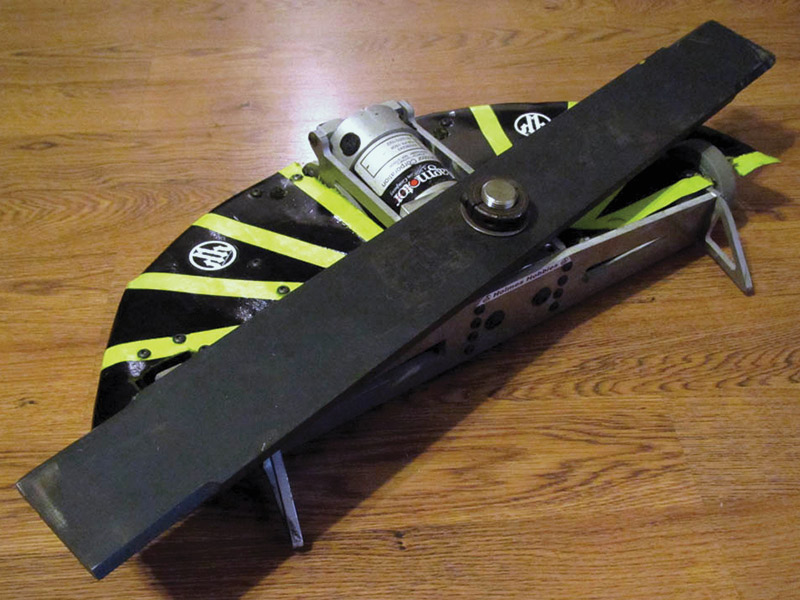 Another entry from Near Chaos Robotics was Featherweight Moros, using a horizontal spinner weapon.
---