New Products
---
Receiver Recorder Sound Add-on Module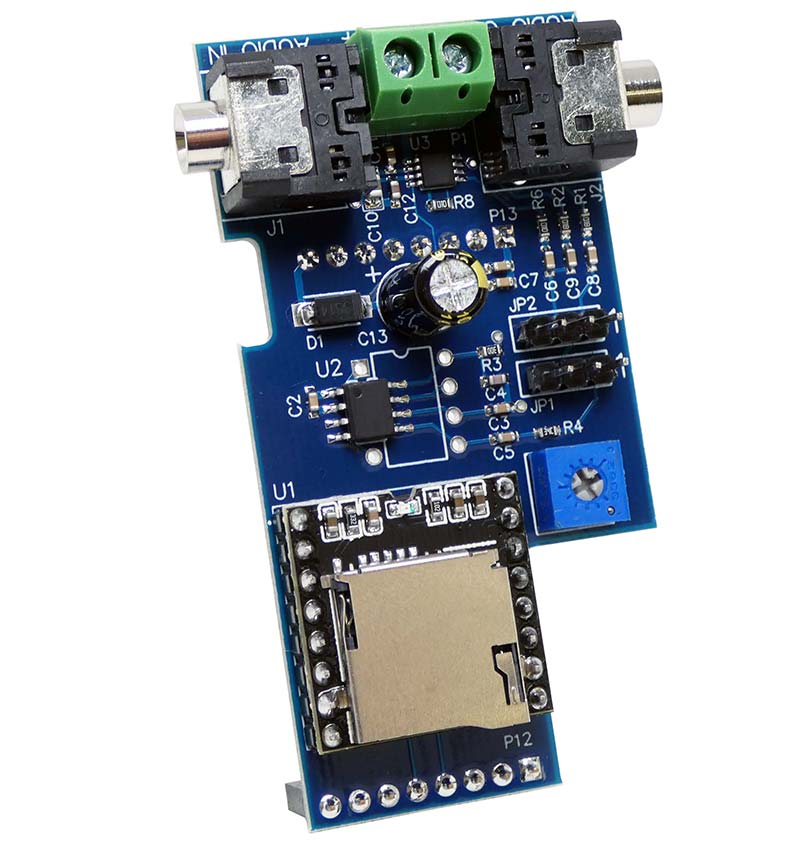 Addicore and Boffintronics have announced the immediate availability of the Receiver Recorder Sound Add-On Module: a plug-in accessory to the Steve Koci inspired Receiver Recorder board. The module uses an MP3 player to play sound clips and a seven-band spectrum analyzer to send real time motion information from the sound clip to the Receiver Recorder that allows it to control a jaw servo. For sound output, the module includes a 3W speaker amplifier and a line audio out jack.
The Receiver Recorder Sound Add-On Module brings a new dimension of reality to any creator's animatronic projects by linking any recorded voice sample to their jaw synchronization. The module is priced at $26.99. "Anyone working with animatronics will appreciate how easy this new Receiver Recorder Sound Add-On module is to install and use," says Alex McKay, CTO at Addicore. "The board's low price also makes it perfect for educational developers and other entities looking to expand their footprint in the field."
For further information, contact:
Addicore
www.addicore.com
---
Steel Viper-Slides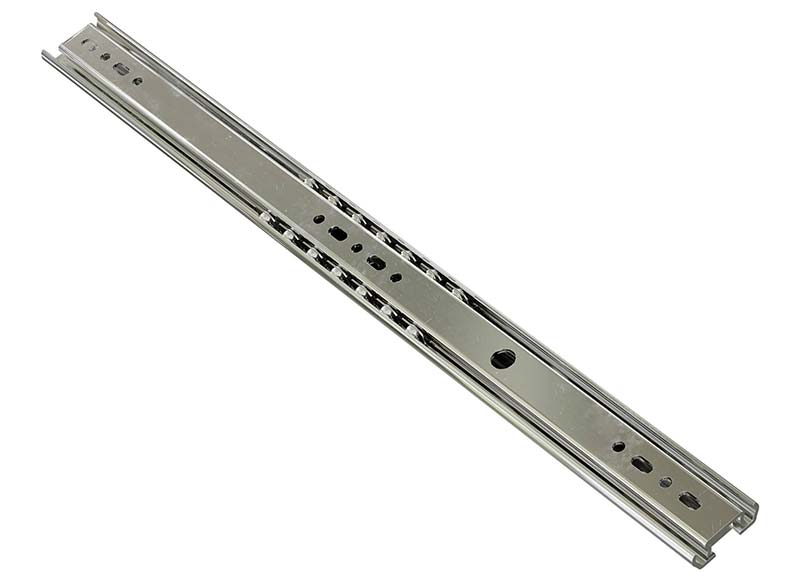 The goBILDA Viper-Slides (14-ball carriage, 336 mm length, 244 mm travel) are a smooth and strong solution for linear motion needs. The slides are constructed of 1.5 mm thick steel so that you can build lifting and reaching mechanisms without 'pairing' them up as many do in robot challenges that call for lifting objects. Whereas the races of an aluminum slide will wear over time and cause slop, steel slides are built to last. The combination of 4 mm thru-holes, 4 mm slots, and clearance holes makes fastening these slides to one another extremely easy using M4 hardware. Price is $15.99.
Round-End Pattern Plates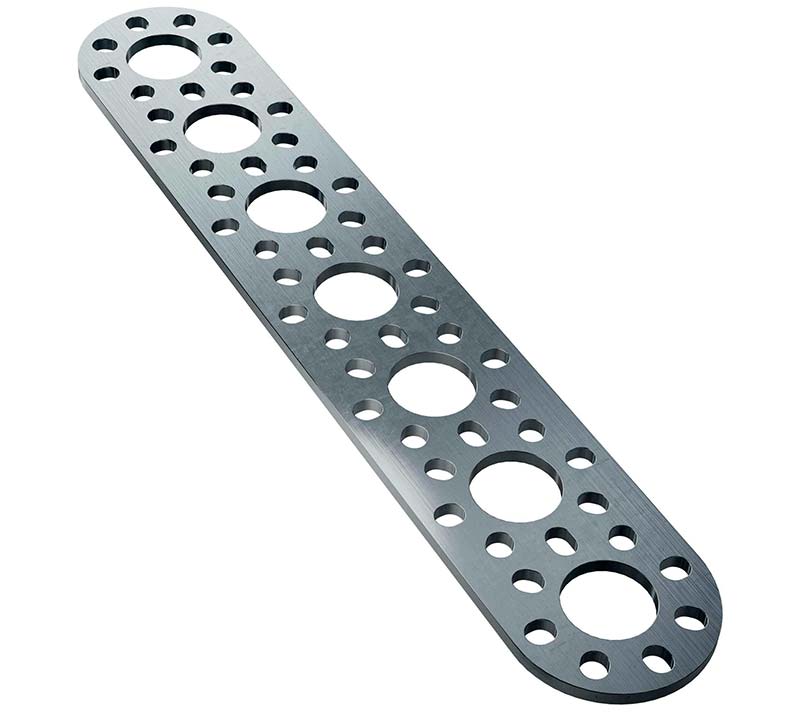 These Round-End Pattern Plates also from goBILDA are made of 2.5 mm thick aluminum, striking a balance between weight and strength. The 16 mm goBILDA pattern, which has been slotted to 24 mm across center, repeats down the length of the plate providing many mounting options. The 14 mm holes can be used for 14 mm OD bearings as well as parts that contain a 14 mm protrusion (like hubs) to ensure concentricity. The 32 mm width makes for a more compact option when compared to the 1123 Series Pattern Plates. The rounded shape provides added clearance for nearby rotating components. Three-hole/80 mm lengths start at $2.99 and go up from there.
Planetary Gearboxes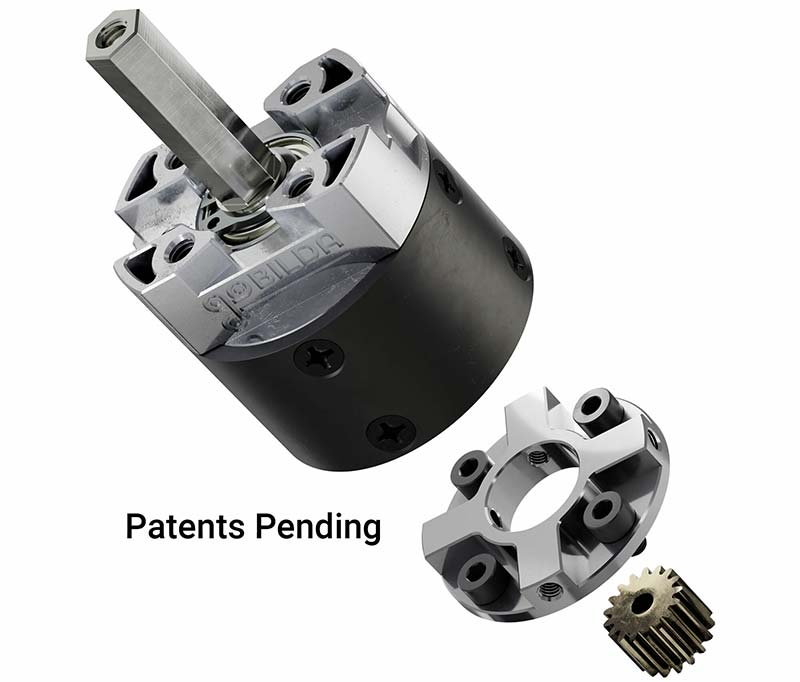 These goBILDA planetary gearboxes are a direct replacement to the gearbox found on the 5203-2402-0188 Yellow Jacket Planetary Gear Motor. This gearbox is packed with features, such as the goBILDA pattern in the face, clearance cuts for nearby components, and a beefy 8 mm REX output shaft to drive 8 mm REX components. Price is $34.99. Gearboxes are available in 10 different ratio options.
For further information, contact:
goBILDA
www.gobilda.com
---
Sealed Flanged Bearing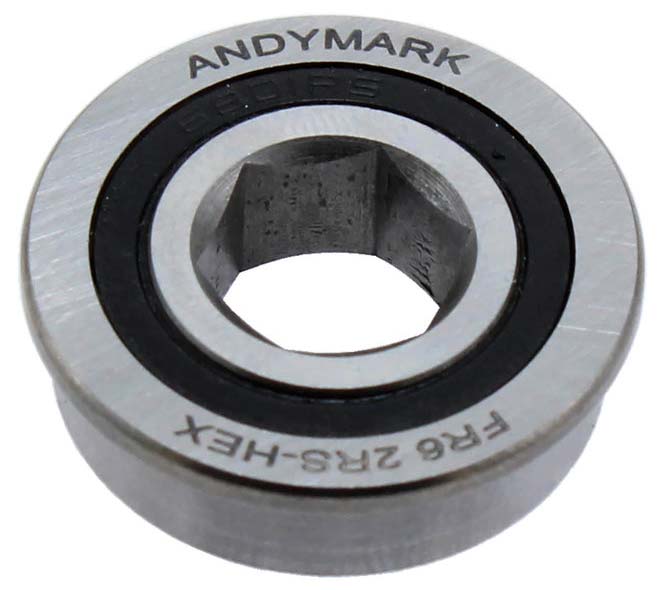 The much-anticipated 3/8 in hex ID 7/8 in OD bearing is back from AndyMark, and it's stronger than before.
Unlike the previous version from 2010, this bearing has a significantly thicker inner race giving it a dynamic load rating of over 175 lb. Although this bearing is not recommended for use on an FRC drive system, they would work well anywhere else on your robot you want to use a 3/8 in hex shaft to make your mechanisms smaller and lighter.
This bearing is protected by a low resistance seal that prevents dirt and debris from locking it up, while letting it spin freely. Pricing begins at $7 for one unit. Specifications include:
Bore: 3/8 in Hex
Dynamic Load: 855N
Flange: Flanged
Flange Diameter: 0.975 in
Flange Thickness: .065 in
Material: Steel
Outside Diameter: .875 in
Seal Type: Sealed
Static Load: 435N
Width: .280 in
For further information, contact:
AndyMark
www.andymark.com
---
6-in-1 Gyroscope Kit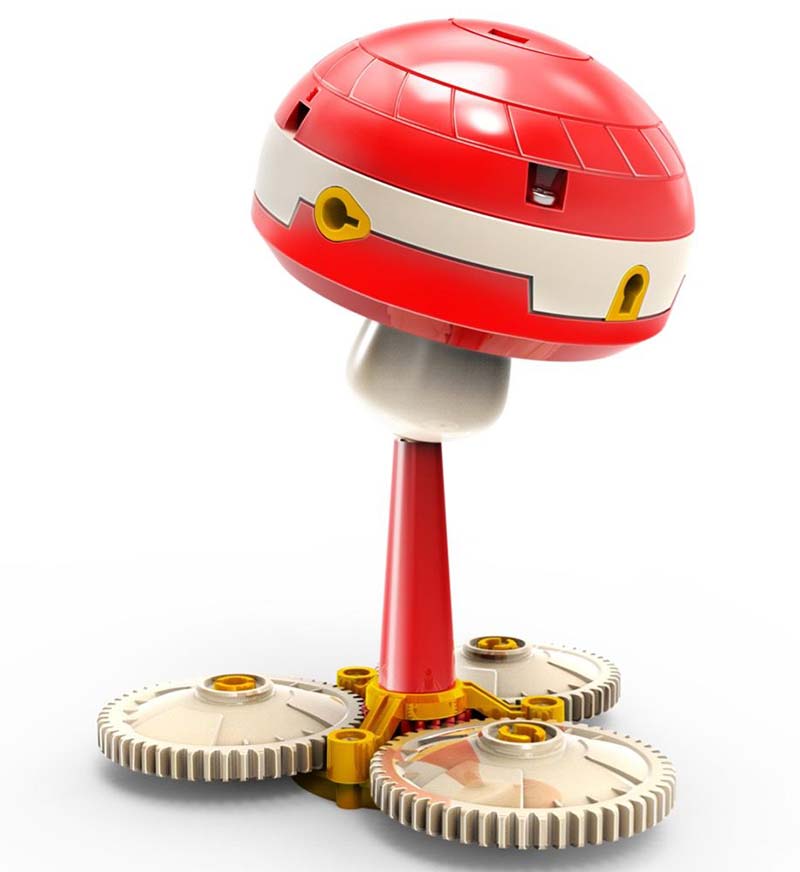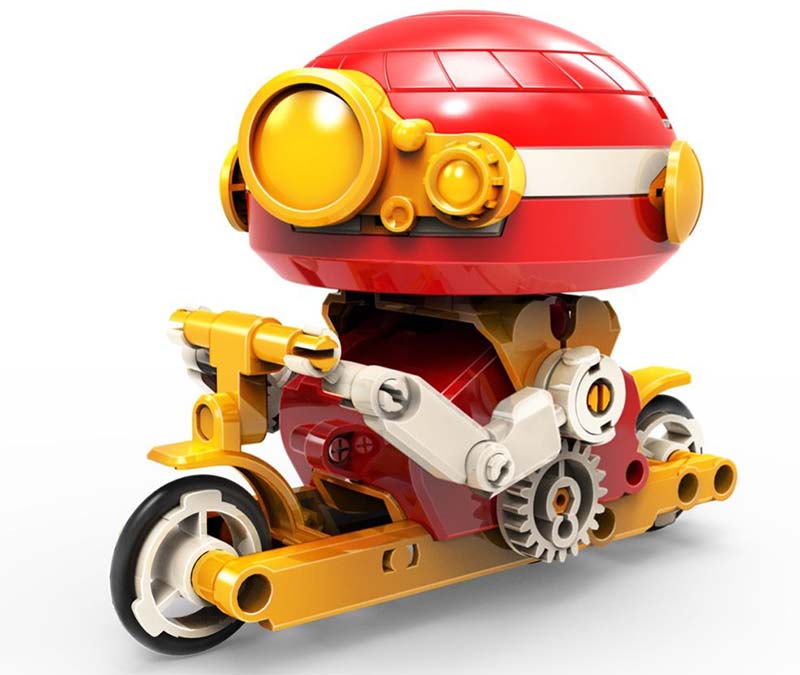 ELENCO has introduced Dizzy: a playful 6-in-1 gyroscope machine. Build Dizzy, pull the ripcord, and watch him go. No batteries are required. Learn STEM concepts and basics of gyroscopes, balance, and more. Dizzy can transform into six different builds: stilts, rover, swinging robot, tower spinner, scooter, and roller coaster rider. It's recommended for children eight years and up. Price is $24.
For further information, contact:
ELENCO
www.elenco.com
---
Circuit Design Trainers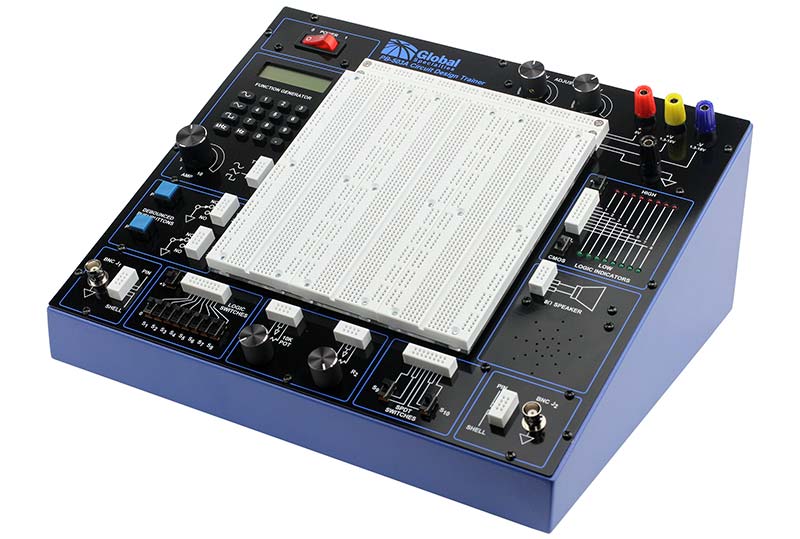 Global Specialties has released an updated version of its classic Circuit Design Trainers. The new PB-503A and PB-505A now feature a function generator with digital display for accurate settings. You can precisely dial in your frequency to the nearest 0.1 Hz.
The generator provides a 100 kHz signal in two ranges, and outputs 10 Vp-p into a 600Ω load (20 Vp-p into an open circuit). Choose from sine, square, triangle, and TTL waveforms.
Ideal for classroom usage, the PB-503A and PB-505A combine the essential elements of a benchtop lab including a power supply, function generator, and breadboard replacing a more expensive individual setup.
These units have switchable input, so they can work in both 120 VAC and 240 VAC environments. They also feature removable breadboards making them ideal for group projects in class where each student can prepare their own circuit.
For further information, contact:
Cal Test Electronics
www.caltestelectronics.com
---