Servo Magazine ( 2019 Issue-6 )
New Products (06.2019)
---
Dual Mode Servo
This dual mode "speed" servo from goBILDA is essentially their original 2000-0025-0002 "torque" servo, but with a lower ratio to achieve a quicker transit speed. Over 2x faster than its counterpart, this servo saves valuable time where it counts.
Just like the 25-2, this servo boasts two different modes which allow it to fill a variety of roles on your robot or project. In the default mode, the servo is able to rotate 300 degrees while having positioning feedback. In this mode, the PWM signal will determine the position of the servo. Using the 3102 series dual mode servo programmer (1-1), the servo can be toggled into continuous rotation mode. In this mode, the servo will have proportional speed control based on the PWM signal that you send with your servo controller. Price is $27.99.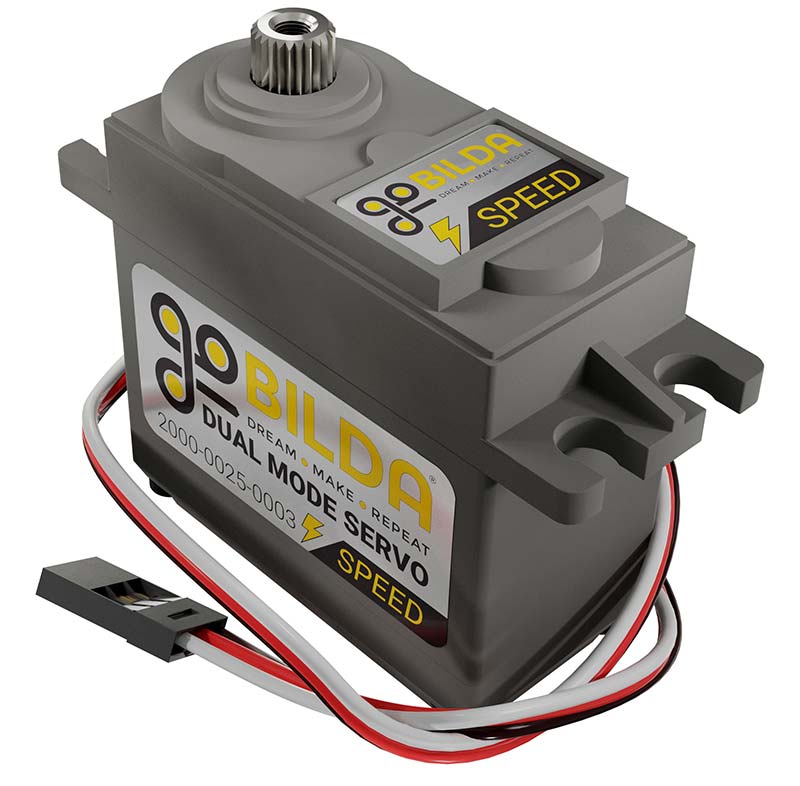 Hyper Coupler
The new 8 mm REX bore coupler also from goBILDA allows you to connect 8 mm REX shafts together in a compact and balanced form-factor. As with all 'Hyper' parts, this too is balanced so you can spin it up without concern of creating unwanted vibrations through your drivetrain. Price is $5.99.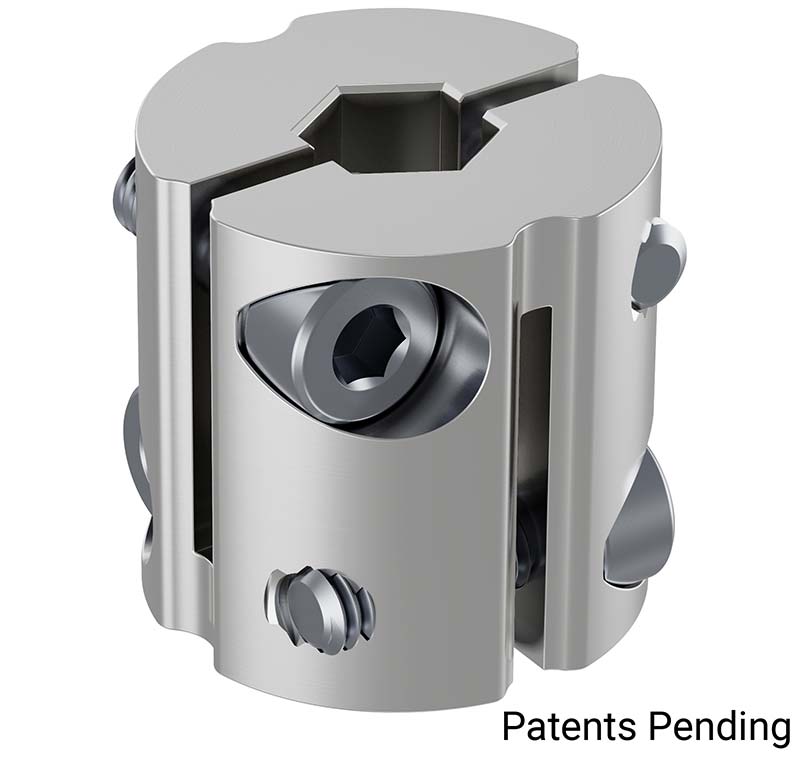 Ball Bearing Carriage
This goBILDA ball bearing carriage is purpose-built to ride on 1121 series low-side U-channel. The carriage is suspended by eight ball bearings to provide excellent stability with a super low coefficient of friction. The plates have numerous unused holes which can be used to connect your drive-style of choice. Use a single carriage or run them on each side of your project with a crossbar to create a large gantry system. Price is $24.99.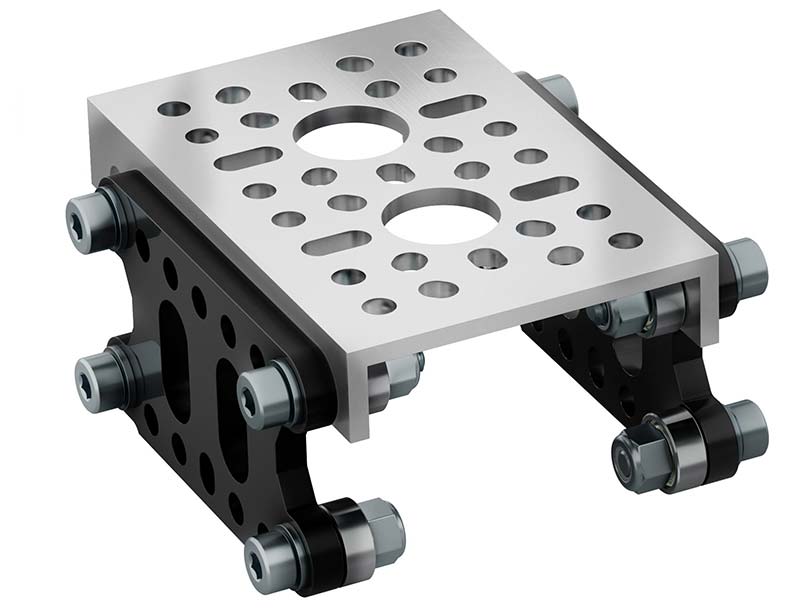 For further information, contact:
goBILDA
www.gobilda.com
---
H-Bridge Motor Control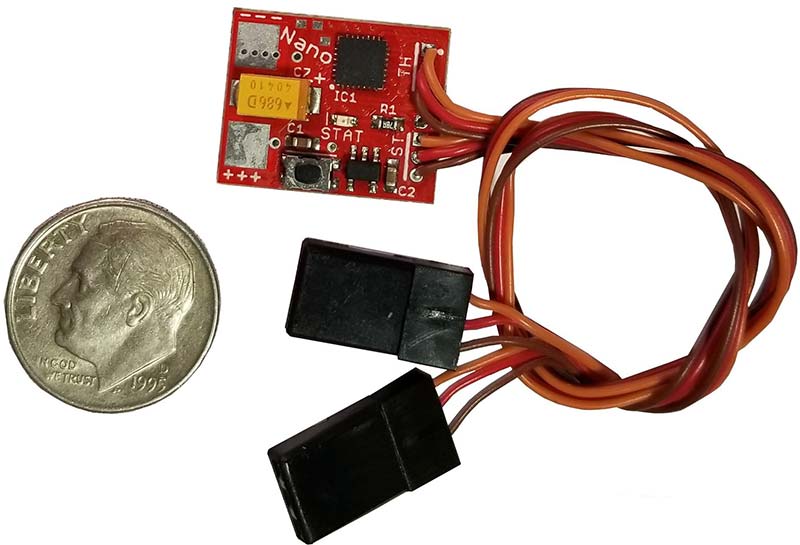 Robot Power announces the immediate availability of the Scorpion Nano dual H-bridge motor control for brushed DC motors. The Scorpion Nano is the smallest member of Robot Power's Scorpion family. Designed for controlling motors in small robots, toys, and other mechanisms, the Nano features two independent reversible motor drive circuits.
The Scorpion Nano is one of the smallest dual RC motor controls with channel mixing for skid steer robot control. The Nano features robust automotive grade motor drive ICs with full fault protection and a wide operating range. These motor drivers allow up to 1.2A of continuous current to each motor. Greater than 2A peak current is supported for short-term loads.
RC wires are pre-installed along with a BEC function to power the RC receiver or microcontroller. Battery and motor wires are also pre-installed for easy connection without soldering to the Nano PCB. A standard Scorpion family feature is a calibration button to allow the Nano to adapt to the input signal range from either an RC radio or microcontroller.
A cut-able jumper allows the Nano to be configured for RC channel mixing or separate (tank mode) control. All Robot Power motor controls are 100% designed and built in the USA. Scorpion Nano specifications include:
Size: 0.75" x 0.6" x 0.15" (19 mm x 15 mm x 3.8 mm)
Weight: ~5.7g (0.2 oz) with wires
3.7V–16V voltage range (3S maximum recommended)
1.2A continuous current each motor, >2A peak (two sec)
Full forward and reverse control
Over-current and over-temperature protection
Internal 3.3V regulator and receiver battery eliminator (BEC)
Standard universal RC cables included
Battery and motor wires pre-installed
Calibration function to match RC signal range
For further information, contact:
Robot Power
www.robotpower.com
---
Mini AC Dual Balance Charger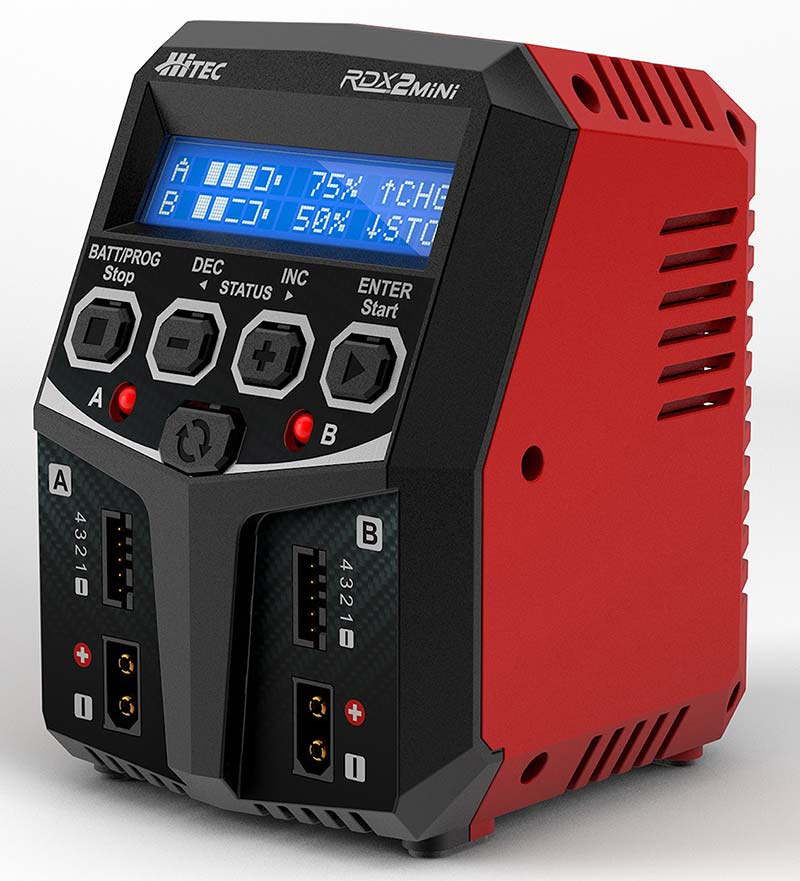 Hitec's RDX battery charger line offers an array of efficient, sleekly-designed chargers for all discerning hobbyists. The new RDX2 Mini is a two-channel charger, featuring independent circuits which allow the user to charge two batteries simultaneously, regardless of chemistry or capacity. With a powerful combined 100 watt charging output and 5A current, the RDX2 Mini offers the punch needed to charge 2-4 cell packs at an affordable price. The convenient front-loading design has the balancing and XT60 ports readily accessible for ease of operation at the workshop, flying field, or raceway.
Additional features include AGM and Cold Charge modes to safely and easily charge conventional lead-based and absorbed glass mat batteries in cold conditions. The estimated price is $79.99.
Features include:
User-Friendly LCD Interface
Stores 10 Different Battery Memory Charge/Discharge Profiles
AGM and Cold Charge Modes
Terminal Voltage Control
Built-in Balance Connector
Balance, Standard, Fast, and Storage Modes for All Lithium Battery Chemistries
Re-Peak Charge Mode and Delta-Peak Sensitivity For NiMH/NiCd Batteries
Optional Temperature Sensor for NiCd/NiMH Charging
Two Built-in XT60 Connectors
Smart Ventilation Fan
Charging Specifications:
AC Input: 100-240 volts AC
Charge Power: 100 watts (2x 50 watts)
Charge Current Range: 0.1-5.0 amps
Discharge Power: N/A
Current Drain for LiPo Balancing: 300 mA per Cell
NiCd/NiMH Battery Cell Count: 6-8 Cells
LiPo/LiHV/LiFe/Lilon Cell Count: 2-4 Cells
Pb Battery Voltage: 6-12 volts
Dimensions: 3.5 x 3.9 x 5.0 in (90 x 100 x 127 mm)
Weight: 1.1 lbs (50 kg)
The Set Contains:
RDX2 Mini Charger
AC Cord
Two T-Type Connectors
For further information, contact:
HITEC RCD USA
www.hitecrcd.com
---
BlocklyProp Launcher Now Includes Mac Version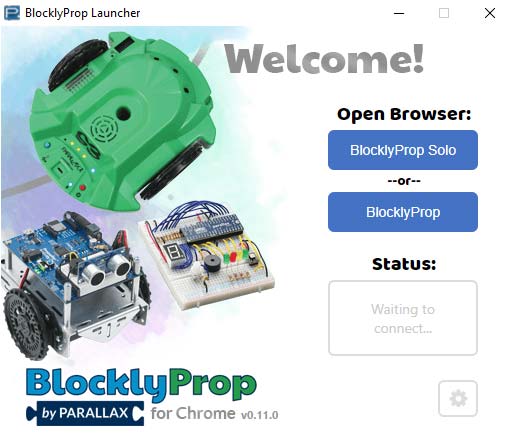 Parallax can now offer the BlocklyProp Launcher to Mac users. Parallax's Senior Software Engineer Jeff Martin wrestled the code for Macs for well over six weeks. Between Chrome browser upgrades, and USB "port loss" issues, scary installation warnings in Mojave and Catalina, it's finally ready. The BlocklyProp Launcher starts up BlocklyProp Solo as a stand-alone Chrome application in one click. BlocklyProp Solo supports local file load/save functions and requires no login or password. You can also start BlocklyProp Launcher and run BlocklyProp Solo in a browser window at https://solo.parallax.com. It just depends on whether or not you want to run it in the Chrome browser or not.
Because BlocklyProp Solo collects no personal data, many state and federal laws do not apply, making it easier to implement in classrooms.
For further information, contact:
Parallax
www.parallax.com
---
Metal Brushed DC Gearmotors
Pololu has expanded their popular line of 37D metal gearmotors to include 24V options. These brushed DC gearmotors are the largest and most powerful Pololu makes, measuring 37 mm (1.46") in diameter. They are available in gear ratios ranging from 6.3:1 to 150:1 and with or without integrated 64 CPR quadrature encoders on the motor shafts.
The 12V and 24V motors offer approximately the same performance at their respective nominal voltages, with the 24V motor drawing half the current of the 12V motor. Altogether, there are now 36 different combinations stocked and available. Additionally, all Pololu 37D gearmotors now feature helical pinion gears and first mating gears. The helical gears help reduce vibrations, making the gearbox a little quieter and more efficient than the original versions that used all spur gears.
Pololu has also published detailed performance graphs for all their 37D gearmotors, just like the ones previously released for their micro metal gearmotors and 20D gearmotors. Each graph is based on hundreds of individual measurements that reveal how the speed, current, power, and efficiency of that particular gearmotor version depend on the applied load. These characterizations set Pololu gearmotors apart from many similar looking alternatives available by making it clear what kind of performance to expect over a range of operating conditions.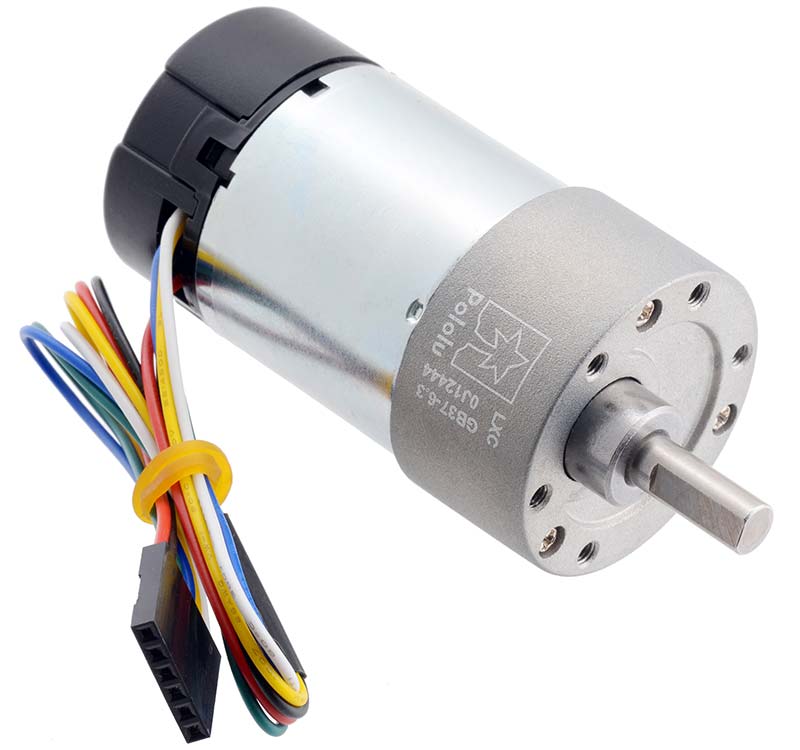 Multi-Interface High-Power Stepper Motor Controller
Pololu also introduces the Tic 36v4 USB multi-interface high-power stepper motor controller; the fifth model in their line of Tic stepper motor controllers. The Tics make it easy to add basic control of a bipolar stepper motor to a variety of projects.
These versatile general-purpose modules support six different control interfaces: USB for direct connection to a computer; TTL serial and I²C for use with a microcontroller; RC hobby servo pulses for use in an RC system; analog voltages for use with a potentiometer or analog joystick; and quadrature encoder for use with a rotary encoder dial. They also offer many settings that can be configured using a free configuration utility (for Windows, Linux, and macOS) which simplifies initial setup of the device and allows for in-system testing and monitoring of the controller via USB.
The Tic 36v4 features a discrete MOSFET stepper motor driver that can deliver continuous currents up to around 4A per phase without a heatsink or forced air flow over a broad 8V to 50V operating range.
It also supports microstepping resolutions down to 1/256 step (which is eight times smaller than any previous Tic model) and can produce up to 50,000 steps per second. For standard stepper motors with 200 full steps per revolution, this means up to 58 RPM is achievable even when using 1/256 step mode.
Every power of two step mode between full stepping and 1/256 is supported, allowing you to choose the right tradeoff between speed and resolution.
By default, the Tic 36v4 uses an automatic mixed decay mode for current regulation. In this mode, it dynamically selects between fast or slow decay based on the actual coil current, allowing the Tic to achieve extremely smooth stepping in most applications without a lot of manual tuning — especially at high microstepping resolutions. However, if you want more control, this Tic also gives you the option to select a fixed decay mode and adjust several timing parameters to fine-tune the current decay behavior. This can easily be done with the Tic's configuration software.
The Tic 36v4 is available with connectors soldered (item #3140) or without (item #3141), starting at $49.95. Alternatively, if you don't need the high-level interfaces provided by the Tic, the Pololu high-power stepper motor driver 36v4 (item #3730) is also available as a low-level driver that offers similar operating voltage range and current capabilities.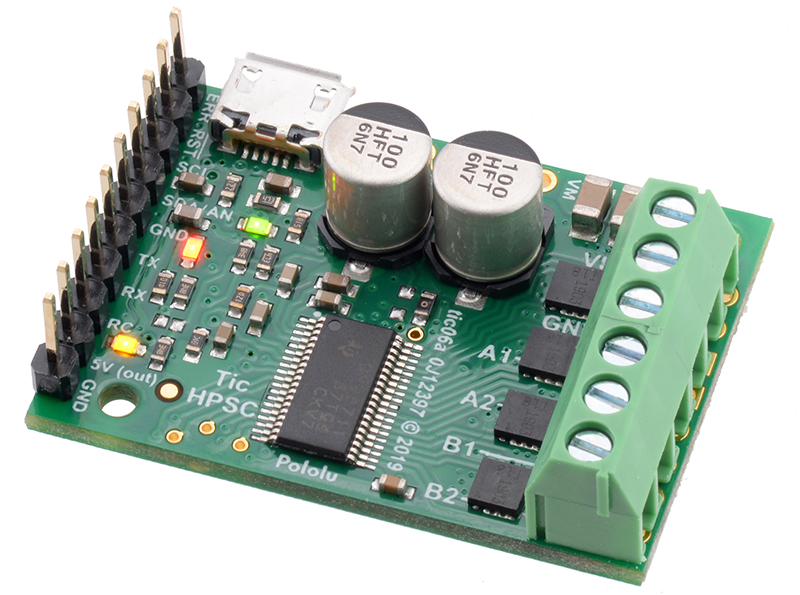 For further information, contact:
Pololu
www.pololu.com
---
Smart, AI-Based, Multi-Joint Educational Robot Kit
The ROBOTIS Engineer Kit 2 is a new expansion kit for the ROBOTIS Engineer Kit 1 (Engineer Kit 1 is required). The ROBOTIS Engineer Kit is a smart, AI-based, multi-joint robot kit designed for education, hobby, entertainment, and competition, and is ROBOTIS' newest addition to their K-12 educational pipeline.
This kit provides an excellent opportunity to learn technologies required in future industries such as electronic control, AI, 3D printing, coding, camera vision processing, and manipulation, preparing students for technology advanced career pathways. Powered by DYNAMIXEL, these all-in-one smart servos are used by professionals and top research institutions worldwide, and provide joint-based movements with modular structure and design. New DYNAMIXEL 2XL430-W250-T dual-axis servos are featured in this kit, providing multi-joint movement in one compact servo. Robot build examples include: MAX-E2, Commando, Scorpi, and others with the ROBOTIS Engineer Kit 2.
The Engineer Kit 2 adds a Raspberry Pi Zero board and a Raspberry Pi camera for vision processing to allow for features like facial recognition and streaming video. The accompanying R+ ENGINEER App & R+ Task are free to download, and allow you to connect, control, and program your robot.
The Engineer Kit also comes with full 3D printing curriculum, R+ Task3.0 Programming curriculum, and Python Programming curriculum for in-depth, step-by-step learning. The ROBOTIS Engineer Kit 2 also allows users to fully integrate 3D printing capabilities by providing STL files to create your own robot examples.
The Engineer Kit 2 is priced at $699.90; the Engineer Kit 1 is priced at $999.90. The recommended grade level is 9th+.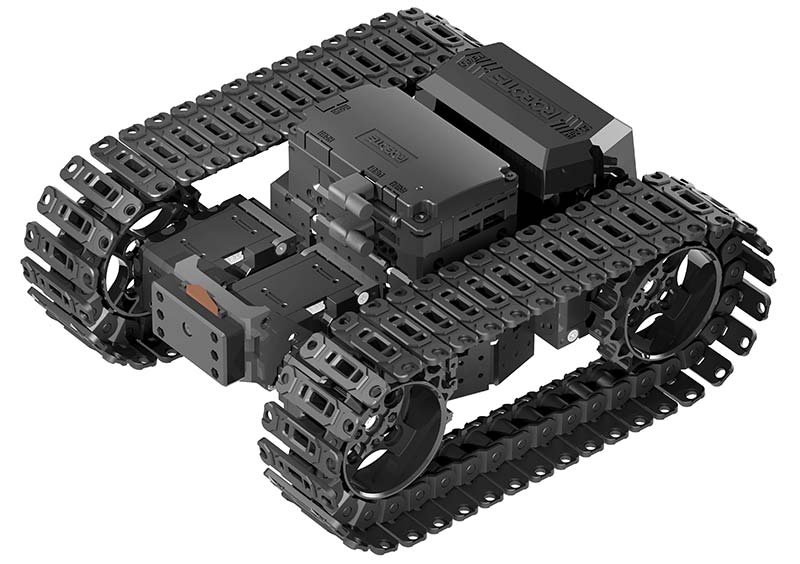 Commando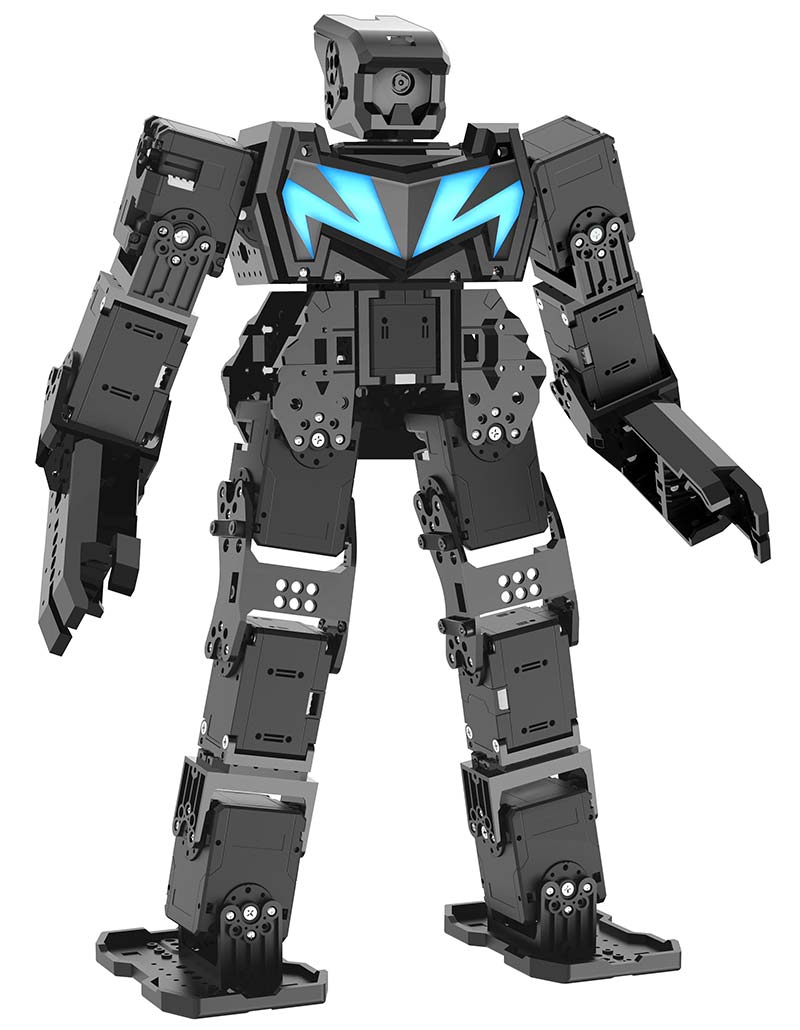 MAX-E2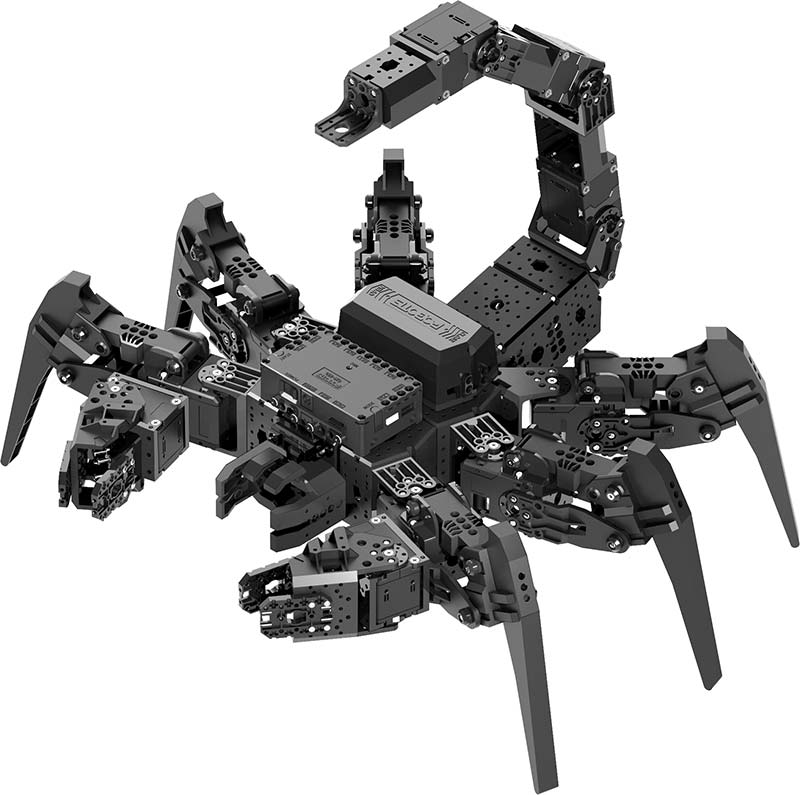 Scorpi
For further information, contact:
ROBOTIS
www.robotis.com
---
Two- and Four-Channel Power Supplies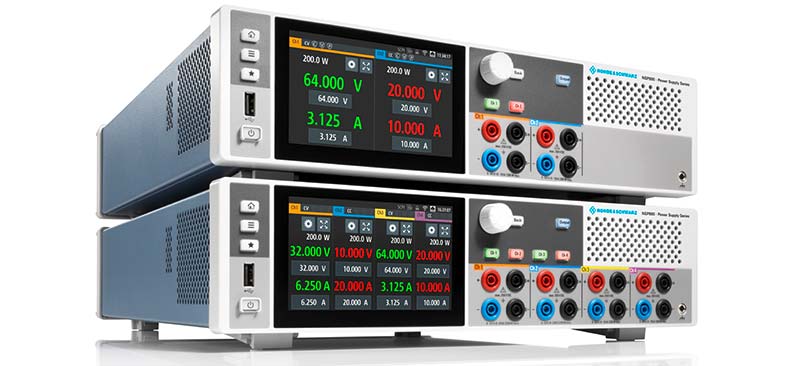 The new Rohde & Schwarz NGP800 power supply series includes two- and four-channel models, and further extends the functions and performance available for DC power provided by Rohde & Schwarz.
For any test and measurement application requiring up to four independent DC power supplies with full flexibility, full functionality, full safety, and full connectivity, the R&S NGP800 power supply series will boost the efficiency. Users benefit from the large 5" high resolution touch screen, which also displays detailed statistics.
The five R&S NGP800 models meet the needs of users seeking a minimum device footprint for two or four independent power supplies, with maximum flexibility for voltages up to 250V, currents up to 80A, and power up to 800W. Each channel supplies up to 200W with a maximum of 20A or 64V, also covering 48V automotive and industrial applications.
Channels can be operated fully independently or synchronized; the electrically equivalent and galvanically isolated outputs can be wired in series for outputs up to 250V or in parallel for up to 80A.
The tracking function makes it possible for users to adjust voltage and current simultaneously on selected channels, with programmable output delays used to meet specific power-up sequences.
The supplied voltage can be ramped up to the required level in any period from 10 ms to a minute. All outputs operate in either constant voltage mode or constant current mode.
It's possible to set up changes in voltage and current level over time using the QuickArb function. This way, users can simulate unstable power supplies with the R&S NGP800.
Using Remote Sensing, users can regulate the voltage directly at the input terminals of the powered device itself instead of the power supply's output terminals, so that exactly the required voltage is supplied.
Moreover, the R&S NGP800 includes functions for logging voltage, current, and power values over time for all outputs. Data logs can easily be exported as .CSV files for in-depth analysis or documentation needs.
The settings for all channels and functions can also be stored and recalled at the touch of a button, and even exported as a file to other R&S NGP800s to duplicate the power setup.
To protect devices supplied with power, all R&S NGP800 power supplies include over-current protection, over-voltage protection, and over-power protection.
The R&S NGP800 features both advanced remote capabilities and fast command processing times. Optional digital I/O and analog input interfaces further extend the scope of applications.
For further information, contact:
Rohde & Schwarz
www.rohde-schwarz.com
---
Pneumatics Meet Digital Engineering
Vention introduces their new pneumatic lineup powered by SMC: a modular set of components fully integrated with Vention's digital engineering platform.
With this addition to the Vention platform, you can now add pneumatic components to your cloud-based 3D design using MachineBuilder, then program and simulate the components using MachineLogic: Vention's visual sequence editor.
After ordering the designed equipment, simply download your programmed sequence from your web browser and run it directly on your MachineMotion to get a fully functional pneumatic solution.
To provide this cloud-to-shop-floor experience, Vention ensures that all mechanical and control interfaces respect their hardware architecture standard.
This means you can mount the pneumatic components on Vention's T-slot extrusions and they're compatible with the entire portfolio of Vention modular parts.
Likewise, you can easily connect the pneumatic valves to Vention's MachineMotion controller through their digital IO module. The digital IO module can then be programmed directly in your web browser using MachineLogic, or on the shop floor using the MachineMotion pendant.
Vention's pneumatic lineup includes the following components: an air preparation station; a multi-output manifold with valves; and double-acting cylinders.
The Vention community has already developed a range of equipment leveraging pneumatic components. To get a sense of the design possibilities, browse their public design library at https://vention.io/designs/category/ALL.
For further information, contact:
VENTION
https://vention.io
---