New Products (04.2020)
---
Strafer Chassis Kit

The Strafer Chassis Kit from goBILDA is a rigid low-profile chassis that includes high torque 312 RPM planetary motors, ball-bearing mecanum wheels, and a configurable chassis you can tailor to your liking.
The nested 312 RPM 5203 series planetary gear motors combined with the 96 mm wheels give the chassis a theoretical speed of over 5.14 ft/sec. These motors drive all steel miter gears, heavy duty hubs, and ball bearings for low-friction strafing action.
The miter gears, located near each of the four corners of the chassis, create a 90° drive so that the motors can nest inside the 1120 Series U-channel. The miters have been battle tested (even with brushless motors) and are extremely stout. The bores are matched to the profile of the shafts they are mounted to which helps prevent slipping.
All shafts (including the motor shafts) are 8 mm REX for maximum strength.
As mentioned, the goBILDA mecanum wheels are 96 mm in diameter, have ball-bearing supported rollers, a narrow profile, and steel side plates. Each wheel is only 207g. The reduced rotating mass yields quicker acceleration with less strain on the motors.
The channel framework allows users to pack all these premium parts in without having to clad on to the outside like some frames require. This chassis is very configurable; you can move the center channels, adjust the track-width, and more. Price is $499.99.
Servo Travel Tuner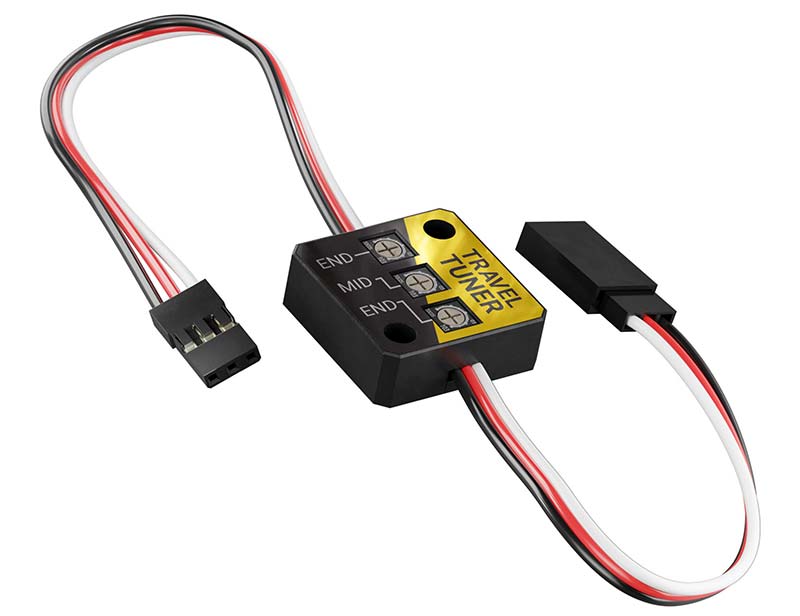 No coding or servo programming is required with goBILDA's new Servo Travel Tuner. Just plug it inline between the servo and receiver, then adjust the dials. You can achieve more or less rotation than you would otherwise get. The small footprint is able to tuck away inside an R/C vehicle or robot chassis.
The amount that a servo can rotate is based on the signal it receives from the servo controller it's connected to. If the servo controller is not able to send the desired range, you may not be tapping into the full potential of the servo.
The Servo Travel Tuner allows you to adjust the range of the servo regardless of the signal being sent.
While a microcontroller gives you the ability to pick the signal range that you send to your servo, many servo controllers have strong roots in the remote-controlled vehicle market which has adopted a much narrower signal range. The Servo Travel Tuner plugs in (much like a servo extension) and gives you three dials to adjust the servo to your liking. Turn the dials up to achieve more travel or turn them down to have fine precision control over a very limited range. Each side is fully independent, so if you have a project that requires more travel on one side of center than the other, this is ideal for that. Price is $19.99.
Limit Switch Trigger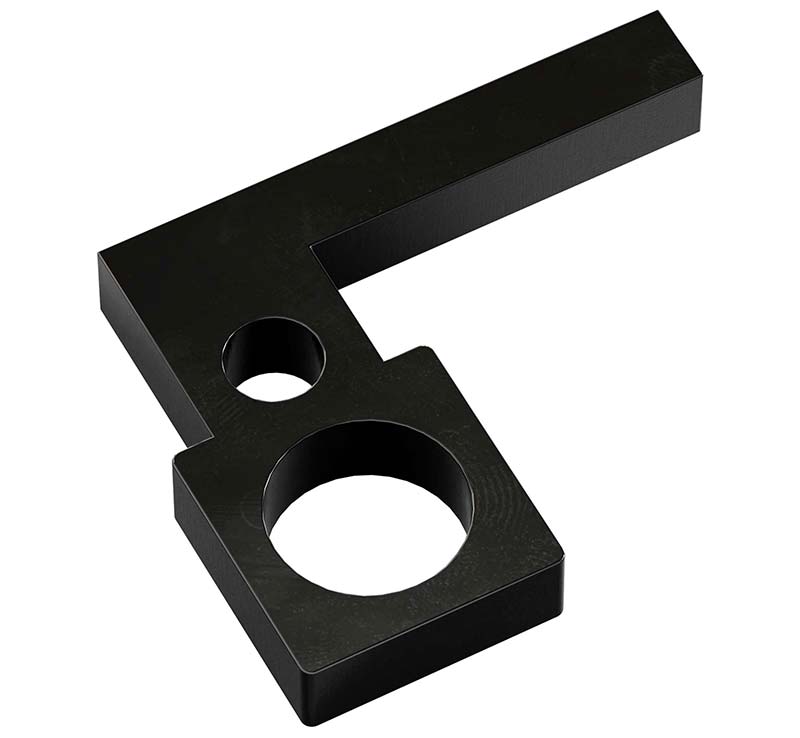 This Limit Switch Trigger also available from goBILDA is able to fasten to one end of goBILDA's lead screw nut (3503-0804-0038). The profile is matched to that of Open goRAIL and the extra bit of material will hang over the side of the goRAIL to make contact with a micro limit switch mounted to the side of the Open goRAIL. Price is $1.99.
For further information, contact:
goBILDA
www.gobilda.com
---
High Power Dual Port AC/DC Charger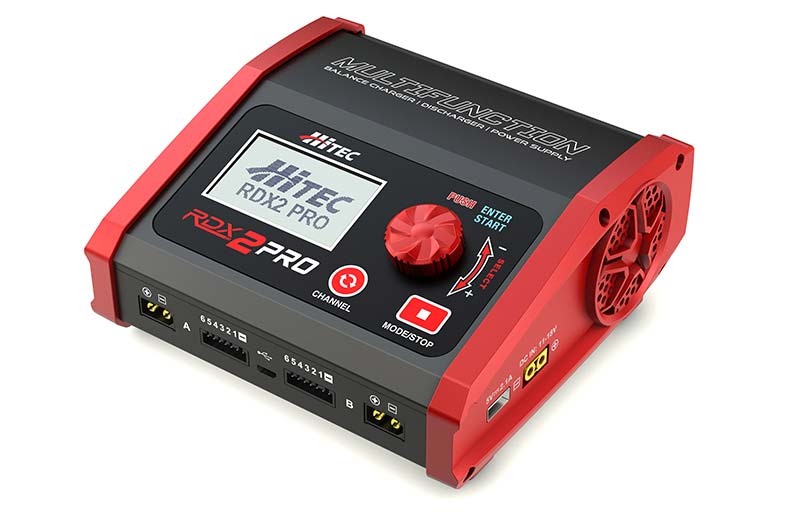 Hitec's popular RDX charger line continues to expand with the introduction of their RDX2 Pro: a dual port AC/DC charger providing 260 watts of power for $175. The RDX2 Pro features independent 130 watt circuits, allowing users to charge two packs simultaneously. Its user-friendly Jog Dial easily scrolls through menus, making programming simple.
Capable of charging 2S packs at rates up to 14 amps and 4S packs up to nine amps, the RDX2 Pro's high charge rates provide more power in less time for 1/8th and 1/10th scale Buggy and Truggy needs.
Pilots flying larger hobby aircraft and helis using high capacity 4S-6S packs can also rely on the RDX2 Pro to speedily charge 4S and 6S packs up to nine and 5.8 amps, respectively. With just a few clicks, the RDX2 Pro will also convert into a power supply unit to power other hobby equipment. The dual channel design can power two individual 5-24 volt devices simultaneously.
High power charging at faster rates* will get you back in the action quicker. (*Not all Lithium batteries can be safely charged above 1C. Always follow your battery's manufacturer guidelines to prevent accidents or injury.)
Features of the RDX2 Pro Charger include:
User-Friendly Jog Dial for Easy Scrolling and Programming
Stores 10 Different Battery Memory Charge/Discharge Profiles
Balance, Standard, Fast, and Storage Modes for All Lithium Battery Chemistries
Internal Independent Lithium Battery Balancer
Independent Cell Balancing while Discharging
Terminal Voltage Control
Re-Peak Charge Mode and Delta-Peak Sensitivity for NiMH/NiCd Batteries
Capacity Cut-Off Limit
Smart Ventilation Fan
5V/2.1A USB Port
Micro USB Socket for Optional Bluetooth Dongle, PC Interface, and Firmware Upgrades
Power Supply Function
Charging Specifications:
Input Voltage: AC 100-240V/DC 11-18V
Charge Circuit Power: 130W x 2 (260 watts total)
Discharge Circuit Power: 10W x 2
Charge Current Range: 0.1-14A x 2
Discharge Current Range: 0.1-2A x 2
Current Drain for Balancing Port: Max. 500 mA/cell
DC Power Supply Output: 5-25V/130W x 2
LiPo/LiFe/Lilon/LiHV Battery Cell Count: 1-6S
Pb Battery Voltage: 2-20V
NiMH/NiCd Battery Cell Count: 1-15S
Dimensions: 6.1 x 5.9 x 2.7 in
Net Weight: 2.13 lbs
For further information, contact:
Hitec RCD USA
www.hitecrcd.com
---
Sushi Roller Intake Wheels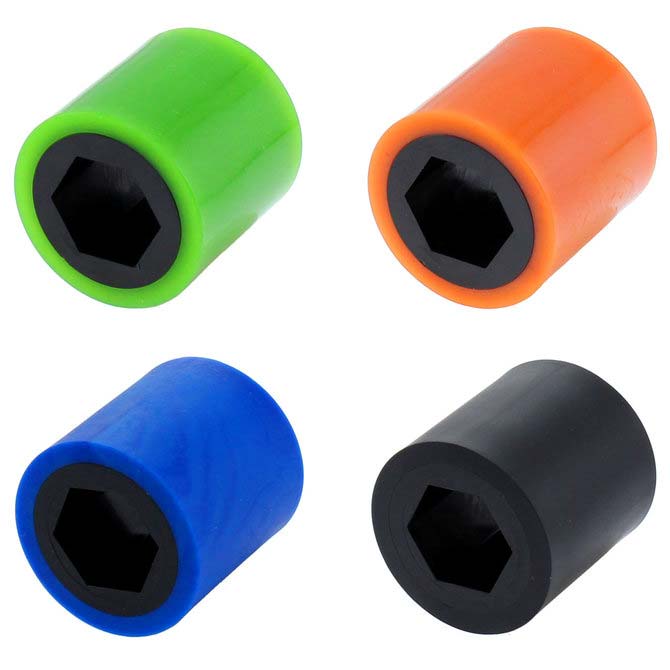 Sushi Roller Intake Wheels now available from AndyMark are an excellent choice for robot intakes, internal conveyors, feeder mechanisms, or anywhere you need a durable, compact, and grippy roller.
These rollers are made with a robust polycarbonate hex bore hub, so no external hub is necessary. Just slide them onto a hex shaft, constrain them axially, and you're good to go. These rollers are available in a range of durometers for a wide variety of applications.
Specifications include:
Bore: 0.5 in Hex
Core Material: Polycarbonate
Diameter: 1 in
Durometer: 35A (Green), 40A (Orange), 50A (Blue), and 60A (Black)
Tread Material: TPU
Weight: 0.022 lbs
Width: 1 in
These 1" long, 1" diameter rollers fit on a 1/2" hex shaft and are made with a robust polycarbonate hex bore hub, so no external hub is necessary. Pricing starts at $4.
For further information, contact:
AndyMark
www.andymark.com
---
Immersive, Cinematic Flight Experience with New Single-Handed Motion Controller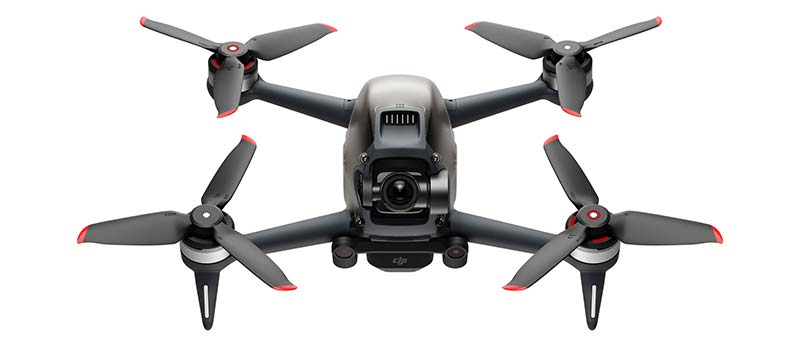 DJI has launched an entirely new type of drone with an intuitive, immersive flight experience. DJI FPV combines the first-person view and high-speed performance of racing drones, the cinematic camera sweep of traditional drones, the safety and transmission technology of DJI's consumer drones, and an optional innovative single-handed motion controller that allows pilots to control the drone with just hand movements.
The DJI FPV ecosystem includes the drone, goggles, a dedicated remote controller, and a new intuitive motion controller option that steers the drone based on the movement of your hand. The drone features high-performance motors for incredible speeds, an intuitive user interface, and the latest safety features for greater control.
The new FPV system lets pilots see from the drone's perspective in low-latency high-definition thanks to O3: the third iteration of DJI's proprietary OcuSync technology. Its reliability and transmission range help pilots capture ultra-smooth and stable 4K video at 60 fps with the assistance of RockSteady electronic image stabilization.
Amateur and professional pilots alike can explore the skies with the assistance of three distinct flight modes designed for all skill levels and to get pilots accustomed to the system.
DJI FPV's advanced safety features include a new Emergency Brake and Hover feature to help make flying safer and less intimidating for new users, as well as DJI's suite of safety solutions, including GPS-based geofencing to advise pilots of airspace restrictions and potential hazards, and an ADS-B receiver system to warn pilots when other manned aircraft are nearby.
In many jurisdictions, drone pilots flying with FPV goggles must be accompanied by a visual observer to watch for airspace hazards. Always fly safely and responsibly, and be sure to understand and follow the legal requirements for flight.
DJ's integrated FPV drone allows pilots to choose from multiple flight modes to match their skill level:
Normal (N) Mode: During N mode operation, DJI FPV operates similar to other DJI drones, hovering in place with the use of GPS and/or visual positioning systems (VPS) on the bottom of the drone. The most approachable flight mode, N mode allows for obstacle detection sensors on the front to be activated to warn when obstacles are near and to slow down. Pilots are tasked with maneuvering the drone away from any detected obstacles.
Manual (M) Mode: M mode allows you to take full control over the drone, so is designed for more experienced users. While in M mode, all sensors and hovering features are disabled.
Sport (S) Mode: A new hybrid blend of M and N mode, S mode offers some of the dynamic movement capabilities that come with M mode along with some of the key safety features of N mode. S mode is the middle step between the three modes and developed to give pilots more room to explore their skills as they get accustomed to FPV flight.
While in the air, pilots can also use a suite of safety features that make flying safer. The dedicated Emergency Brake and Hover feature previously mentioned is available in all flying modes to make the drone stop and hover in place at any time during flight.
Obstacle detection sensors can be activated while operating in N mode, which will alert pilots of any detected obstacles and automatically slow down the aircraft. Visual Positioning Sensors (VPS) along with an auxiliary light on the bottom of the aircraft are also available to assist in smooth takeoffs and landings. Failsafe Return to Home is another important feature that will bring the drone back to its home point automatically with a press of a button or in the event that the transmission signal is lost.
The ADS-B receiver system provides audio and visual notifications to the pilot via the FPV goggles when traditional aircraft such as airplanes or helicopters equipped with ADS-B transmitters are in the vicinity.
Pilots can see a crystal-clear, long-range, low-latency feed from the DJI FPV aircraft while wearing the DJI FPV Goggles V2. State-of-the-art racing motors offer high-speed action during flights, and the O3 transmission system offers unmatched reliability. The new motors bring a system with a max speed of 140 kph (87 mph) and a max acceleration of 0-100 kph (0-62 mph) in just two seconds.
O3 transmission is the next step in FPV transmission technology. It offers a 10 km transmission range, auto-switching dual-frequencies, a high bitrate of 50 Mpbs, and state-of-the-art anti-interference methods to ensure a reliable feed.
Pilots can choose from several different viewing options, including:
High-Quality Mode: See the world in 1440x810p in either 60 fps with a wider 142° Field of View (FOV), or 50 fps with 150° FOV. In this mode, latency is as low as ≤40 ms.
Low-Latency Mode: In this mode, pilots activate high frame rates for a more cinematic look so signal latency is decreased to ≤28 ms. Resolution is 1440x810p 120 fps with a 142° FOV or 100 fps at 150° FOV.
Audience Mode: Share the pilot's perspective in audience mode, which connects up to eight additional goggle sets to the pilot's view so onlookers can experience the flight.
DJI FPV can be purchased in several options. The standard DJI FPV Combo includes the FPV drone, remote controller 2, FPV Goggles V2, all required cables, and one battery for the retail price of $1,299. The DJI FPV Fly More Kit is also available, which includes two additional Intelligent Flight Batteries and the dedicated charging hub for the retail price of $299. The optional Motion Controller is sold separately and can be purchased for the price of $199.
For further information, contact:
DJI
https://www.dji.com
---
PGM40 Series Servo Positioner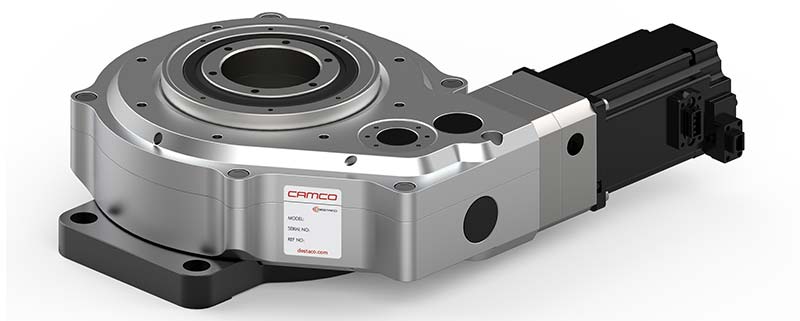 DESTACO has announced the addition of the PGM40 Series Servo Positioner to its portfolio of high-performance rotary servo-positioning solutions. The PGM40 servo positioner has been designed for use in small, medium, and relatively high-speed positioning applications in transportation, consumer, packaging, industrial, molding, clean room, fixture/testing, and assembly processes, and has the capability to provide sub-positioning on larger servo-positioning setups.
The unit's servo motor based design makes it ideal for use on high-speed multi-stop indexing applications that can tax the capabilities of pneumatic positioners.
The leading feature of the PGM40 servo positioner is its precision-engineered parallel-cam design which enables it to combine high indexing accuracy with rigid performance. Additionally, the PGM40 has low input inertia, allowing it to operate more precisely while reducing the starting torque required and demanding less overall torque from the servo motor.
The construction of the PGM40 servo positioner allows it to handle high payloads despite its compact housing, thanks to its high power-to-weight ratio. Its integrated motor-clamp system makes it compatible with all standard third-party gear-head motor couplings. The PGM40 also features a large central opening that enables it to easily accommodate a variety of wiring and piping.
Finally, the PGM40's "lubricated for life" design greatly reduces the need for maintenance, essentially making it a "set it and forget it" product.
For further information, contact:
DESTACO
www.destaco.com
---