Servo Magazine ( 2022 Issue-3 )
New Products 03.2022
---
Steel Gear Servo Actuators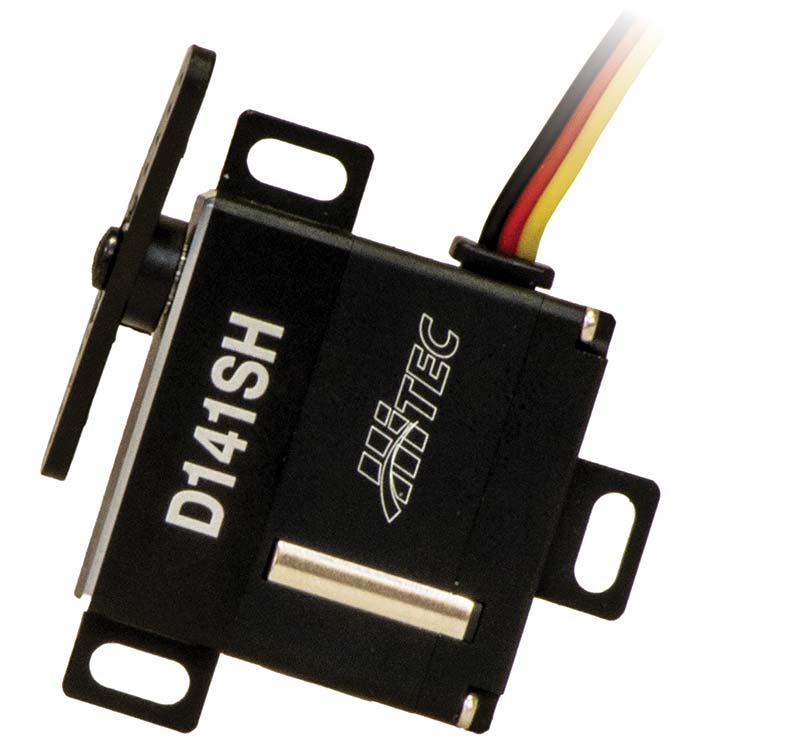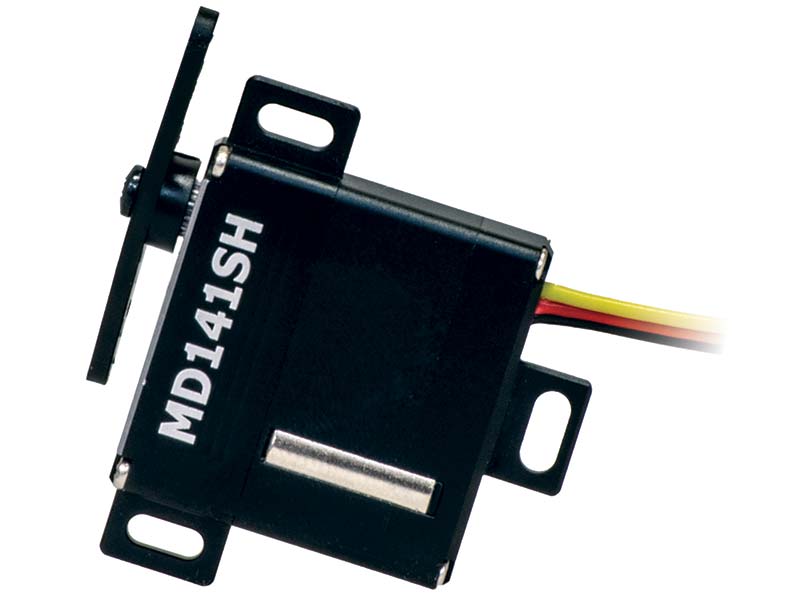 Hitec RCD is now offering its high resolution D141SH digital wing servo actuator. Engineered with a coreless motor and wide operating voltage range, this slim wing servo is the perfect answer for all Open Class and larger gliders.
Its durable steel gears and 32-bit programmability provide the resilience and precision your in-wing applications demand.
Hitec Commercial Solutions is also now offering the ultra-precise magnetic encoder MD141SH which is engineered with coreless motors and wide operating voltage ranges as well.
The durable steel gears and 32-bit programmability provide the resilience and precision that critical tactical missions demand and in-wing applications require.
Shared features include:
Wide Operating Voltage 3.7~8.4V
Coreless Motor
Durable Steel Gears
All Aluminum Case
32-Bit MCU Technology / 4096 Resolution
High Response, High Resolution Circuitry
Smart Sense Technology for Servo Analytics
Full Programmability with DPC11 or HFP-30 (sold separately)
H25T Industry Standard Output Spline
Dimensions are:
1.18 x 0.39 x 1.16 in. (30.0 x 10.0 x 29.5 mm)
Speed (Second @ 60°): 0.10 @ 7.4V
Torque (oz/in): 97.21 @ 7.4V
10 mm, Coreless, Wide Voltage, Steel Gear Servo Actuator
Distinct features and specifications for the MD141SH are:
Contactless Magnetic Encoder
Default: ±60°, Programmable: Max 320°/Pulse Width: 900~2100 μs (Center:1500 μs)
Weight: 26.7g/0.942 oz.
Retail price: $124.99
Distinct features and specifications for the D141SH are:
Contact Analog Potentiometer
Default: ±60°, Programmable: Max 175°/ Pulse Width: 900~2100 μs(Center:1500 μs)
Weight: 26.0g/0.917 oz
Retail price: $94.99
For further information, contact:
Hitec RCD
www.hitecrcd.com
---
Stealth Wheels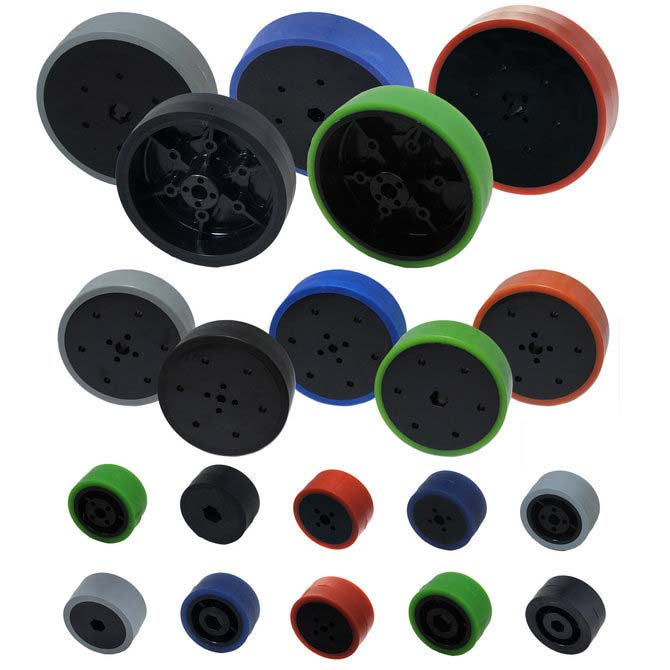 AndyMark is now offering Stealth wheels. The inside black portion of this wheel is made from molded polycarbonate plastic. The outer tread is TPU (Thermoplastic PolyUrethane).
This robust but lightweight wheel provides good traction on carpet and soft tiles. Stealth wheels are the perfect drive wheel for smaller (<50 lb.) robots, or for intakes and other auxiliary robot mechanisms. These wheels are available in a variety of bores and durometers.
Three and four inch Stealth wheels feature a six bolt pattern on a 1.875 inch bolt circle for mounting sprockets, hubs, and gears.
Nub bore Stealth wheels feature a four bolt pattern on a 16 mm bolt circle found in most FIRST Tech Challenge building systems. The lower the durometer, the softer the wheel is. This makes it wear away faster, but also makes it more grippy.
Many thread locking materials are not compatible with polycarbonate and can eat away at the plastic. Be sure to check which adhesives are okay to use with this product.
Specifications include:
Bore: 1/2 inch hex, 3/8 inch hex, nub bore, 5 mm hex
Diameter: 2 inch, 3 inch, 4 inch
Durometer: 35A (Green), 40A (Orange), 50A (Blue), 60A (Black), 80A (Gray)
Hole Pattern: Four 3.5 mm holes on a 16 mm circle for 8 mm bore wheels
Material: TPU, Polycarbonate
Weight: 0.23 lb, 0.1 lb
Width: One inch
MINI Snap Action Breaker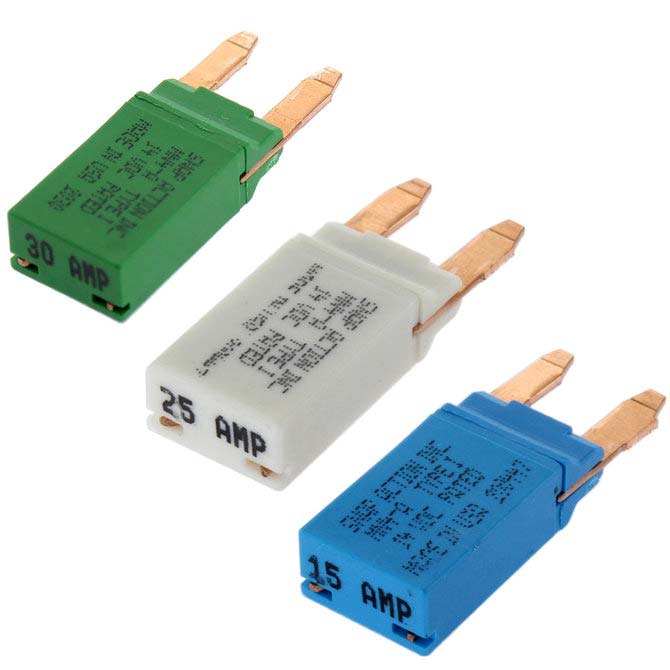 AndyMark also has introduced auto-resetting circuit breakers. AndyMark has options for their Powerpole distribution board that uses all of these sizes. The small design allows for compact power distribution designs and implementation. Available in 15A, 25A, and 30A.
These auto-resetting circuit breakers are a perfect choice for development uses or non-competition small robots.
Specifications are:
Amps: 15A, 25A, 30A
Operating Voltage: 14VDC
Temperature Rating: -40°F to 185°F
Termination Style: Mini
For further information, contact:
AndyMark
www.andymark.com
---
Battery Charger/Simulator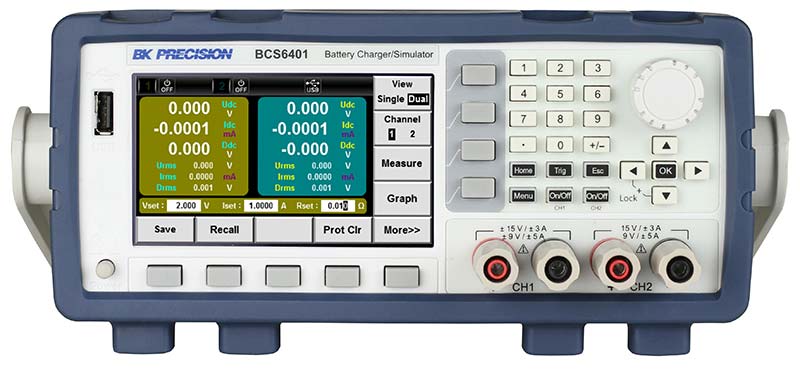 B&K Precision has announced the release of their BCS Series battery charger/simulator, optimized for testing batteries and battery-operated devices. Consisting of a single and dual channel model in a compact 2U form factor, this series features source/sink capabilities, a bipolar output, and variable output impedance.
Additionally, this series serves as a precision DC power supply with exceptional transient response times, high current readback resolution, and low ripple/noise characteristics. The single channel model delivers up to 150W of output power while the dual channel model offers up to 45W per channel or 90W combined.
Device manufacturers and design engineers typically evaluate their products under various battery conditions including different capacity and internal resistance levels. Battery simulation mode allows users to configure battery parameters including capacity, voltage, and internal resistance to evaluate a device under test. This reduces the need for a physical battery where parameters may not be as easily controlled.
In addition to battery simulation, these instruments feature comprehensive battery charge and discharge capabilities with configurable stop conditions. When enabled, the relay off function offers electrical isolation from connected batteries to prevent parasitic drain.
Both models also provide list mode programming, internal storage for custom battery simulation profiles, and a rear panel digital voltmeter (DVM). Remote PC interfaces include USB (USBTMC-compliant) and LAN interfaces supporting SCPI commands.
The BCS Series starts at $4,100 and comes standard with a three year warranty.
For further information, contact:
B&K Precision
www.bkprecision.com
---
3D Accelerometer and Gyro Carrier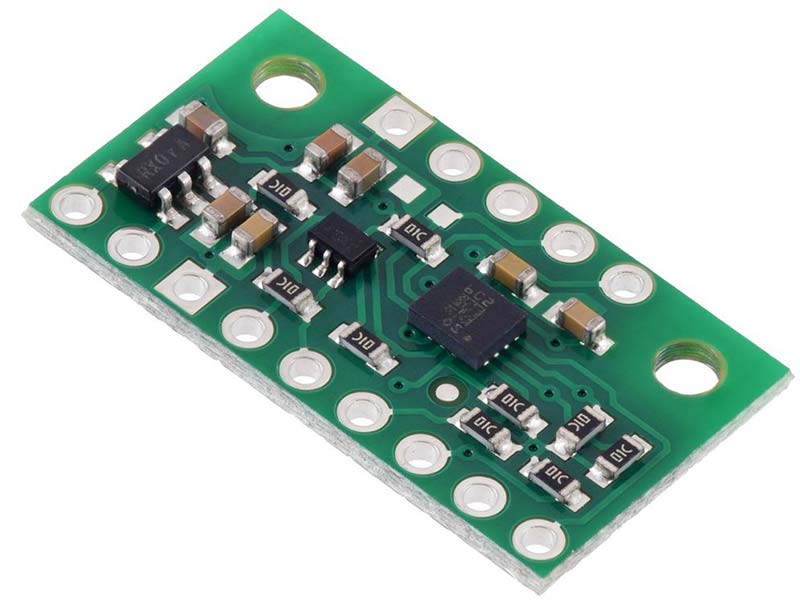 The LSM6DSO now available from Pololu combines a digital three-axis accelerometer and three-axis gyroscope into a single package. The sensor provides six independent acceleration and rotation rate readings whose sensitivities can be set in the ranges of ±2 g to ±16 g and ±125°/s to ±2000°/s, available through I²C/I3C and SPI interfaces.
The LSM6DSO carrier board includes a 3.3V voltage regulator and integrated level shifters that allow operation from 1.8V to 5.5V, and the 0.1" pin spacing makes it easy to use with standard solderless breadboards and 0.1" perfboards.
This board is a compact (0.5" x 0.9") breakout board for ST's LSM6DSO inertial module, which features a three-axis digital linear accelerometer and three-axis digital rate gyroscope; so it is recommended to carefully read the LSM6DSO datasheet before using this product.
The LSM6DSO inertial measurement unit (IMU) has many configurable options, including dynamically selectable sensitivities for the accelerometer and gyro, a choice of output data rates, and two independently-programmable external inertial interrupt pins. The accelerometer and gyro can be individually turned on and off to save power. The sensor can be configured and its readings can be accessed through a digital interface, which can be configured to operate in either I²C (TWI) or SPI mode. The MIPI I3C protocol is also supported on the I²C pins.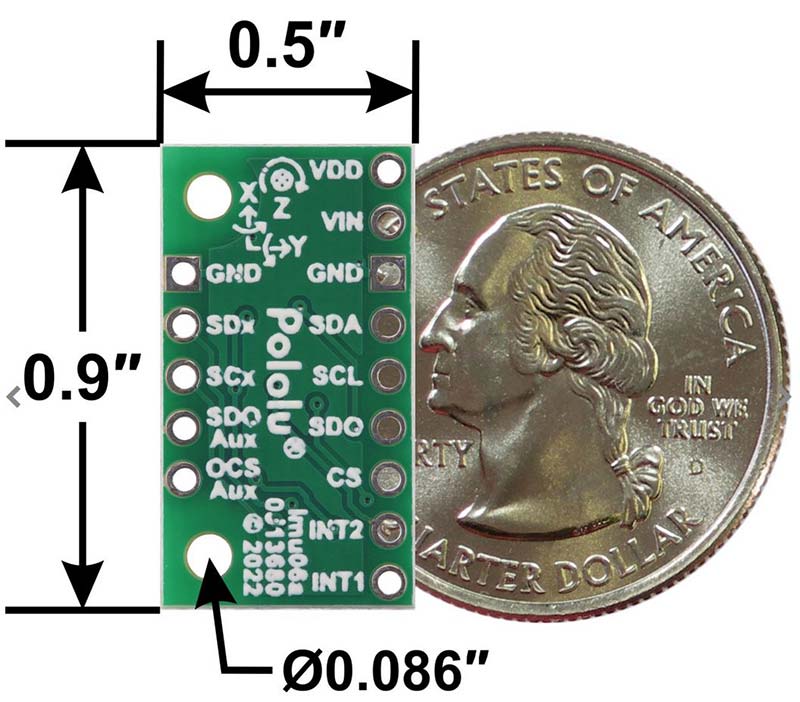 The six independent acceleration and angular rate readings (sometimes called 6DOF) provide data that a microcontroller or computer can use to calculate the orientation of the LSM6DSO on two axes (roll and pitch; a magnetometer is generally required to compute yaw accurately). With an appropriate algorithm, the gyro can be used to very accurately track rotation on a short timescale, while the accelerometer can help compensate for gyro drift over time by providing an absolute frame of reference.
The carrier board includes a low-dropout linear voltage regulator that provides the 3.3V required by the LSM6DSO, which allows the sensor to be powered from 1.8V to 5.5V. The regulator output is available on the VDD pin and can supply almost 150 mA to external devices. The breakout board also includes a circuit that shifts the I²C clock and data lines to the same logic voltage level as the supplied VIN, making it simple to interface the board with 5V systems.
The pins are spaced to work with standard 0.1" (2.54 mm) male headers and 0.1" female headers (available separately), making the board easy to use with solderless breadboards and 0.1" perfboards. The board has two mounting holes that work with #2 and M2 screws (not included).
Compared to the LSM6DS33, the LSM6DSO offers various improvements like lower noise and a higher maximum output data rate for the gyro. In addition to standard operation as an I²C or SPI slave (Mode 1), the LSM6DSO also supports additional specialized modes with a secondary interface. It can act as a master (sensor hub) on a second I²C bus (Mode 2), or it can provide an auxiliary SPI slave interface that is useful for electronic and optical image stabilization (EIS/OIS) applications (Mode 3/4). The LSM6DSO carrier is pin-compatible with Pololu's earlier LSM6DS33 carrier (and many of their other ST I²C/SPI sensor carriers), and the orientation of the sensor axes is the same.
Specifications include:
Dimensions: 0.5" x 0.9" x 0.1" (13 x 23 x 3 mm)
Weight without header pins: 0.6 g (0.02 oz)
Operating voltage: 1.8V to 5.5V
Supply current: 1 mA
Output format (I²C/SPI): Accelerometer: One 16-bit reading per axis; Gyro: One 16-bit reading per axis
Sensitivity range (configurable): Accelerometer: ±2, ±4, ±8, or ±16 g; Gyro: ±125, ±245, ±500, ±1000, or ±2000°/s
For further information, contact:
Pololu
www.pololu.com
---
Dual Chan/H-Bridge Speed Controller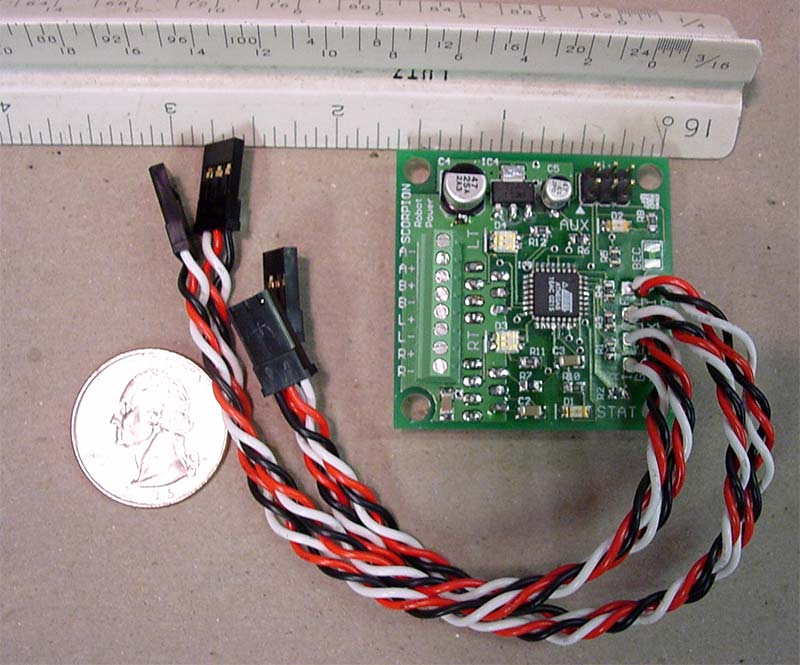 Robot Power's latest Scorpion CL is a compact high performance dual channel H-bridge speed controller for small robots and other electrical loads. It's designed for Ant and Beetle weight combat robots, R2D2 replicas, sumo robots, and other small robots such as firefighting robots, maze solvers, and carpet rovers. The Scorpion CL is also suitable to drive pneumatic valves, solenoids, relays, and thermoelectric coolers.
The Scorpion CL is designed to pack the highest power handling capability, flexibility of control, and usability options into a small flat package for use in space constrained applications. The Scorpion CL is designed without screw terminals or other bulky connectors for the battery and motor wires. Instead, solder pads are provided for factory soldered or user installed wires. This allows maximum flexibility for power connections and keeps the Scorpion CL as small, lightweight, and flat as possible without reducing power handling.
The Scorpion CL introduces Robot Power's "Build Your ESC" build-to-order program. These optional additions to the base Scorpion CL allow you to receive your Scorpion CL with factory installed custom length power wires, with or without installed AMass XT30™ connectors. Finally, Robot Power offers a spray-on conformal coating to protect your ESC against environmental contamination such as metal chips or accidental "dropped screw driver" shorts. This significant protection adds basically no weight. You can select preferred options and exactly match your robot dimensions.
Features include:
Size: 2.00" x 1.30" x .4" (51 mm x 31 mm x 10.4 mm).
Weight: 17.0 grams.
6.0V to 28V (1S to 5S LiPoly) battery voltage.
15A continuous (35A peak) current on each channel.
1.5A-5V receiver battery eliminator circuit (BEC) — may be disabled by disconnecting center wire in RC cables.
Standard R/C pulse format.
Fully reversible H-bridge design. Equal power handling in both directions on both channels.
Full current-limiting and over temp limiting. Motors and batteries are protected from dead short conditions.
Two channels may be either mixed (throttle/steering) or separately controlled. Ideal for skid steer vehicles/robots.
An optional third RC channel controls a FLIP throttle reverse function. Activating when the robot is inverted will allow normal driving response which is handy in combat situations. This input can also be activated by a gravity (Mercury) logic-level switch.
Indicator LED for speed and direction of motor on each channel.
Status LED status information and mode indications.
Failsafe shuts off motors if R/C signal is lost.
Calibrate function to match unit to radio signal range. Settings retained in EEPROM non-volatile storage.
DIP switch to select operating options. Easily switch while running to test various options quickly and easily: Channel mix or separate control (tank) mode; Brake or coast on zero speed. Changes how quickly motor stops; Normal (linear) steering response or exponential curve which has lower response close to zero for less "twitchy" steering respose.; High or low motor frequency. High frequency produces no audible sound from the motors at a cost of slightly lower power handling. Low frequency will make the motors "sing" at about 8 kHz frequency but allows maximum power.
Robot Power offers the Scorpion CL fully assembled and ready to use.
For further information, contact:
Robot Power
www.robotpower.com
---