Servo Magazine ( 2019 Issue-3 )
New Products (03.2019)
---
Continuous Rotation Servo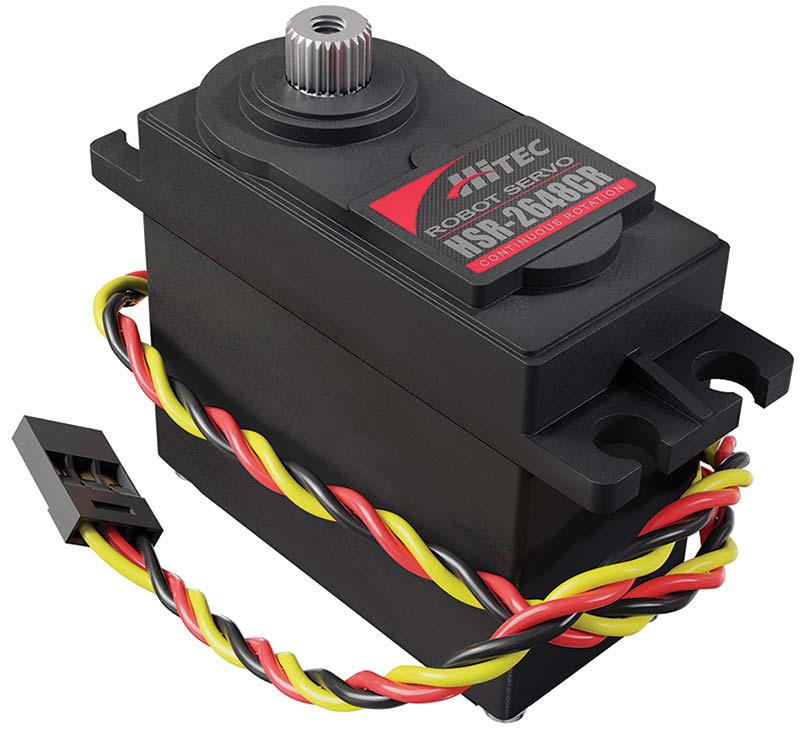 The latest continuous rotation servo from ServoCity is based around the popular Hitec HSR-2645CRH, but with a 25 tooth output spline in order to conform with the majority of the hobby servo market. The servo also boasts an M3 x 0.5 mm socket head servo screw for additional holding power and ease of use. Similar to the HSR-2645CRH, this servo rotates at a specific speed based on the signal received from the servo controller. Its speed is fully proportional, meaning that the further the signal deviates from the center (1,500 µsec), the faster the servo will rotate.
It can be difficult to control the speed of regular servos that have been modified to continuous rotation. However, the HSR-2648CR circuit was designed from the factory to drive the servo smoothly and with fine-control over the speed. Since the HSR-2648CR servo is digital, it's able to be tuned using a Hitec servo programmer. The programmable parameters allow you to tailor the servo to best fit your application. This servo is excellent for compact sliders, winch mechanisms, small panning devices, and wheel-drives on robots. Price is $32.99.
1/4" D-Bore Barrel Hub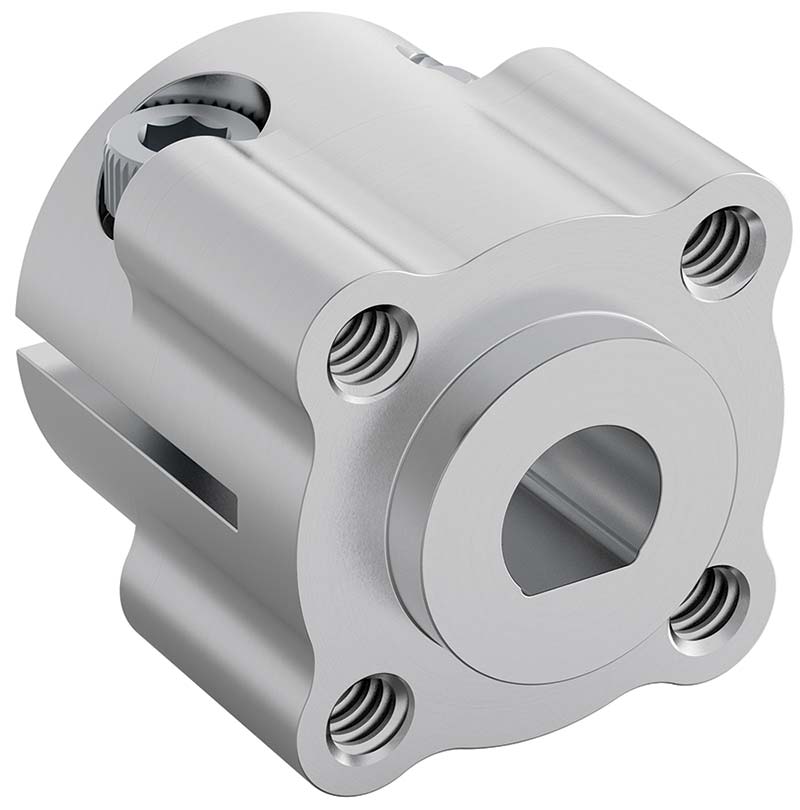 ServoCity's new 1/4" new D-bore barrel hub is a balanced clamping hub that maximizes surface contact on the shaft to provide superior holding force when compared to a standard clamping hub.
The increased barrel length also aids in handling greater radial loads. The dual pinch bolts are tucked in tight to minimize the clearance diameter as the hub rotates within an assembly. Patents pending. Price is $6.99.
Steel 1/4" D-Bore Barrel Hub for Worm Gears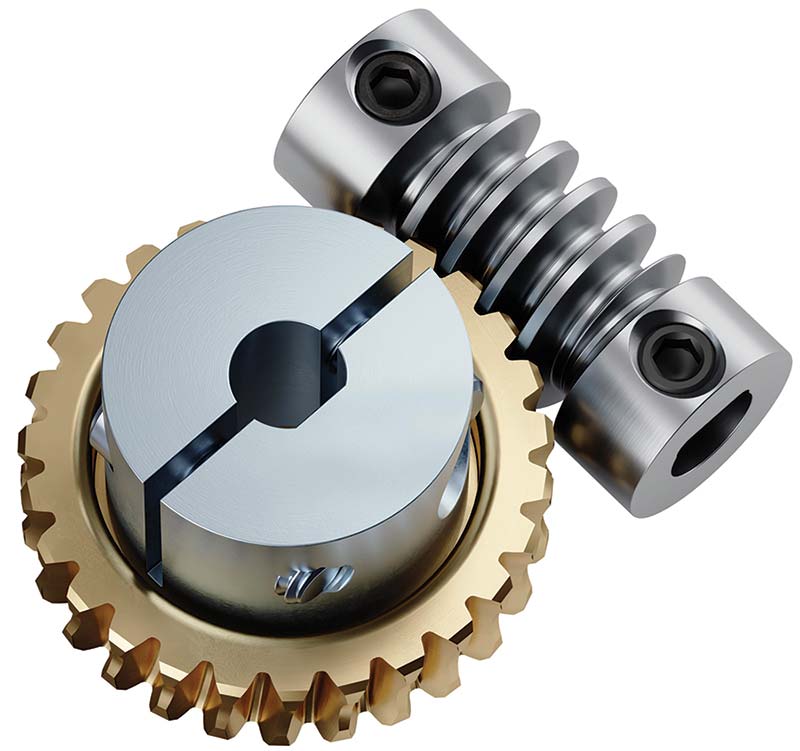 This D-bore hub also from ServoCity is designed to be used with a 27 tooth worm gear or a 26 tooth bevel gear. While both have the potential to be demanding on a hub, it's the worm gears that have driven this hub to being made of steel with huge 8-32 pinch bolts.
With the 27:1 ratio gear reduction of the worm, there's potential to generate massive amounts of torque. With the combination of the D-bore, the steel body, and large fasteners, there's little chance in having this hub slip, strip, or fail even in the most rigorous application. Price is $6.99.
For further information, contact:
ServoCity
www.servocity.com
---
Custom Badge Kit
Addicore has introduced the "Custom Solder On! Badge AddiKit:" a product that allows groups of all kinds to include basic electronic assembly and soldering into their meetings, seminars, gatherings, or activities.
When individually custom marked with the group's name and/or message, the completed kits can be worn during and after the event to generate name recognition, positive feedback, and added confidence for group members who have leveled up in a much-prized skill.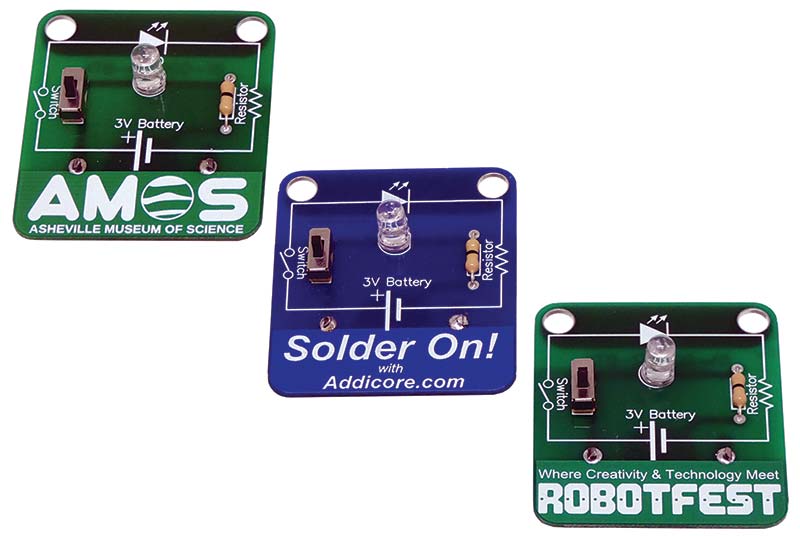 The "Custom Solder On! Badge AddiKit" consists of:
1 Solder On! printed circuit board that has a group's specific logo and/or slogan on it
1 Fast color changing RGB LED light
1 Through hole resistor
1 Switch
1 2032 coin cell battery holder
1 2032 coin cell battery
1 Pin back with double-sided tape (so the completed project can be easily worn)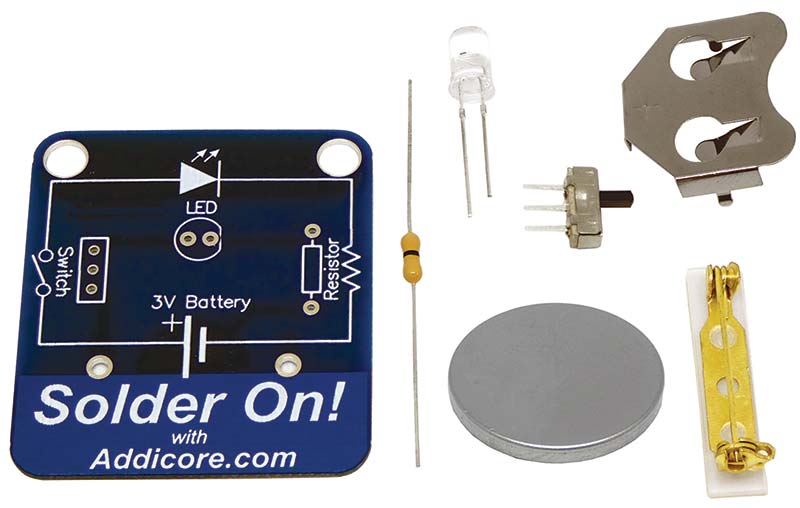 A Solder On! Badge AddiKit project is very easy for kids of all ages to complete with a modest investment of time and energy. Only a soldering iron, solder, and supervision must be provided by the group. Small children will benefit from having an older tween/teen or an adult to help with the use of the soldering iron during final assembly.
Here are abbreviated instructions: Solder the RGB LED light in place. Then, install and solder the resistor, the switch, and the battery holder. The circuit board has information printed on it to help with each of these steps. With the switch in the "OFF" position, place the unit's battery into the battery holder, then wait until the participant flips the switch. The RGB LED light will cycle through numerous colors to signal a successful project completion.
For further information, contact:
Addicore
www.addicore.com
---
RoboClaw Motor Controller Case
Now available from Basicmicro, the RoboClaw case with fan will help protect the RoboClaw and keep it cool. Cooling from the integrated fan will help RoboClaw sustain peak currents longer. The case with integrated fan and heatsink is ideal when RoboClaw is installed in enclosures and air flow is at a minimum. The case works with the following RoboClaws: 2x15, 2x30, 2x45, and 2x45ST. The case, fan, decals, and screws are included for $18.95.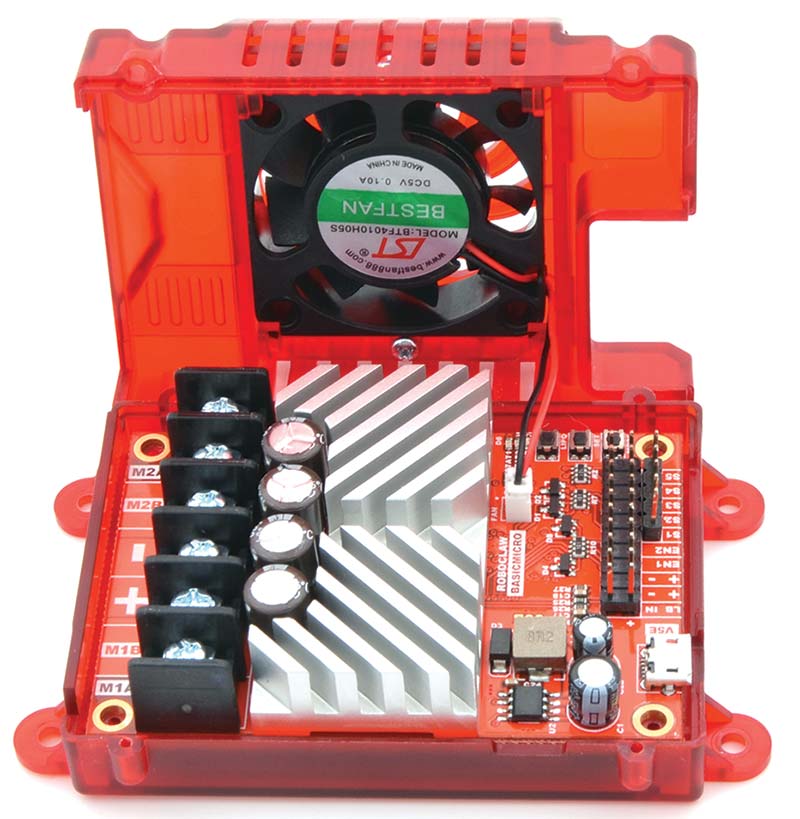 The RoboClaw is an intelligent motor controller designed to control two brushed DC motors. It can be controlled from USB, RC radio, PWM, TTL serial, analog, and microcontrollers such as an Arduino or Raspberry Pi. The case will help protect RoboClaw from things such as stray wires in your robot enclosures.
For further information, contact:
Basicmicro
www.basicmicro.com
---
TETRIX MAX Mecanum Wheels
PITSCO Education has introduced new TETRIX® MAX Mecanum Wheels as an extension to their already robust TETRIX line.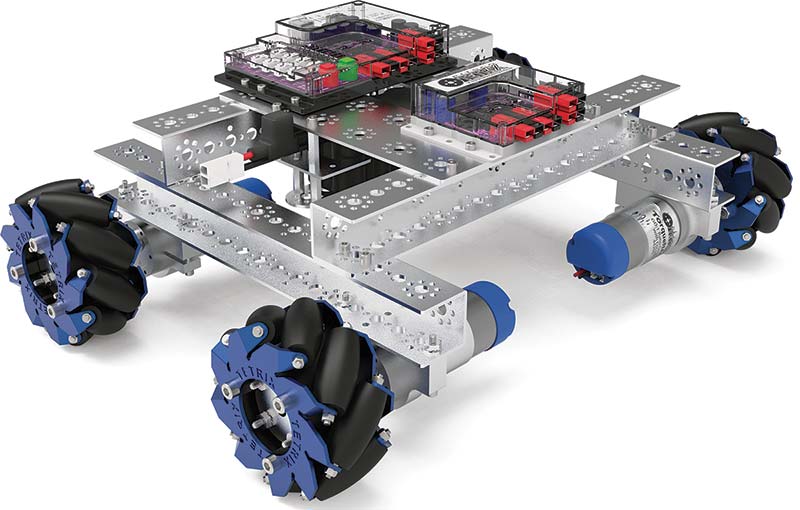 Built with a durable Delrin plastic inner core and heavy-duty anodized aluminum roller plates, MAX Mecanum Wheels are designed for heavy use and intense competition.
The wheels have nine free-spinning rollers, each set at a 45 degree angle and designed to be used on a four-wheel robot with each wheel being controlled by a DC motor. This omnidirectional drive system gives the robot the ability to move instantaneously in any direction, resulting in multiple advantages in terms of mobility in narrow or crowded spaces — especially when navigating around obstacles or scoring on the competition field.
Hubs feature a 6 mm D-shaft compatible with the TETRIX TorqueNADO Motor and 6 mm axles. Pricing starts at $44.95.
For further information, contact:
PITSCO Education
www.Pitsco.com
---
TEACH TECH Coding Robots
TEACH TECH™ robotic kits, now available from Elenco Electronics, explore renewable energy and coding. The TEACH TECH line follows the Learn By Doing® philosophy found in all Elenco products, where kids can enjoy hours of educational fun while boosting confidence and critical thinking skills.
Products in this line appeal to anyone who enjoys using their hands to build, tinker, and bring their creations to life with movement, coding, and programming. Forward-thinking kids can explore alternative energy with kits that highlight solar, hydraulic, or wind power.
Tobbie II (priced at $84.95) utilizes micro:bit technology to create a variety of projects and activities that can be programmed.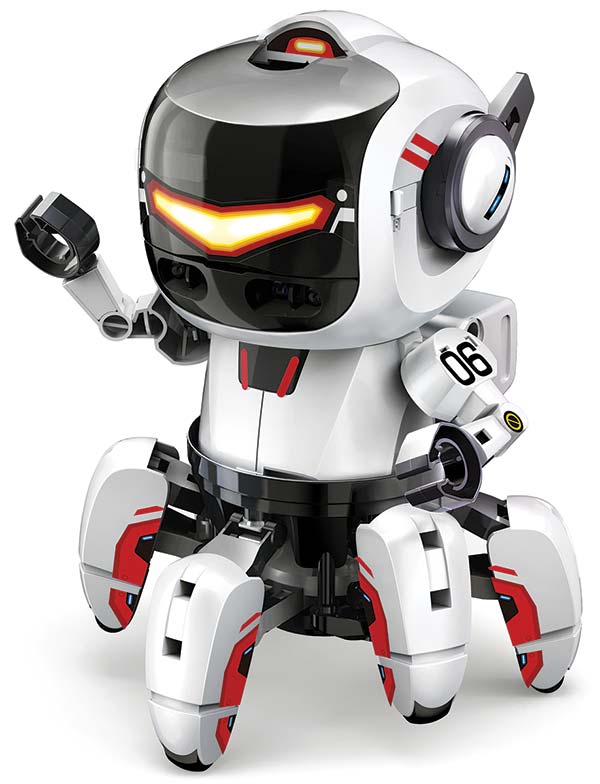 The build-it-yourself hexiped robot with a 360 degree free rotation body also features:
Accessible coding using Javascript Block Editor or Python for more advanced programmers.
Twelve programs available for download which include light tracker, rock-paper-scissors, notice board, and bowling.
Mech-5 (priced at $39.95) is a mechanical robot that has screenless coding.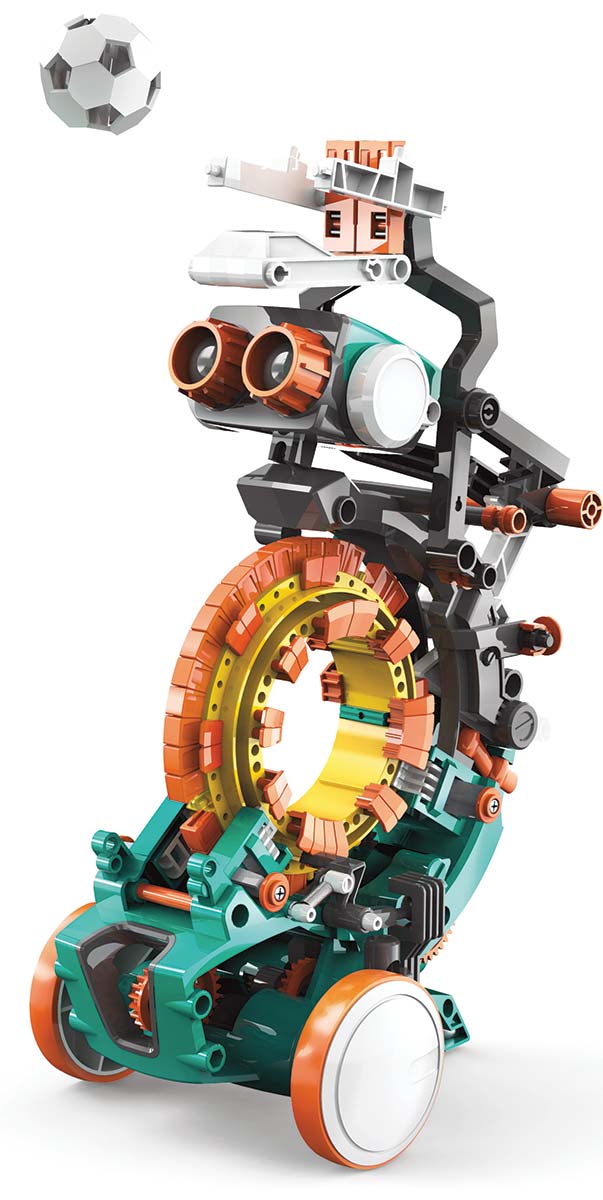 The mechanical coding wheel is the heart of the Mech-5 robot. Coding is executed by snapping the coding buttons onto the coding wheel, directing the robot to perform its basic functions: move forward, backward, right or left, spin, or pause. Thanks to its simple to follow approach, coding and performing more challenging tasks like throwing, lifting, kicking, or drawing become achievable as the user's coding skills increase.
Code, explore, and learn with the EL10T (priced at $89.95) which is perfect for little learners, while still providing challenges for grade school age children. EL10T coding blocks introduce young minds to programming and programming concepts.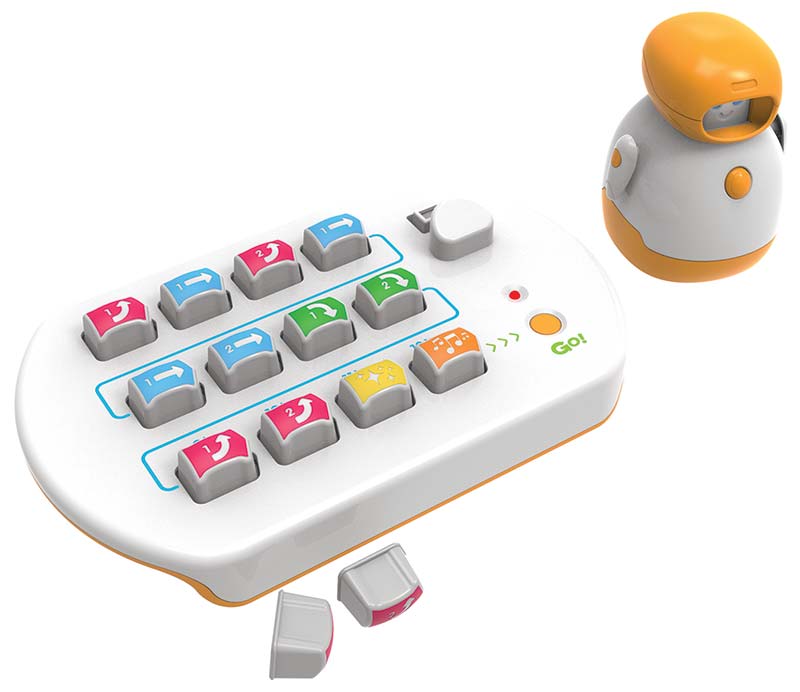 Coding blocks program directions and EL10T's movements: left turn, right turn, and forward. Users simply insert coding blocks into the control panel base, upload the code into EL10T's helmet, then place the helmet on EL10T's head. EL10T helps to build important logic, problem solving, sequencing, and critical thinking skills.
For further information, contact:
Elenco Electronics
www.elenco.com
---
Robotic Manipulator Arm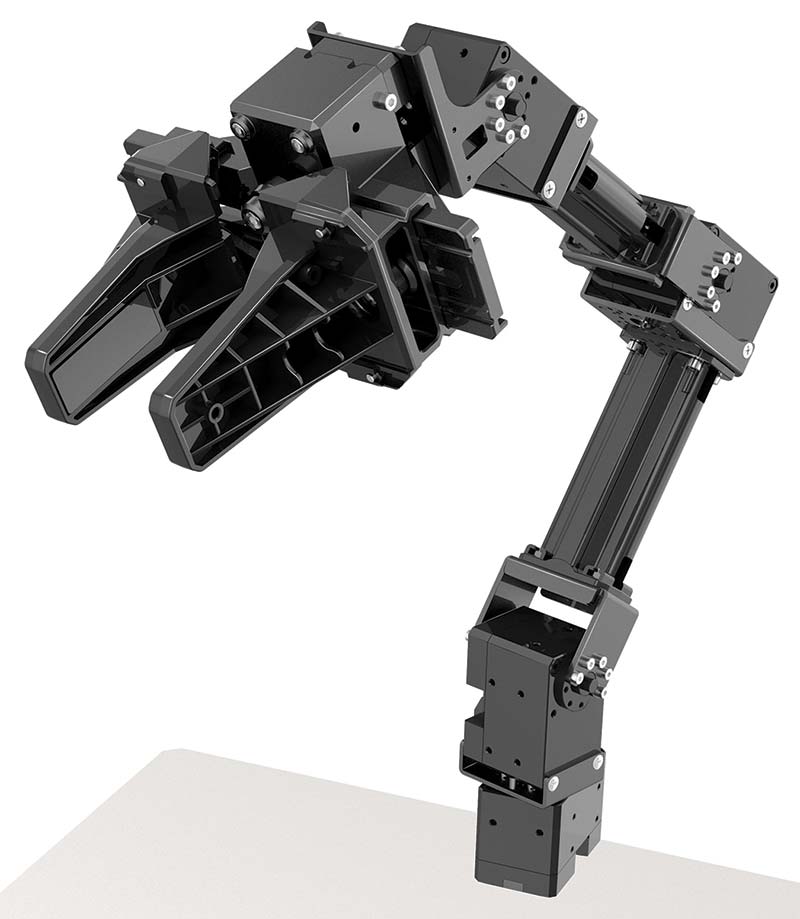 ROBOTIS announces the release of their OpenManipulator-PRO full-size robotic manipulator arm — the newest addition to the OpenManipulator series.
OpenManipulator-PRO is ROBOTIS' most industrialized manipulator arm to-date and features six DOF powered by DYNAMIXEL PRO+ smart actuators for a small footprint and high payload-to-weight ratio.
The low-cost manipulator for ROS and Arduino features:
High Repeatability, 500g Max Payload
Precision Servo Control (DYNAMIXEL X-Series) with Feedback
Modular Structure and All-in-One Design
Easy to Use with PC or Embedded Boards
Open Source Hardware (CAD) and Software (SDK)
Low Weight Enables Integration with Mobile Robot Platforms
Dynamixel Wizard 2.0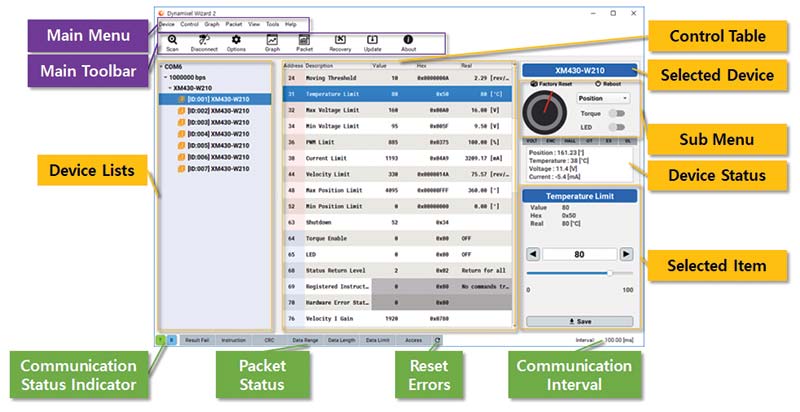 ROBOTIS has also released their newest software: Dynamixel Wizard 2.0, available for Windows, Linux, and Mac users.
Dynamixel Wizard 2.0 gives DYNAMIXEL users the most powerful and convenient interface yet for testing, editing settings, and managing DYNAMIXEL smart actuators. Dynamixel Wizard 2.0 is compatible with all models of DYNAMIXEL and includes new features such as:
DYNAMIXEL Firmware Update
DYNAMIXEL Diagnosis
DYNAMIXEL Configuration and Test
DYNAMIXEL Data Plotting in Real-Time
Generate & Monitor DYNAMIXEL Packets
For further information, contact:
ROBOTIS
www.robotis.com
---
Smart Servos
The new Lynxmotion Smart Servos (LSS) from RobotShop are compact, modular, and configurable actuators designed to be an evolution of the standard RC servo for use in multi degree-of-freedom robotics, animatronics, custom RC projects, and more.
The servo lineup currently includes three "smart servos" which appear physically the same, sharing the same dimensions, mounting points, and output spline, but differing in maximum torque and speed.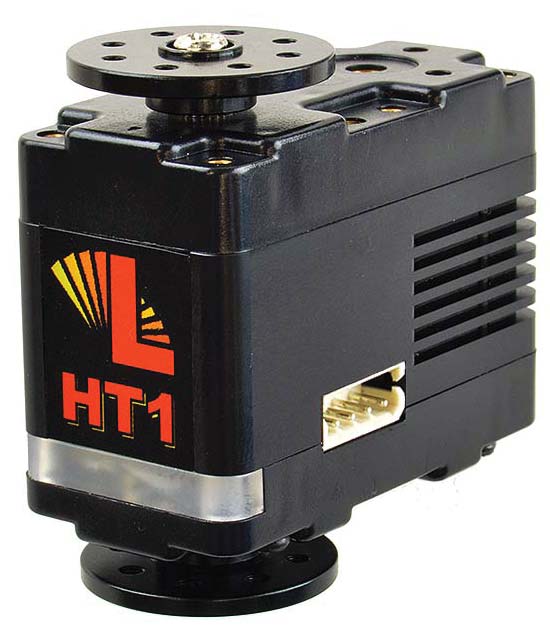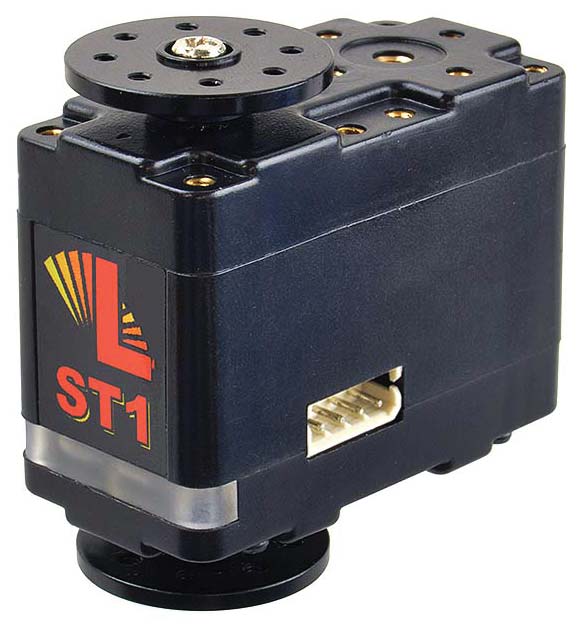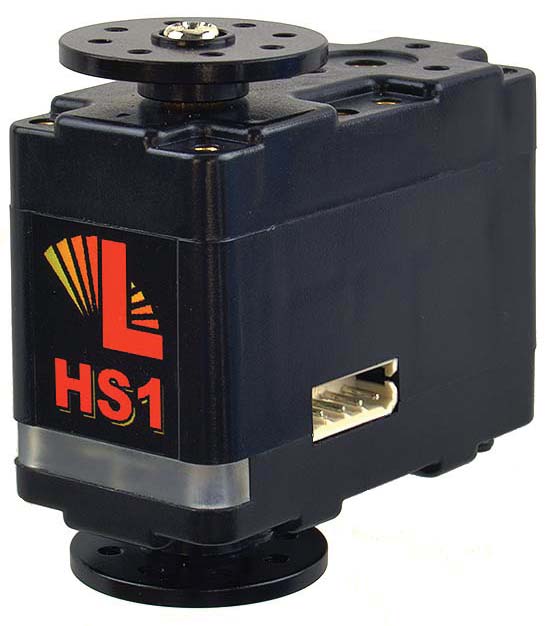 The servos are core modules of the next generation Lynxmotion Servo Erector Set (SES) modular robotic construction system and a wide variety of modular brackets, mechanics, and electronics have been designed around them. "Smart" means each servo's parameters are user modifiable and configurable; there is sensor feedback; built-in safety features; and although meant to be connected to a microcontroller, can be used as advanced RC actuators.
The custom LSS serial communication protocol was built on the SSC-32/32U protocol and makes communicating with, controlling, and configuring the servos easy and intuitive.
Features include:
Serial, RC PWM, and continuous rotation modes.
Human-readable LSS serial communication protocol.
Button menu, RGB LED.
Feedback: Voltage, current, position, temperature, operating status, and more.
Configurable: Center position, angular range, direction, speed, and much more.
All metal gears for high torque and reduced wear.
Libraries: Arduino, Python, ROS.
12V nominal (3S LiPo ideal), 6-12V operation.*
Standard 24T output spline (compatible with accessories made for Hitec 422, 645MG servos).
Many mounting points, brackets, accessories.
* Note that the servo's maximum speed and available torque both decrease with lower input voltage.
The easiest way to differentiate between the three models is based on the sticker, located at the rear of the servo. Lynxmotion software automatically determines which model is connected.
Detailed product specifications regarding voltage, torque, speed, temperature, and more can be found on the LSS - Specifications page.
Also note that these servos are intended primarily for hobby, educational, and semi-professional use. They are not intended for industrial, medical, or related applications, and are not certified as such.
The servos are meant to be powered from either a battery source or a DC wall adapter. When selecting a power source, ensure it will be able to provide sufficient current to power all of the servos in the project.
The "high speed" and "standard" models are the same price ($67.99) whereas the high torque is $109.95.
For further information, contact:
RobotShop
www.robotshop.com
---
Subscription CNC
ShopBot announces the launch of its Subscription CNC program, emphasizing a simple, straightforward service that makes it easy to put a ShopBot CNC tool to work for your business. For one monthly payment, subscribers can put a Handibot Smart Power Tool, ShopBot Desktop, ShopBot Desktop MAX, or ShopBot Buddy tool into production and access ShopBot's world-class team of trainers, web training resources, and in-house support. There are no shipping fees and no cancellation fees. Subscription terms start with a minimum three-month commitment.
The ability to cut, drill, machine, and sculpt with precision and repeatability is not just for big companies any longer. There is no long-term obligation. Subscribers can trade-up or down on tool size as necessary.
Subscription CNC is not a sale or a financed-sale. Subscription CNC is different from leasing. Lease and rent-to-own programs are good, but they create a sales transaction rather than a partnership.
Subscribers will be shipped new or 'good-as-new' tools. ShopBot will continuously refurbish and recycle tools within the program and after these tools become heavily used, they will be offered to communities in need.
For further information, contact:
ShopBot
www.shopbottools.com
---