Servo Magazine ( 2022 Issue-2 )
New Products
---
ExpressPCB Plus V3.1.1
ExpressPCB announces the release of their ExpressPCB Plus° version 3.1.1 layout software. As they collaborate with and support the user community, ExpressPCB receives valuable feedback used to guide their development process. With the release of version 3.1.1, users will find:
Enhanced support for Symbols/Signal Names in ExpressSCH and ExpressPCB Plus to improve the performance of Schematic Link and Netlist Validation tools.
Updated SnapEDA API to provide prices, stock availability, and purchase links from major distributors such as Digi-Key, Mouser, and others.
Improved Netlist Validation reporting when multiple component pins are assigned to the same symbol/signal name.
Resolved erroneous errors in reporting due to case sensitivity in naming components or signals; duplicate parts related to polygons in silkscreen; and timeout errors.
It's important to note that files created in previous versions will need to be saved in the version 3.1.1 software for symbols to be supported properly in the software.
For further information, contact:
ExpressPCB
www.expresspcb.com
---
RoboSkin for Human-Like Sensing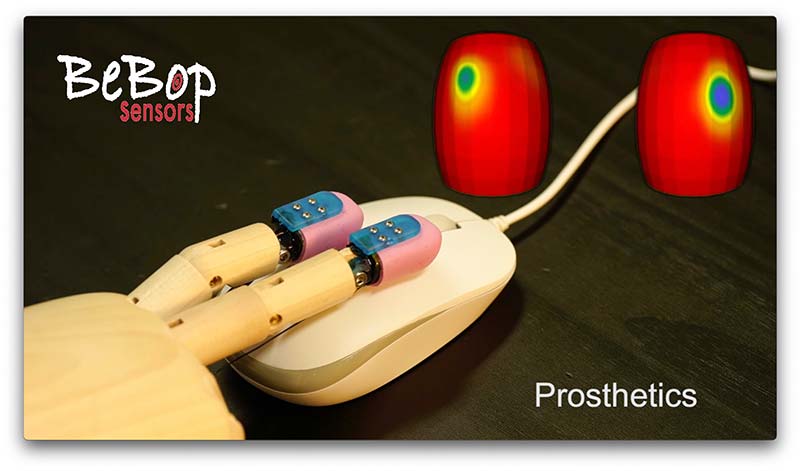 BeBop Sensors, Inc., has announced the availability of their RoboSkin line of skin-like coverings for tactile awareness for humanoid robots and prosthetics. A true nervous system for robots at less than 1 mm thick, RoboSkin fits all robotic body parts — limbs, fingers, feet, head, and torso — to make robots "feel" better.
RoboSkin's advanced fabric-based sensor skin can be shaped to any surface allowing quick tailoring to fit any robot, with spatial resolution and sensitivity that exceeds human abilities for a true partnership between humans and their robot helpers.
Advances in robotics such as vision and listening have been missing a key element: the sense of touch which is essential for practical human/robot interaction. As robots are quickly becoming part of our world, they need to interact and learn by sense of touch and feel. Flexible, reliable, and highly proprietary, BeBop Sensors' RoboSkin provides this essential touch factor, with technology based on BeBop's fabric sensors, with millions of sensors in daily use throughout the world and over 30 US and international patents.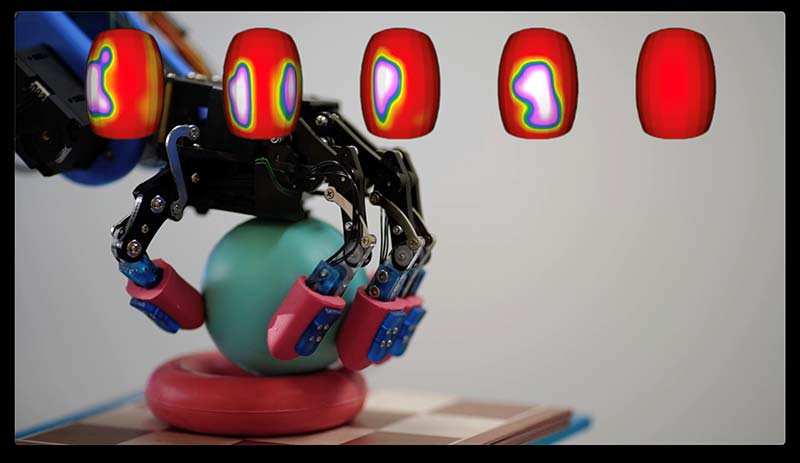 RoboSkin is available immediately for a variety of applications in robotics and prosthetics, including biohazard, digital health, IoT, VR/AR, automotive, law enforcement, testing, and more.
BeBop uses smart fabrics to create elegant sensor solutions for OEMs. Where things or people interact, BeBop Sensors comprehend force, location, size, weight, shape, and presence across any size, resolution, and geometry.
For further information, contact:
BeBop Sensors
www.bebopsensors.com
---
2-in-1 Smart Robot Vacuum/Mop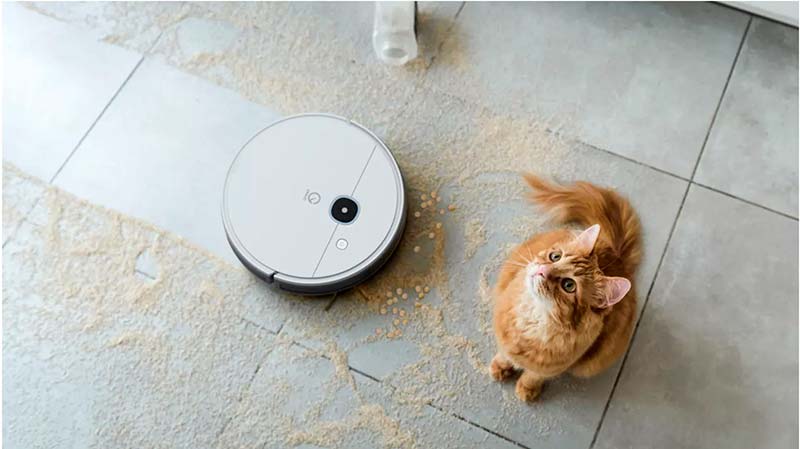 Yeedi, creators of innovative robot vacuums, has launched its first 2-in-1 robot vacuum/mop: the Yeedi vac max. This robot unit is able to fully clean the entire home, including all hardwood, floors, and carpets.
The Yeedi vac max features sensor-based Visual SLAM mapping technology for an accurate GPS map view to clean the whole floor with no fuss.
Yeedi vac max is a feature-rich smart robot vacuum that fully cleans homes with intelligent zone controls and a mopping function for hard floors. Powered by an industry-leading suction power of 3000 Pa and a long 200 minute battery life, the Yeedi employs a Visual SLAM sensor-based mapping system with intelligent mopping functions and smart controls, and can be upgraded to add a self-emptying tower with automatic cleaning for up to 30 days without the need of human interaction.
Yeedi vac max delivers superior cleaning with the mapping system's camera located on top of the robot vac and floor sensors that accurately map the room, cleaning in neat rows. The suction power automatically adjusts depending on the surface, increasing as it senses carpet and decreasing on wood or tile flooring.
To mop floors, it features an 8 oz (250 ml) water receptacle and removable cloth that wipes surfaces. When in mopping mode, the Yeedi knows not to enter onto carpets. It can also be set to mop alone or a combination of mop and vacuum.
The robot's sophisticated and sleek design with a slim profile makes for easy cleaning under furniture and tables.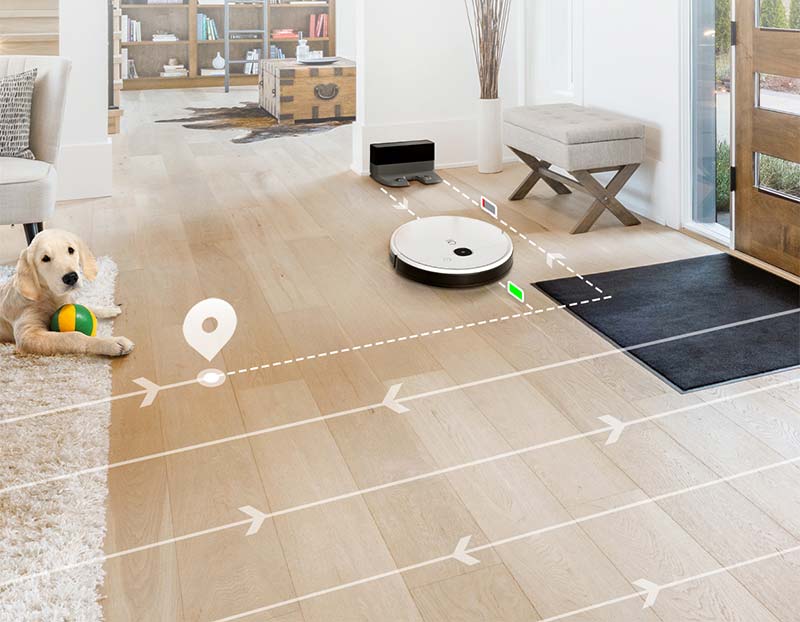 Yeedi comes with an app for smart control. After Yeedi maps the room, you can select areas to clean and where to avoid through the Yeedi app, even choosing which particles on the floor to clean.
The app also lets you schedule cleanings and is compatible with Amazon Alexa and Google Assistant for voice assistance.
Yeedi robot vacuum features include:
2-in-1 Robot Vacuum and Mop: Mops and vacuums wet or dry messes.
Powerful Cleaning Power: 3000 Pa strong suction power vacuums dirt.
Advanced Carpet Identification: Sensors detect carpet and floors, and automatically adjust when moving from carpet to wood floors. It knows not to mop on carpets and increases suction power when carpet is detected.
Smart Mapping and Navigation: Maps out the whole floor similar to GPS and cleans in neat rows.
Vision & Customizable Zone Mapping: Visual SLAM sensor-based mapping technology provides an accurate map view, customizable with virtual boundaries, designated areas, and cleaning schedules.
Editable Home Map: Click on the map to clean or avoid certain rooms or targeted areas.
App Control: Schedule cleanings and choose a specific area to clean through the Yeedi app.
Mopping Function: 8 oz (250 ml) water tank and removable cloth mops hard surfaces. Yeedi can be set to mop alone or a combination of mop and vacuum.
Brushes: One central rolling brush and one sweeper brush pick up hard-to-vacuum items including pet fur, dust, crumbs, and dirt, even from wall edges and corners.
Battery: 5200 mAh rechargeable battery provides up to 200 minutes of cleaning per charge.
Amazon Alexa/Google Assistant Compatible for scheduling and voice control.
Accessory Options: Can be upgraded to add one self-emptying tower with automated cleaning for up to 30 days without any interaction.
For further information, contact:
Yeedi
www.yeedi.com
---