New Products (02.2020)
---
Steel MOD 0.8 Pinion Gear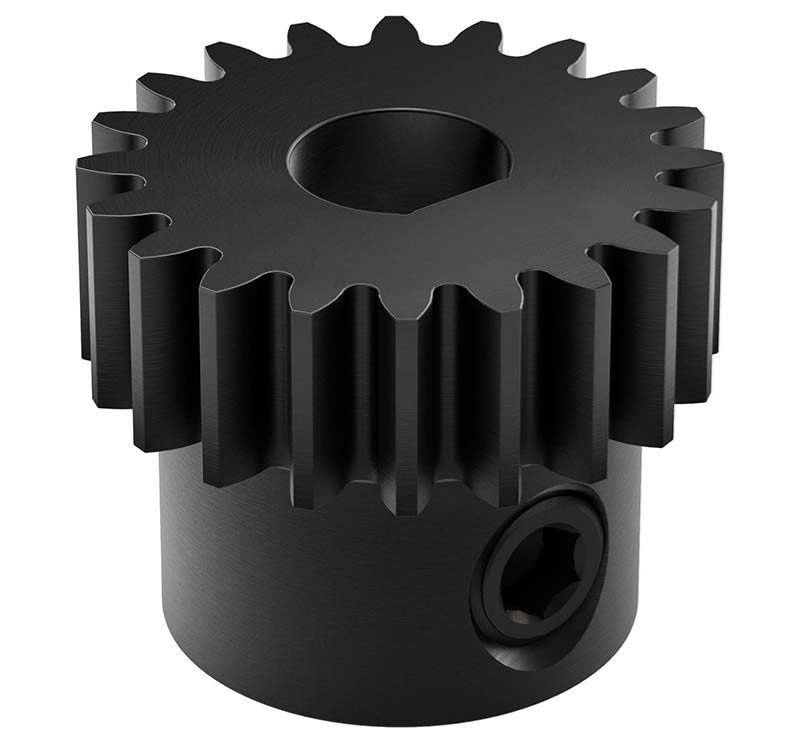 This 30-tooth 6 mm D-bore pinion gear perfectly matches goBILDA's 6 mm D-shafting to create a positive drive. This particular gear is able to be meshed with a 90-tooth hub gear spaced 48 mm away for a 3:1 ratio, or it can mate to another 30-tooth gear to create a very compact 1:1 ratio only 24 mm apart. If your build provides the freedom to adjust the spacing between the gears, it's able to mesh to any MOD 0.8 gear that is used. The counterbore on the top side of the gear allows you to run right up against a 6 mm bearing without the use of a shim. Price is $9.99.
Flanged Ball Bearing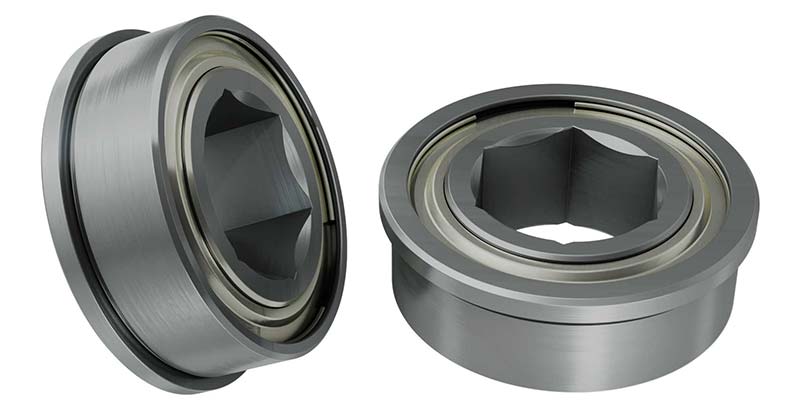 goBILDA's 8 mm REX bearings are a perfect match to their 8 mm REX shafting. While 8 mm REX shafting is directly compatible with 8 mm round bore bearings, having a REX bore provides more surface contact and more evenly disperses the loads applied to the inner race of the bearing. Price is $5.99/two pack.
MOD 0.8 Pinion Gear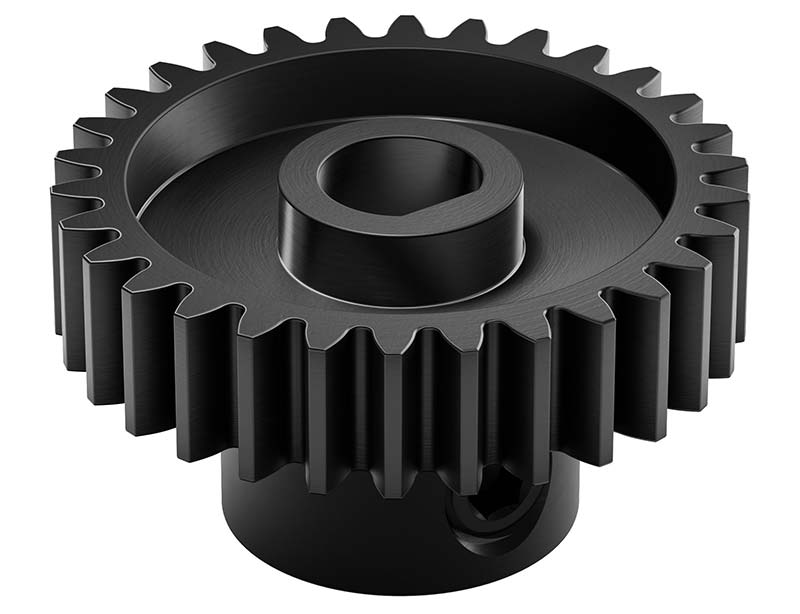 This 20-tooth 6 mm D-bore pinion gear also perfectly matches goBILDA's 6 mm D-shafting to create a positive drive. This particular gear is able to be meshed with a 100-tooth hub gear spaced 48 mm away for a 5:1 ratio on channel. If your build provides the freedom to adjust the spacing between the gears, it's able to mesh to any MOD 0.8 gear you choose. Price is $9.99.
goRAIL Hurricane Nut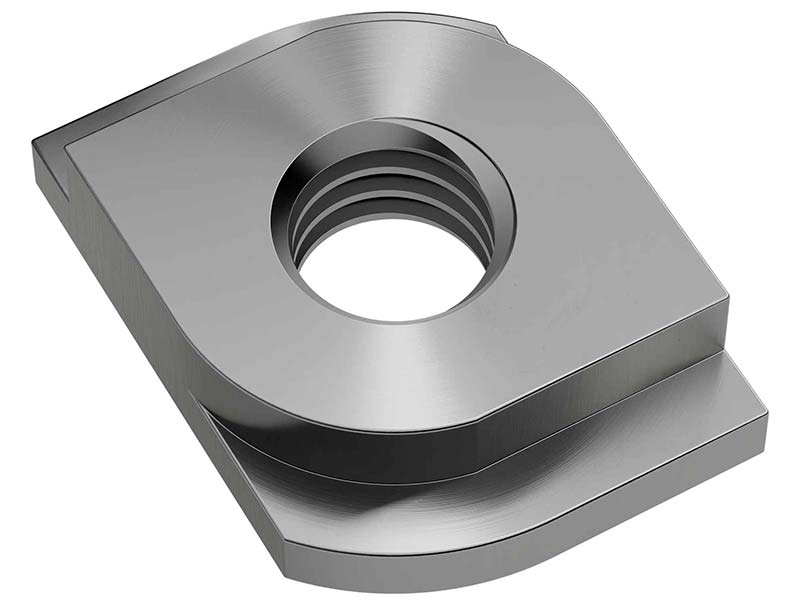 Hurricane nuts are purpose-built to fit into the slot of 1109 Series goRAIL or 1118 Series Open goRAIL to provide an M4 threaded hole at any location you wish. The "hurricane" shape allows you to drop them in mid-slot without having to slide them in from the end of the goRAIL. The overall length allows them to stack next to one another and remain on the 8 mm grid pattern. Price is $9.99/25 pack.
3613 Series Gecko Wheel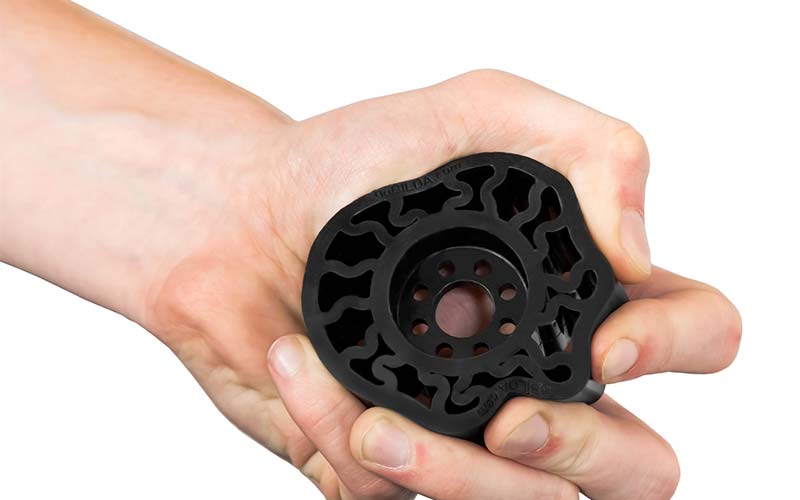 These 72 mm Gecko™ wheels are constructed of high-grip silicone rubber that offers excellent traction against a multitude of surfaces. The spoke design allows the wheels to compress and conform around objects with ease. The wheels are non-directional which means they will provide the same reliable results no matter which direction you spin them. The plastic offset center core allows you to adjust your wheel location by flipping it around. One side has 8 mm of drop to perfectly nestle a Sonic Hub in while the other is 12 mm deep. The grippy surface and compliant design make this wheel a perfect finishing touch to your goBILDA intake assembly. Price is $8.99.
BeeLine Chassis Kit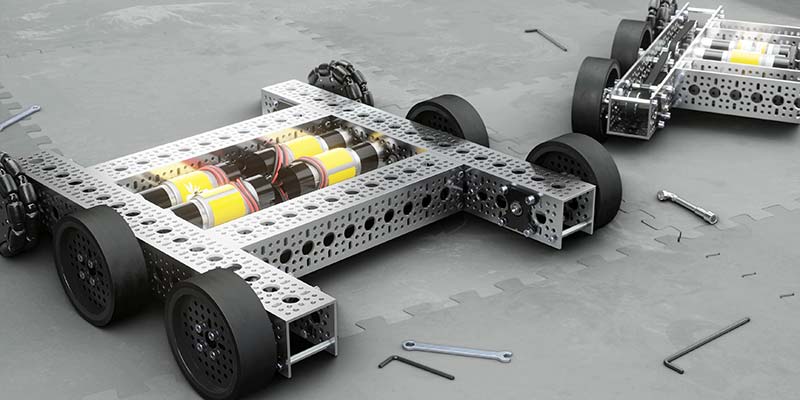 Many chassis aim to be agile, but in doing so, sacrifice traction. Others have excellent traction but suffer when it comes time to make quick maneuvers. The Beeline Chassis covers both departments.
Given each side is equipped with two 96 mm Rhino wheels, the contact patch with the ground has been maximized so that you don't get pushed around. The omni wheels at the leading edge of the chassis combined with the slightly raised axle locations at each end of the chassis allow it to pivot about the center with ease. Price is $499.99.
Counterbored Pattern Spacer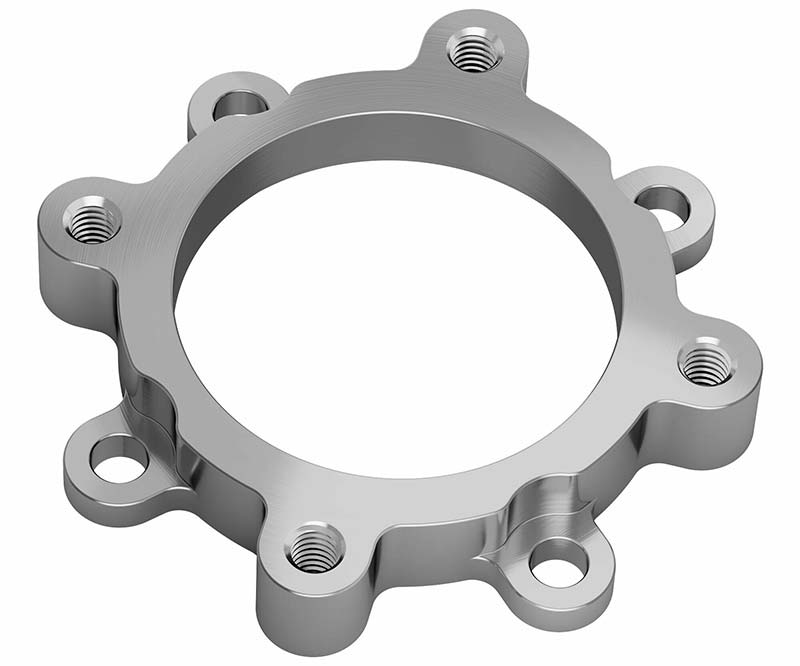 This counterbored pattern spacer has a length of 8 mm and provides thru-holes and threaded holes on a 32 mm pattern. When fastened down using the thru-holes, the threaded holes provide a convenient mounting point for the next component in your assembly. The counterbore on the thru-holes allow the screw heads to be flush with or below the top face.
The 32 mm bore allows 32 mm OD tubing or goTUBE to pass through. The underside has a bearing recess which allows it to capture the 1601-1032-0012 12 mm bore flanged ball bearing. Price is $5.99.
Quad Block Pattern Mount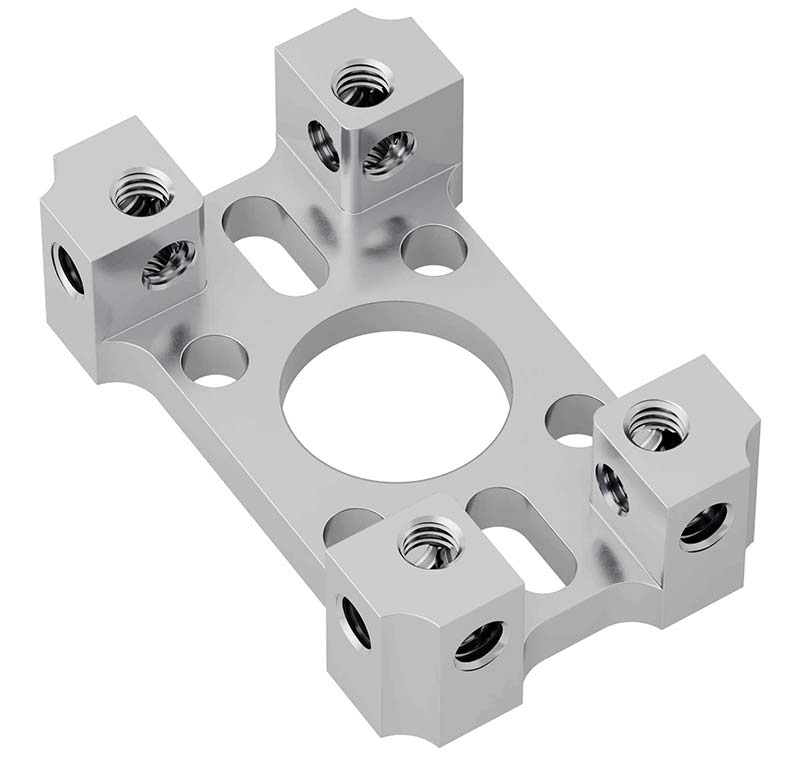 Consider this to be a quad block pattern mount for low-side U-channel. While the go-to 1201-0043-0002 is perfectly compatible with 1121 Series low-side U-channel, sometimes a slightly narrower 'boxed' design lends itself well for builds that have width regulations.
This 27 mm wide quad block pattern mount will provide 27 mm between two pieces of low-side U-channel, leaving the outside-to-outside dimension 32 mm to stay on-pattern. Price is $5.99.
For further information, contact:
goBILDA
www.gobilda.com
---
ToF Sensor Boards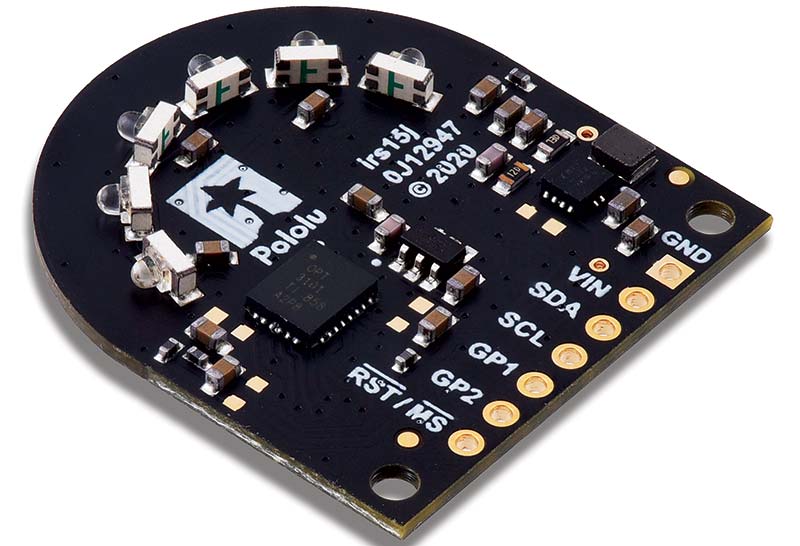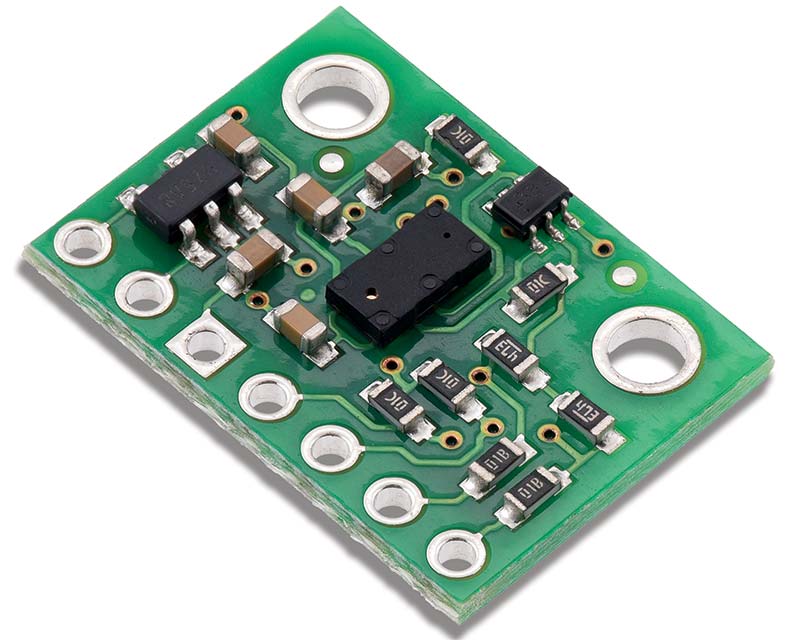 Pololu announces the addition of two new sensor boards to their line of time-of-flight (ToF) range finders. The first is a carrier board for ST's VL53L3CX, which offers fast and accurate ranging up to 3 m (10 ft) with 1 mm resolution.
The VL53L3CX is effectively a tiny self-contained LiDAR system featuring an integrated 940 nm Class 1 laser, which is invisible and eye-safe. Unlike conventional IR sensors that use the intensity of reflected light to estimate the distance to an object, the VL53L3CX uses ST's FlightSense technology to precisely measure how long it takes for emitted pulses of infrared laser light to reach the objects and be reflected back to a detector.
This approach ensures absolute distance measurements independent of ambient lighting conditions and target characteristics (e.g., color, shape, texture, and reflectivity), though these external conditions do affect the maximum range of the sensor.
Ranging measurements are available through the sensor's I2C (TWI) interface, which is also used to configure sensor settings. The sensor provides two additional pins: a shutdown input and an interrupt output.
The VL53L3CX's most interesting feature is that it can detect multiple targets within its field of view. This is possible because instead of picking out a single distance based on the reflections received by the sensor, the VL53L3CX outputs histogram data representing how much reflected light it's receiving within different time intervals.
The host processor can then analyze this data using special algorithms that ST provides as part of their VL53L3CX API (application programming interface). Pololu notes that this processing requires a significant amount of RAM and code space, making this sensor impractical for use with a typical eight-bit microcontroller.
Pololu's carrier board combines the VL53L3CX with a voltage regulator and level shifters into a compact 0.5" x 0.7" module. The on-board regulator allows the board to be powered from a 2.6V to 5.5V supply, and the level shifters convert the I2C clock and data lines to the same logic voltage level as the supplied VIN, making it simple to interface the board with 3.3V or 5V systems.
The VL53L3CX carrier board is available starting at $9.95. For alternatives that are simpler to use and can work with eight-bit microcontrollers, consider Pololu's carriers for ST's VL53L1X or the VL53L0X.
The second addition to Pololu's line of ToF sensors is their three-channel time-of-flight proximity and distance sensor module based on the OPT3101 IC from Texas Instruments. Similar to the VL53L3CX, this board also emits 940 nm infrared light and then measures the phase (delay) of the reflected signal, which corresponds to the distance to the target object. It also measures the amplitude of the signal, which indicates how bright/reflective/close the object is. The board has three channels that each cover approximately 50° to 60°, giving the sensor a wide field of view (FOV). In favorable conditions, the sensor can measure objects at distances up to 1 m.
Distance measurements are available through the sensor's I²C interface, which is used to configure the sensor. Pololu provides an Arduino library for the OPT3101 to ease use.
The board can be powered from a 2.5V to 5.5V supply, and on-board regulators supply the 3.3V logic voltage to the OPT3101. The board includes a circuit that shifts the I²C clock and data lines to the same logic voltage level as the supplied VIN, making it simple to interface the board with 3.3V or 5V systems. The board's 0.1" pin spacing makes it easy to use with standard solderless breadboards and 0.1" perfboards.
The three-channel wide FOV time-of-flight distance sensor using the OPT3101 is available starting at $29.95. A version with headers soldered and additional parts for use with TI's educational robot (the TI-RSLK MAX) is also available for $31.95.
For further information, contact:
Pololu
www.pololu.com
---
Vertiq 6806 Motor Module
IQ Motion Control is a tech startup that delivers high performance motor modules for commercial UAV and robotics applications. The company spun out of the University of Pennsylvania's robotics lab and its mission is to democratize advanced motor control by bringing innovative calibration and control software to a rapidly-evolving industry.
IQ Motion Control has launched their latest motor module: the Vertiq 6806. The Vertiq 6806 is the first commercial-grade UAV and robotics module in its class. Users will now be able to take advantage of IQ's advanced calibration and control software in a more powerful package. These modules were designed for high performance aerial and robotics applications with strict space and weight requirements.

The combination of IQ's unique hardware design and proprietary software allows IQ motors to maximize torque output, efficiency, and precision, while minimizing motor vibration, cost, and footprint. With IQ's closed-loop motor control technology, UAVs will be able to change directions, stabilize, and brake 4x faster.
The Vertiq 6806 was designed for UAV propulsion, but with IQ's position firmware, they are also the ideal servomotor for precision robotic applications. With smooth high-torque motors, users will be able to build extremely compact high-performance robotic devices.
Reliability is paramount in the commercial UAV and robotics industries. One of the biggest advantages the Vertiq 6806 has over other solutions (especially in the UAV space) is its ability to report a wide range of motor data. This advanced telemetry gives users the opportunity to monitor motor performance during operation and use the data for preventative maintenance.
For further information, contact:
IQ Motion Control
www.iq-control.com
---
Mobile Arena System
The American Robotics Academy Mobile Arena System (ARAMAS) has arrived and — according to their website — "all of the rules of the game have changed. Chaos and havoc rule in this mechanical menace where the underworld has no limits. It's not just the playing, but the playing field."
The ARAMAS features portable and virtually indestructible mobile units that can be configured to form customizable arenas of any shape and size. Each module can support adjustable subterranean platforms which permit mechanical contraptions to emerge through the surface of the playing field, or the opening of trap doors to the underground below.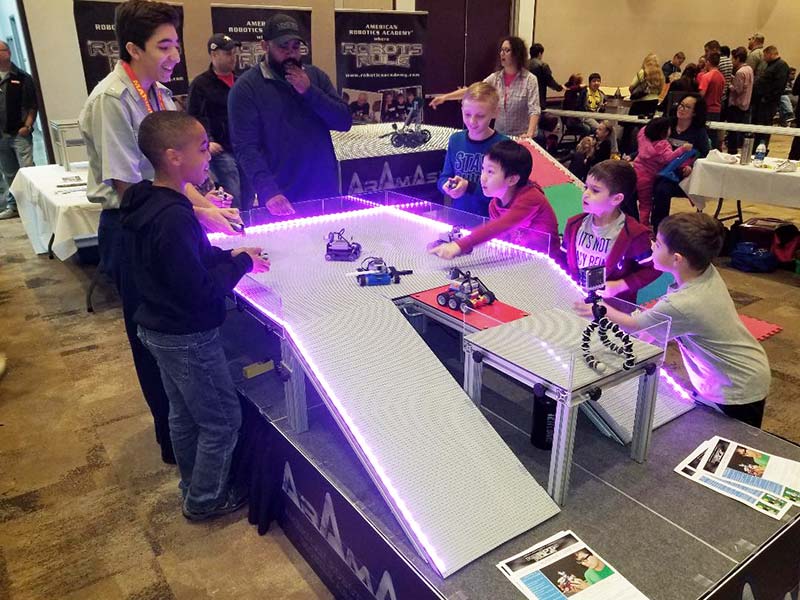 ARAMAS module descriptions are as follows:
Base Module
The Base Module is the "heart" of the competition arena. The frames are made from strong, lightweight, corrosive resistant aluminum. An unlimited amount of these can be utilized to form any shape or style playing field.
These modules set the entire height of the playing field at 13-1/2" with a singular surface area of 15" x 15". They are available in multiple colors (black, blue, gray, white, red, yellow) and can accommodate the very popular 15" x 15" LEGO base plate.
Subterranean Module
The Sub Mod is the "brains" of the arena. Adding a lower level deck (Subterranean Deck) to its frame, mechanical contraptions or contrivances can be added to enhance the capabilities of this unit in the playing field. They are fully adjustable from the ground, up to the upper deck of the module.
Subterranean Deck
The Sub Deck is the deck to be added to the Base Module to form the Subterranean Module. It is also available in multiple colors (black, blue, gray, white, red, yellow) and can accommodate the very popular 15" x 15" LEGO base plate as well.
Double Module
The Double Mod allows for twice the playing area as a singular Base Mod with less weight and reduced costs. The same multiple colors are available as well as accommodation for the LEGO base plate.
Ramp Module
The Ramp Mod has the same surface area as a Double Mod, but allows access to the playing field from the floor.
The same multiple colors are available as well as accommodation for the LEGO base plate.
Bridge Module
The Bridge Mod is a unique platform that allows access from one module to another by a narrow path. Again, the same multiple colors are available as well as accommodation for the LEGO base plate.
Leg Clamp
The leg clamp secures one module to another with a simple knob locking system.
Barrier
The barriers or "guard rails" keep the robots from falling off the playing field if desired. Made from recycled polycarbonate, these clear (transparent) panels are durable and impact resistant. The barrier secures to the module with a simple knob locking system.
Panels
High density polyethylene panels are available in six color options, and are chemical and impact resistant. They are also available in aluminum tread/diamond plate.
Hole Cut-Out
Panel cutout machining services provide an opening for a trap door or access point for mechanical devices from the Sub Deck level. Minimum dimensions of 3" x 3".
For further information, contact:
American Robotics Academy
www.RoboticsAcademy.com
---
Smart Camera and Edge Vision Software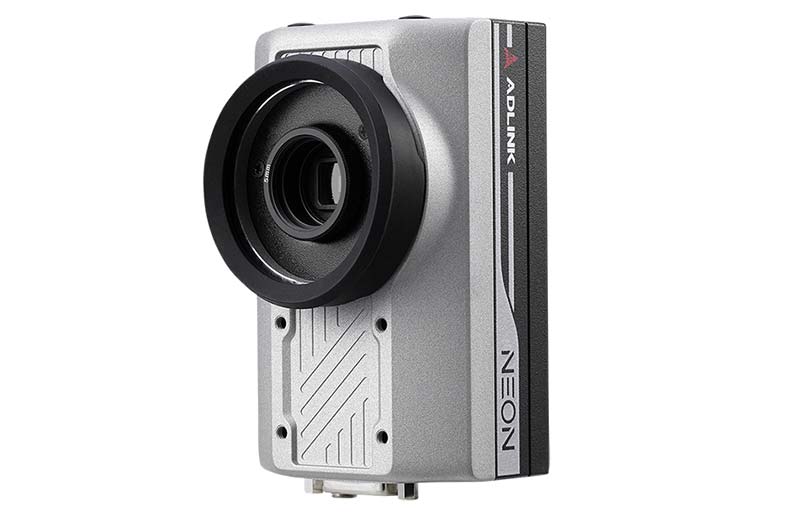 ADLINK Technology, Inc., has launched the all-new NEON-1000-MDX Smart Camera series together with its Smart Pallet solution, combining the Intel® Movidius™ Myriad™ X VPU, which supports inference models optimized by OpenVINO™, and ADLINK's Edge™ vision software to add AI-based machine vision into existing environments easily and quickly. The all-in-one solution allows machine vision experts and developers to build, test, and deploy machine learning (ML) models faster, while giving IoT (Internet of Things) solution teams and system integrators the tools to connect, stream, and automate machine vision work.
The Intel Movidius Myriad X VPU (vision processing unit) optimizes ML models and can provide some of the highest AI computing power. Eliminating complex integration of sensor modules, cables, and VPU modules, the NEON-1000-MDX Smart Camera simplifies the machine vision deployment process. With the pre-installed EVA (Edge Vision Analytics) SDK, users can deploy neural networks optimized by OpenVINO™ without extra coding or integration efforts using a wide range of ready-to-use plug-ins based on environment and system requirements.
The new all-in-one NEON-1000-MDX AI smart camera supports product classification and defect detection to maximize production efficiency in smart manufacturing, as seen with the award-winning ADLINK Edge Smart Pallet solution. Smart Pallet adds intelligence and automation to manual warehouse fulfillment operations such as receiving, bin picking, packing, shipping, and worker safety. Smart Pallet provides an end-to-end integrated system to connect new and existing equipment, capture multiple image data streams, and apply the high performance processing power of the NEON-1000-MDX VPUs to enable machine learning and inferencing at the edge.
With the ADLINK Edge software platform, developers can connect and integrate with any existing cloud, machine learning platform, neural network, industrial camera, machine vision system, piece of machinery, and more regardless of vendor. ADLINK's machine vision AI software can classify what it sees, become smarter over time, and also create automation workflows.
For further information, contact:
ADLINK Technology, Inc.
www.adlinktech.com
---
Simulation for Robot-Supported Surface Processes
Surface-based applications are among the most demanding tasks in automotive and aerospace production. They serve a variety of processes, starting with body protection and surface preparation to the creation of the final appearance, which ultimately has a strong influence on the perception of the products. The technology must thus meet the highest standards of quality and efficiency.
The use of robots for spraying applications has already proven itself in practice. One of the main advantages is their ability to follow complex three-dimensional paths. Manual processes cannot guarantee this with the same precision and iteration.
Thanks to new surface-based functionalities, FASTSUITE Edition 2 enables manufacturers to create, simulate, and analyze spray applications, and refine spray patterns, surface coverage, spray cone expansion, and application speeds. All this is done regardless of the robot brand or model — and before the real robot system even exists.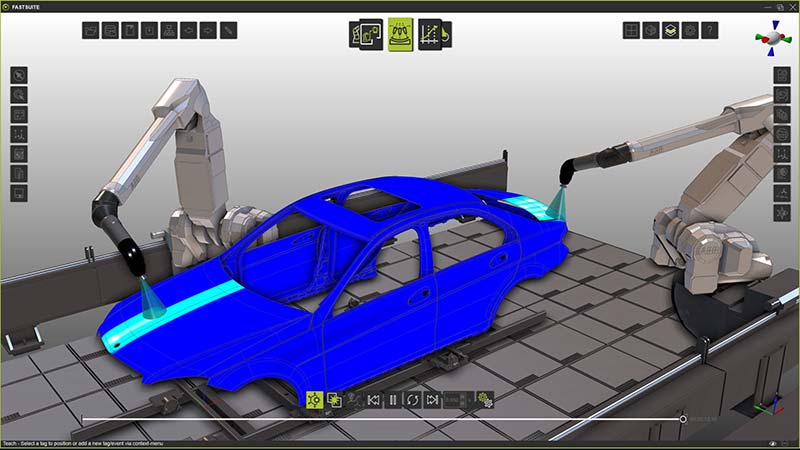 Versatile visualization tools such as surface coating time color mapping and spray cone display — which are integrated in FASTSUITE Edition 2 — allow visualization of spray coverage during the offline programming and optimization phase.
With FASTSUITE Edition 2, manufacturers can overcome the limitations of online programming by using the CAD files of the part to achieve accurate path planning on complex 3D surfaces. Process simulation enables the optimization of robot trajectories to dose the correct amount of sprayed material and achieve uniform deposition along the surface, ensuring coverage and eliminating waste.
Simulation plays a key role during the whole project implementation process. Powerful simulation tools are therefore an integral part of FASTSUITE Edition 2, allowing cell layouts and tooling designs to be validated for accessibility during the design phase, and cycle (time) estimates to be generated even or complex multi-robot cells.
The use of special tools to analyze the overall process result helps to avoid programming errors and to validate programs before they are downloaded to a real cell. The simulation results of the created painting and surface treatment programs can be exported in 3D PDF format for fast and effective communication.
For further information, contact:
FASTSUITE
www.fastsuite.com
---
New Snap Circuits Coding Kit
Elenco's Snap Circuits® makes learning electronics easy and fun. Users simply follow the colorful pictures in the manual and can build exciting projects or play electronic games with friends. All the parts are mounted on plastic modules and snap together with ease.
Snap Circuits are endorsed by educators worldwide and used in schools, libraries, museums, STEM programs, and at home. The Circuit Safe® patented safety device unique to Snap Circuits branded products makes learning circuitry safe. No tools are required and it uses AA batteries, unless otherwise indicated.
Download the Snap Circuits app and control Snap Circuits projects using a smartphone or tablet to control lights, sounds, and a motor. Discover Coding is a great introduction, using easy graphical coding. More advanced coders can move up to BLOCKLY coding.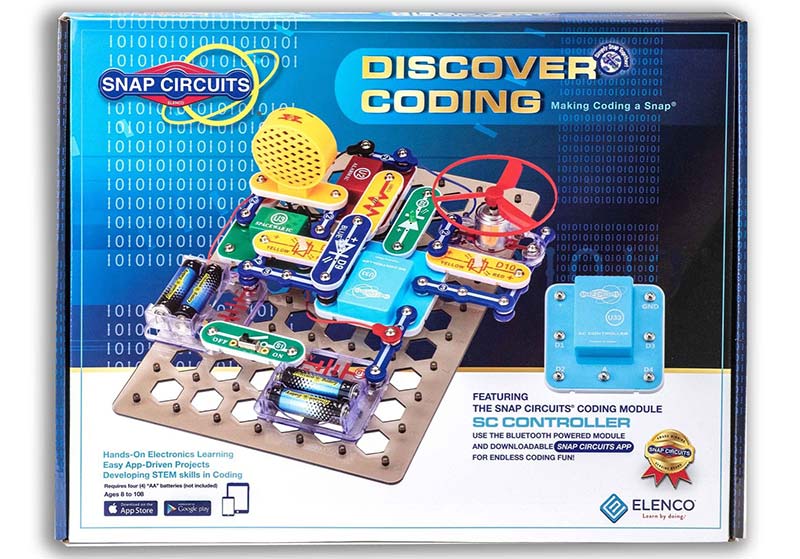 There are three ways to control it:
Real Time Control
Easy-to-Use Graphical Coding
BLOCKLY Code
Learn the basics of coding, then code patterns of lights, sounds, and moving parts.
Features include:
Learn about circuitry, electronics, and much more.
Illustrated, easy-to-use, full-color project manual explains electrical and coding concepts and includes coding challenges.
Over 30 Snap Circuits parts, including the new Bluetooth-powered SC controller.
Five Control Outputs — Control up to five circuit paths together or independently to create different circuits and projects.
Price is $84.99.
For further information, contact:
ELENCO
www.elenco.com
---
ROS Drivers Enhance Hexapod Functionality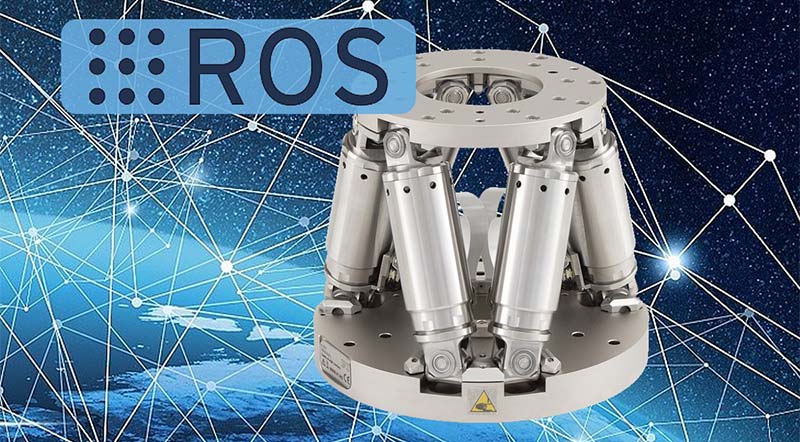 The Robot Operating System (ROS) by ROS.org is a flexible framework for robotics software development. PI's release of ROS drivers is the company's latest addition to its H-811 high performance hexapod six-axis miniature robot, allowing fast seamless integration into a ROS environment, with comfortable control using their well-known mechanisms. With an included URDF model in the driver package, the H-811.i2 hexapod can also be simulated and visualized.
The open source set of tools, software libraries, and rules aid in the development and control of six-axis hexapod robot operations.
For further information, contact:
PI
www.pi-usa.us
---
Solid-State LiDAR Sensors
Velodyne Lidar, Inc., has debuted its latest innovation in its broad array of LiDAR sensors: the Velarray H800. The solid-state Velarray H800 is architected for automotive grade performance and built using Velodyne's breakthrough proprietary micro-LiDAR array architecture (MLA).

With combined long-range perception and a broad field of view, this sensor is designed for safe navigation and collision avoidance in advanced driver assistance systems (ADAS) and autonomous mobility applications. The Velarray H800's compact embeddable form factor is designed to fit neatly behind the windshield of a truck, bus, or car, or can be mounted seamlessly on the vehicle exterior. The Velarray H800 will be available at high-volume production levels with a target price of less than $500 to drive broad adoption in consumer and commercial vehicle markets.
The Velarray H800 can help automakers design ADAS solutions that help reduce traffic accidents as well as injuries and deaths of drivers, passengers, bicyclists, and pedestrians. The World Health Organization reports that annual deaths caused by traffic crashes have reached 1.35 million globally.
The Velarray H800 boasts outstanding range, field of view, and resolution to support advancements in autonomy and ADAS, from Level 2 to Level 5. This spans the entirety of ADAS features from Lane Keep Assist and Automated Emergency Braking, all the way to the top levels of automated driving. The compact, low cost sensor can be paired with Velodyne's Vella software suite, enabling the full spectrum of safety features.
The efficacy of LiDAR in creating robust and feature-rich ADAS has been acknowledged across the auto industry in the past few years. Proprietary testing indicated superiority of the Velarray-based solution where a traditional camera and radar system failed.
With a field of view of 120 horizontal degrees by 16 vertical degrees, the Velarray H800 allows for outstanding detection of peripheral, near-field, and overhead objects, while addressing corner cases on sloping and curving roads. The Velarray H800 provides perception data at a range of up to 200 meters, supporting safe stopping distances even at highway speeds. Featuring a configurable frame rate, the Velarray H800 offers the rich point cloud density required for high resolution mapping and object classification tasks.
For further information, contact:
VELODYNE LIDAR
https://velodynelidar.com
---