Servo Magazine ( 2022 Issue-1 )
New Products
---
Four-Channel Boosted Servo Extension via CAT6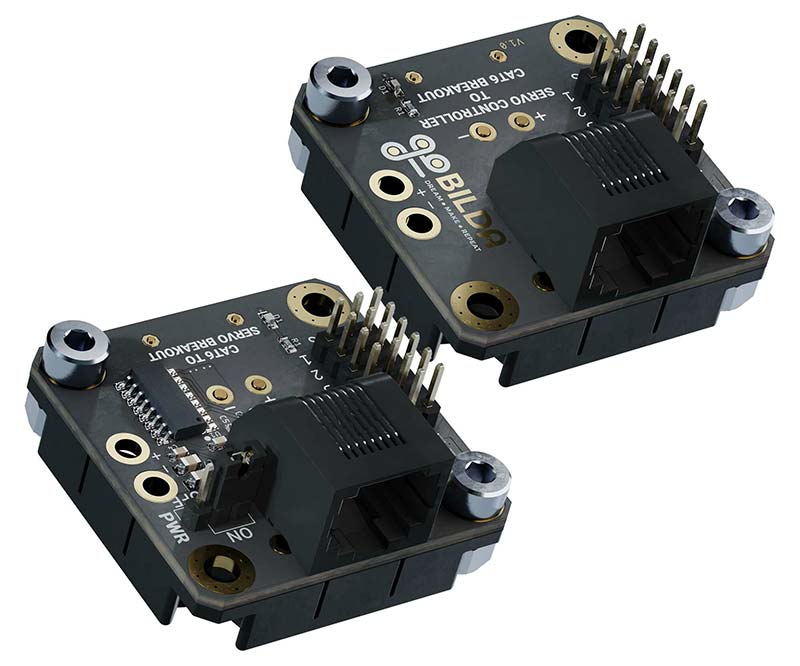 This boosted servo extension from ServoCity lets you control up to four servos over a CAT6 cable. This approach allows you to control your servos from a distance with the rock-solid connectivity of a wired setup. It can control up to four servos at once, making it useful if you need to tidy up the wiring on your project. It includes one sending board with case, one receiving board with case, and four servo extensions. Price is $24.99.
Two-Stage Viper-Slide Kit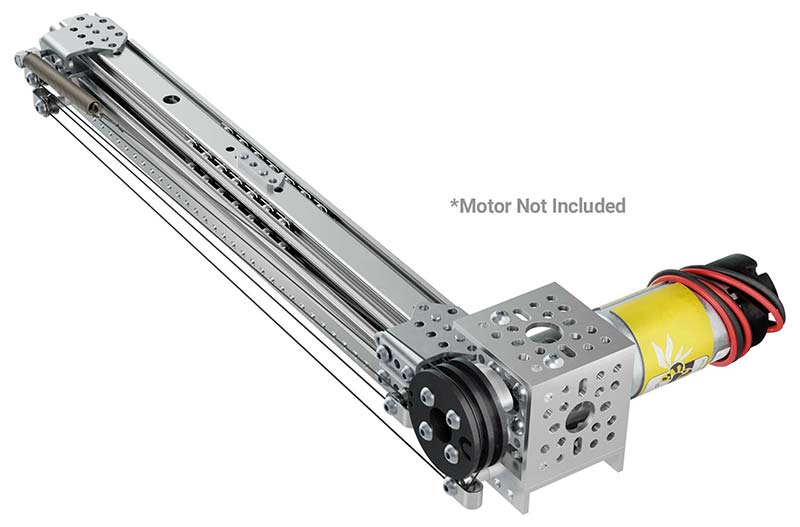 This ServoCity two-stage Viper Slide kit utilizes steel Viper Slides as the backbone of this very smooth and stable slide kit. The Viper Slides are steel, so that excellent strength and durability can be captured in a compact form factor.
Use the kit in any orientation, whether you're reaching up or out. The maximum travel (difference between retracted and extended) is 488 mm (19.2"), while measuring only 384 mm (15.1") tip to toe in the retracted state. Price is $119.99.
Eight-Channel Servo Power Node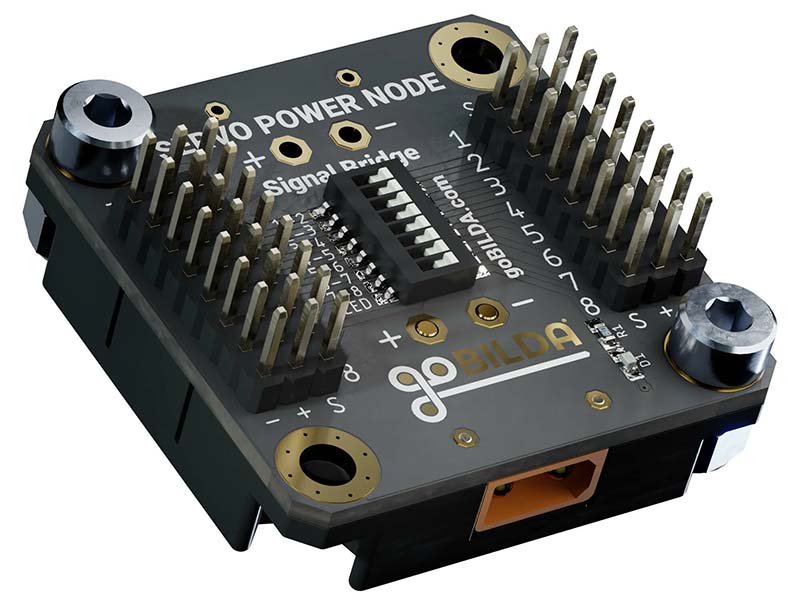 The Servo Power Node also from ServoCity can provide power distribution or isolation between your servos and other PWM controlled components from the board or boards that generate the PWM signals. All the positive contacts of the Servo Power Node are tied together and all the negative contacts are tied together making it ideal for powering logic devices and servos from the same battery.
However, if electrical isolation is required, the positive wire should be removed or excluded from the connection(s) between the Servo Power Node and the logic controller(s). The end of the board without an XT30 connector has plated thru-holes, so you can solder in an XT30 (MH-FC) connector to daisy chain boards that share common power. Price is $12.99.
For further information, contact:
ServoCity
www.servocity.com
---
Ultra Torque, Brushless Motor, Low Profile, Waterproof Servo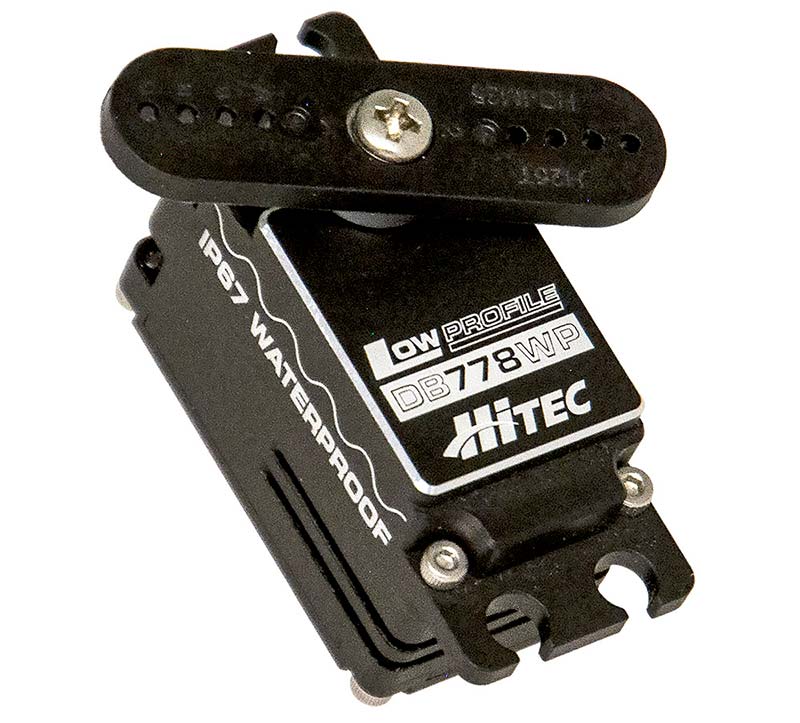 Hitec is excited to introduce their latest DB-Series brushless servo: the high performance, low profile DB778WP. Manufactured with their "hitecnology" industrial servo innovation, the DB778WP's design and premium quality construction was built for demanding commercial applications, yet its superior torque also makes it the perfect hobby servo for 1/10th 2WD and 4WD off-road buggies and touring cars.
Engineered with an ultra-efficient brushless motor, high-resolution digital circuit, hardened steel gears, and an all-aluminum IP-67 rated waterproof case, the DB778WP excels when pushed to the limits on ultra-high bite carpet or clay tracks. Take on the competition and drive hard, knowing you are backed by Hitec's two year warranty.
Features include:
Voltage Range is 3.7V-8.4V
Ultra-Efficient Brushless Motor
Hardened Steel Gears
All-Aluminum Case
IP-67 Waterproof Rated
High Response, High Resolution Circuitry
32-bit MCU Technology / 4096 Resolution
Smart Sense Technology for Servo Analytics
Full Programmability with DPC11 or HFP-30 (sold separately)
H25T Industry Standard Output Spline
Verified specifications include:
Dimensions: 41.0 mm x 21.0 mm x 26.5 mm (1.61 in x 0.82 in x 1.04 in)
Weight: 68.0g/2.4 oz
Speed (Second at 60°): 0.08 at 8.4V
Maximum Torque Range (oz/in): 283.56 at 8.4V
Price is $139.99.
For further information, contact:
Hitec RCD
www.hitecrcd.com
---
Robotics Simulation Software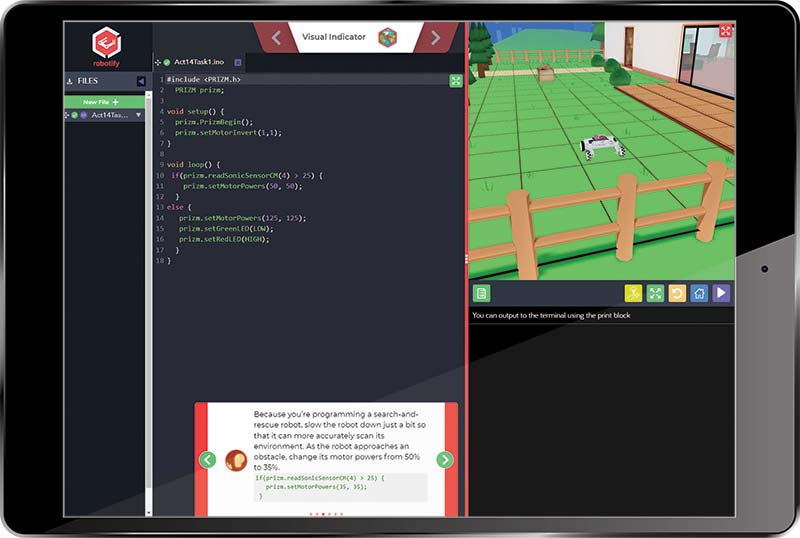 The TETRIX® Virtual Robotics (VR) simulation software powered by Robotify is a new digital/physical robotics experience from Pitsco Education that enables students to code a virtual TETRIX robot using the Arduino C libraries. When used with the TETRIX MAX robotics building system, TETRIX VR is one of few solutions that gives students the option to code virtually and then test their code on a real robot.
Ideal for any flexible learning environment, the simulation software and TETRIX hardware can be used separately or in combination enabling learners to function like real world engineers, creating and operating digital and physical solutions.
The platform includes 15 real world activities, each of which includes a series of progressive tasks and concludes with an open-ended challenge:
Activities 1-5: Assistive robots are used to digitally introduce the controller, motors, and sensors.
Activity 6: Students build a physical TETRIX robot (Set Option 1, Set Option 2.)
Activities 7-10: Domestic robots are used to develop systems thinking.
Activities 11-15: Focusing on safety and security robots, learners use sensors to explore advanced programming.
The 15 activities include a total of 22.5 hours of content, equally split between digital and physical robot activities. Each activity includes step-by-step coding instructions and delivers real time feedback. Best of all, even coding novices can complete the engaging activities.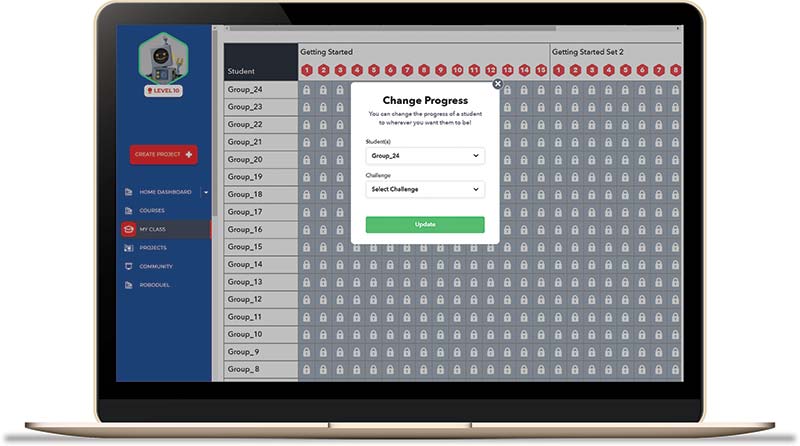 "No coding experience is required as we provide complete step-by-step instructions," said Pitsco Curriculum Specialist Aaron Locke, who authored the activities. "We explain not only what to code but also how to code — debugging, writing clean code, all the best practices of coding." Each activity includes:
Lesson Overview
Real World Connections
Learning Objectives
Coding Concepts
Pacing Guide
Correlations to Computer Science Teachers Association Standards
Goals, teaching points, discussion questions, and sample solution code.
Plus, tracking student progress and understanding is easy with built-in learning management tools that enable teachers to:
Organize classes and add, remove, or change teacher and student info.
Track student's progress through an adaptive learning environment.
Manage, assign, and assess individual student tasks.
View student data analytics and usage reports.
Sync with Google Classroom or Clever.
The digital-only learning experience featuring just the online simulation tool is available on Chromebook, Windows, and Mac, iPad OS, and Android tablets.
For further information, contact:
Pitsco Education
www.pitsco.com
---
NeveRest Orbital Gearmotor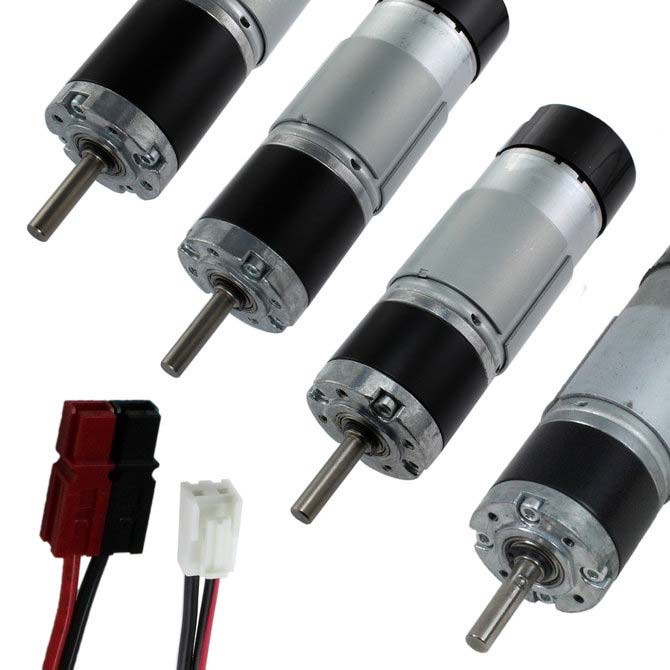 AndyMark has now introduced new versions of the popular NeveRest Orbital gearmotor. With many ratios to choose from, you can find the right motor for your application. From a fast spinning intake to a high reduction arm, all are possible with NeveRest Orbitals.
All the gearmotors have an encoder installed and an output shaft directly in the center of the output face. While this gearmotor is popular for FTC teams, all versions are also legal for FRC robots. Two power cable options are available (JST-VH-2 or Anderson Powerpole 15A) and three encoder cable options are offered. (Note: NeveRest gearmotors do not come with an encoder cable.)
The NeveRest Orbital gearmotor shaft is a 6 mm D and the gearbox housing is 37 mm in diameter. Pricing starts at $33.
For further information, contact:
AndyMark
www.andymark.com
---
5V, 2A Step-Up/Step-Down Voltage Regulator
This powerful synchronous switching step-up/step-down regulator from Pololu efficiently produces 5V from input voltages between 2.8V and 22V. Its ability to convert both higher and lower input voltages makes it useful for applications where the power supply voltage can vary greatly, as with batteries that start above but discharge below 5V.
The board measures 0.35" x 0.475", has a typical efficiency of 85% to 95%, and can supply typical continuous output currents between 1A and 2.5A depending on the input voltage.
The S13VxF5 family of efficient switching regulators (also called switched-mode power supplies (SMPS) or DC-to-DC converters) use a buck-boost topology to convert both higher and lower input voltages to a regulated 5V output.
They take the input voltages from 2.8V to 22V and increase or decrease them as necessary, offering the typical efficiency of over 85% and typical continuous output currents between 1A and 3A.
The flexibility in input voltage offered by this family of regulators is especially well-suited for battery-powered applications in which the battery voltage begins above 5V and drops below as the battery discharges.
Without the typical restriction on the battery voltage staying above the required voltage throughout its life, new battery packs and form factors can be considered.
The regulators have under-voltage lockout, output over-voltage protection, and over-current protection. A thermal shutdown feature also helps prevent damage from overheating and a soft-start feature limits the inrush current and gradually ramps the output voltage on startup. The larger 3A S13V30F5 has reverse-voltage protection up to 20V, but the S13V10F5, S13V15F5, and S13V20F5 do not.
One unit pricing starts at $12.95.
For further information, contact:
Pololu
www.pololu.com
---