Posted in: SERVO Blog (09/14 at 11:49 AM)
EZ-B Robot Controller
Canadian made, the EZ-B Robot Controller offers a new method of building DIY robots and electronic projects. The EZ-B is a circuit board that connects to your computer over bluetooth. The software on your computer controls the output of the EZ-B Robot Controller. You can connect a range of Add-Ons to the EZ-B; including Distance Sensors, LEDs, Servos, MIDI Instruments, TellyMate, Digital Displays, Motor Controllers, iRobot Roomba, and more. Read more if you would like to learn more about the creator of EZ-B and what it can do!

The EZ-B Robot Controller was designed by Canadian Roboticist DJ Sures, who is the creator of popular robots: Autonomous Wall-E, Award Winning 3-D Environment Mapping K-9 and the Autonomous Cookie Monster. Combining his robot knowledge and experiences, the EZ-B was designed as an all-in-one solution. The circuit board contains a powerful voltage regulator, a bluetooth antenna module, digital I/O, ADC, servo control, serial ports, MIDI connection, TellyMate interface, and more!
Non-Programmers
No programming experience needed! The free EZ-Builder software provides a visual design interface to control your robot creations. Simply connect sensors, servos, LEDs, LCDs, displays and buttons to the EZ-B Board. Now control your custom robot from the PC! [Watch Video]

Programmers
EZ-B offers a new method of building robotics and electronic projects. Using Visual Studio .Net C# or Visual Basic to control physical hardware for robotics. Your .Net program will communicate with the EZ-B Robot Controller over a Bluetooth connection from your Laptop, PC or Windows Mobile Device. [View SDK]

Arduino Users
The EZ-B is your next step to building impressive DIY robotics. The knowledge you have learned from the Arduino, shields and 3 wire sensors transfer easily to the EZ-Robot Project. The EZ-B Robot Controller is Arduino Shield Compatible! Plus we add Bluetooth Connectivity, Voice Recognition, Color Recognition, Motion Recognition, and more!

DIY Projects
Need project ideas or influence? This website also hosts many DIY Projects and Tutorials… Check them out! [View Projects]

iRobot Roomba Owners
If you own a iRobot Roomba, then you will be pleased to know that the EZ-B supports the Roomba! Attach a wireless camera to the Roomba and have it chase your pets around by motion. Or remote control your roomba from the couch or office. The possibilities are endless!

Educational Use
The EZ-B may seem like a fun toy for building robots. We have spent countless hours designing the perfect robot controller that is so fun to use, people don't even realize they are learning. The EZ-B is a platform that scales between beginner and advanced users. Users of the EZ-B are taught logic, soldering, electronics and modular design. While disecting a toy shell to be modified into a robot, the user recognizes and learns from the manufactured design. The excitement of having a personalized robot makes the process fun! Planning where to put servos and sensors… Determining the battery placement and wires… And then finally, programming and controlling the robotic creation!
[Source] www.ez-robot.com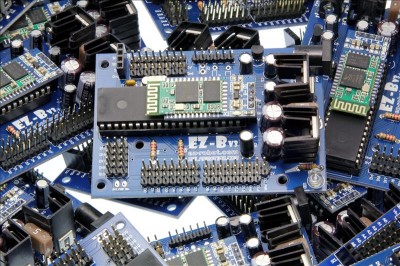 Comments