Posted in: SERVO Blog (02/07 at 01:45 PM)
$250K FIRST® LEGO® League Global Innovation Award
INDIO, CA, February 6, 2012 - One of Coachella Valley's FIRST ® LEGO® League (FLL®) robotics teams is competing for an investment prize of up to $250,000 for their solution to tackling food safety issues, as they attempt to be the winner of the 2012 FLL Global Innovation Award. Check out the local X-Treme Team from Indio, CA and their entry: Scanner with Infrared Laser - detect bacteria on all surfaces instantly!

FIRST® LEGO® League Global Innovation Award

The OFFICIAL FLL Project DVD for the 2011 Food Factor season.
The public can review and find and vote for X-Treme Team's solution by going to [url=http://www.desertrobotics.com]http://www.desertrobotics.com[/url] and clicking on the Vote Now! link.
Team Name: X-Treme Team
Entry: Scanner with Infrared Laser - detect bacteria on all surfaces instantly

Brief Submission Description:
S.W.Ir.L. stands for "Scanner with Infrared Laser". Our innovative solution uses infrared laser technology, digital videography, and microsensors to scan surfaces: from the slaughterhouse and packing plant, all the way to the plate you eat food from. Capturing thermal images from a set temperature parameter, the S.W.Ir.L. can detect the heat signatures given off by bacteria as they begin to reproduce, and project an instant real-time image of where the bacteria is growing. The application of our device is universal. Any processing plant, restaurant, and home will be able to detect, identify, and act on bacteria growth instantly, without the use of swabs or chemicals. The live image feed projects instantly to the handheld device, or to a wall-mounted monitor via Bluetooth. Food Safety workers will be able to deal with contamination issues before they reach unhealthy levels of toxicity, taking prevention to a whole new level. Think camera security system, but catching bacteria.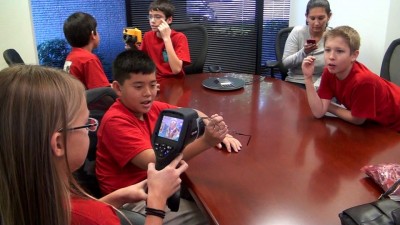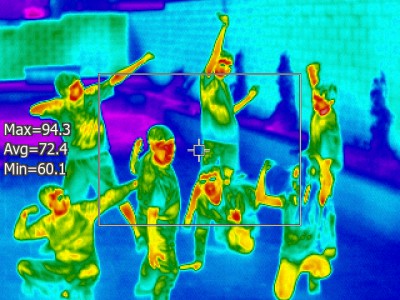 X-Treme Team (926), a community FLL robotics team of 10- and 11-year-olds, have conceived of a top-notch way to detect bacteria on surfaces, and they hope that the judges will think so too. Their invention is the Scanner With Infrared Laser (S.W.Ir.L.), which provides a picture-in-picture view of surfaces in food processing plants or restaurants and detects pockets of the temperature that bacteria give when they reproduce. Using infrared technology to detect contamination growth, food safety and industry workers will be able to combat potential hazards before they can affect the public's health.

Mikie Bowman, a sixth grader on the team, thinks that their invention has wide-spread potential. "One of the things that we are really proud of is that it doesn't just have to be used in the food industry. Can you imagine if schools, public transportation, or hospitals had real-time feedback about where bacteria is growing? We could prevent a lot of people from getting sick!"

Now in its second consecutive year, the FLL Global Innovation Award encourages, celebrates, and supports youth innovation by offering 200,000 FIRST LEGO League participants the chance to compete and win support for their research projects. Teams were invited to submit their research ideas between January 19 and March 1, 2012, to the FLL Global Innovation Award website. A judging panel of industry leaders will review the submissions. The public can also review and vote on the submissions at [url=http://fllinnovationaward.firstlegoleague.org/]http://fllinnovationaward.firstlegoleague.org/[/url]. One winning team and two runner-up winners will be named at the FLL Global Innovation Award ceremony on June 19 at the United States Patent & Trademark Office (USPTO) in Alexandria, Va.

"It is innovation that changes the way we live and makes life better and more exciting," said Founder of FIRST Dean Kamen, adding, "The FLL Global Innovation Award celebrates and encourages innovation by asking kids to think about improving their own future."

FIRST LEGO League is one of four programs offered by FIRST (For Inspiration and Recognition of Science and Technology), a not-for-profit that inspires an appreciation of science and technology in young people. FIRST issues an annual challenge to FLL teams on a real-world scientific topic comprised of three parts: the Robot Game, the Project, and the FLL Core Values. This season's theme is food safety.

About FIRST LEGO League
FIRST LEGO League (FLL) introduces young people, ages 9 to 16* (grades 4-8), to the fun and excitement of science and technology while building self-confidence, knowledge, and valuable employment and life skills. FLL challenges kids to think like scientists and engineers. Alongside adult mentors, FLL teams solve problems using engineering concepts, presentation techniques, and robots. FLL teams develop amazing solutions every year to real-world problems for their FLL Project.
*9 to 14 in the U.S., Canada, and Mexico

[Source] http://www.desertrobotics.com/ and http://fllinnovationaward.firstlegoleague.org/
Comments