Robot Shield for Arduino
The first consideration that came to our mind is like the Arduino board can manage a large number of servos, eight in the case of the robot SPIDER. Arduino can be powered through the plug with a voltage between 6 to 12 volts, his voltage regulator provides the 5 V stabilized, necessary for the operation of our shield. We could power our robot with rechargeable batteries. A standard servo requires a supply voltage of 4.8 to 6 volts, easily obtainable with four batteries in series, at full charge, provide 1.5 x 4 = 6 volts but towards the complete discharge provide just 1.0 x 4 = 4 volts. We are not in optimal conditions for the servos. Throughout this reasons we decided to create a special shield, already prepared for all these functions, it is easy to install and use.
To read more about the Robot Shield for Arduino, please visit the source.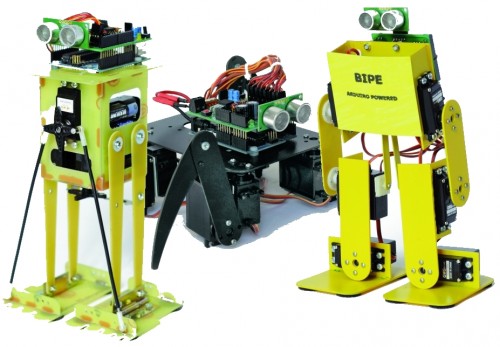 [Source] Open-Electronics.org - Robot shield for Arduino
Posted by .(JavaScript must be enabled to view this email address) on 07/31 at 09:56 AM