July 2009
Servo Magazine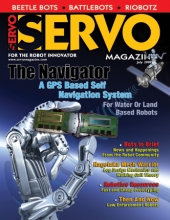 The Navigator: A GPS Based Self Navigation System For Water Or Land Based Robots
---
Features
Our goal this month is to assemble a set of software routines to take advantage of the LIN protocol we learned last time.
Building a Thermal Cycling System.
---
Projects
If you've ever wanted to send your rover or R/C boat out to complete a mission all on its own, check out this GPS based navigation system.
This installment covers the build itself, the mechanics behind the leg design, and the theory behind the walking gait.
---
Columns

Robytes
by Jeff Eckert
Robytes | July 2009
When Penguins Fly, Aquabots Ensure Clean Water, Robot Bartender, and More! Page 08

GeerHead
by David Geer
Rose-Hulman Robot Shoot Out
The Rose-Hulman Institute of Technology is a four year college which offers academic majors relevant to robotics including computer science, computer engineering, software engineering, mechanical engineering, and electrical engineering. Page 10

Ask Mr. Roboto
by Dennis Clark
Ask Mr. Roboto | July 2009
Your Problems Solved Here. Page 13

Twin Tweaks
by Bryce Woolley, Evan Woolley
Universal Serial Bust
Just about every robotics kit that we've reviewed for SERVO uses a serial connection for programming, so we've been forced to invest in a serial-to-USB adapter. Page 62

SERVO TankBot
by Ron Hackett
Adding Sonar Capabilities to Your TankBot
In the previous TankBot column, we simplified our IR obstacle detection system to make it smaller so that the IR circuitry could coexist on the breadboard with the next project (or two) that we would construct. This month, we're going to make good use of the extra space we created. Page 67

Robotics Resources
by Gordon McComb
Fast and Cheap Prototyping
In this month's column, we'll concentrate on just mechanical hardware prototyping, as this tends to be an expensive and time-consuming task for many custom projects. Page 74

Then and Now
by Tom Carroll
Law Enforcement Robots
The two companies discussed here and their line of remotely controlled robots represent just a handful of the many companies producing state-of-the-art 'assistants' to serve law enforcement agencies and the military. Page 78