September 2008
Servo Magazine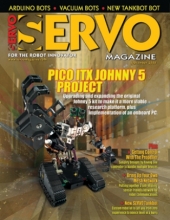 Pico ITX Johnny 5 Project
---
Features
Recently, an artist friend asked me how he might go about automating his latest masterpiece using a BASIC Stamp®. After looking at what he had, it turns out he was going to need to control DC motors, hobby servos, and stepper motors. While there are solutions for controlling all of these devices it would generally mean having three separate controllers (one for each device). A better solution would be ...
Despite what most folks think, the science of robotics is not based on mobility and motion alone. Say the word "robot" to most anyone on the street and they will assimilate the word robot to a mobile humanoid-like mechanism that has superhuman intelligence and strength. In reality, Earth-bound robots have the ability to weld, cut, saw, drill, wash dishes, wash your underwear, wash your car, and cook your dinner...
---
Projects
I have built many robots in the past and the drivetrain always causes most of my grief. The type of drivetrain you decide on will dictate some of the factors used in the design of your robot, including its size and how many batteries it can carry. Since I am going to be building two robots, I think it's important that I give them names to make referencing them throughout this series easier...
In this series of articles, we will explore my Pico ITX based Johnny 5 project. We will detail the work that went into upgrading and expanding the original kit to make it a more viable research platform and we will also dive into the concept and implementation of PC–based robotics. Not only will we show how easy an onboard PC is to integrate, but we will explore the many advantages of having that much horsepower locally on your robot. While I used the Lynxmotion Johnny 5 kit as a platform for...
Welcome to SERVO Magazine's Tankbot kit series. We have put together a unique beginner robotic platform that will continue to grow and expand with you as you move from newbie to novice to seasoned pro. We will also have regular editorial coverage to challenge you through your learning process with projects and experiments. To purchase the kit, go to the SERVO Webstore and place your order. If you're ready, let's get started...
---
Columns

Robytes
by Jeff Eckert
More Little Ones
One of the latest additions to the world of artificial arthropods is the Hexbug Crab from Innovation First, Inc. (http://www.innovationfirst.com). The company specializes in providing control systems for educational robot competitions worldwide. The minirobots are geared toward kids, but Crabbie is proving to be a fine companion to the stress ball on your desktop... Page 08

GeerHead
by David Geer
Intellibot Robotics IV800 Vacuum Makes Autonomous Clean Sweep
According to David Knuth, director of engineering at Intellibot Robotics, the IV800 is an autonomous mobile floor vacuum with an off-the-shelf, single board computer running navigation software and communications to several sensor and control subsystems... Page 10

Twin Tweaks
by Bryce Woolley, Evan Woolley
Rhyme of the Modern Submariner | Part 2
Last time, we detailed the build of our basic ROV (remotely operated vehicle) for the MATE 2008 ROV Competition using the ROV-in-a-box kit from !nventivity and the help of UCSD's Tau Beta Pi chapter, CA Psi. After building a very basic working ROV from the kit and proving its functionality at the Southern California regional competition, it was now time to add onto the kit bot with our own mechanisms to allow it to complete three missions based on a scenario of mid-ocean ridge research... Page 14

Ask Mr. Roboto
by Dennis Clark
Ask Mr. Roboto | September 2008
Your Problems Solved Here. Page 19

Robotics Resources
by Gordon McComb
Building Robots with the Arduino
The name Arduino may sound like some newly discovered quantum particle, but it's actually a small and affordable microcontroller development board that is enjoying a rapid upsurge in popularity... Page 61

Different Bits
by Heather Dewey-Hagborg
Artificial Life | Part 3 | Genetic Algorithms: Interactive Evolution
The mathematical possibilities are exciting, but Genetic Algorithms can also be beautiful and it is this artistic and aesthetic potential we will be exploring in this article. Page 67

Appetizer
by Pete Smith
Judgement Day
I have competed in many robotic combat events and taught classes about the basics of that part of the hobby, but I have never judged any sort of competition. It was with a little trepidation then that I accepted a request to be a judge at a FIRST Tech Challenge (FTC) Regional Championship held at the NC A & T State University in Greensboro, NC... Page 76

Then and Now
by Tom Carroll
Mechatronics: The New Word in Robotics
I just read an interesting article in the June 30th Design News Webcast entitled "A Mechatronic Marvel: The Barcode Scanner." The statement was made: "There are few things in the world today that would disrupt society more than if barcode scanners stopped working. Just think of all the places where you rely on one to accomplish some task. But what is a barcode and how does a barcode scanner work? This webcast explores the role of mechatronics in the development of this nearly indispensible... Page 79